The 'Will & Grace' Revival Won't Premiere Soon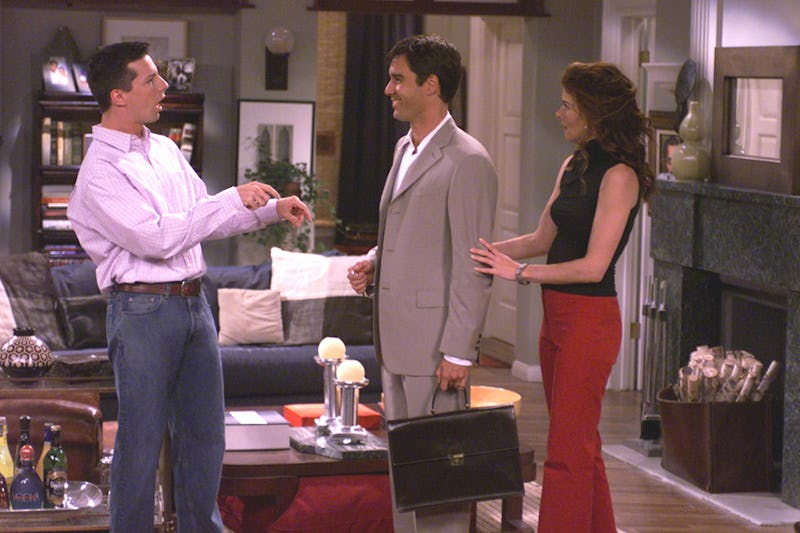 NBC
All you naysayers who said I was crazy to try to stay optimistic about 2017 must be feeling prettttty foolish now that it's been announced that one of your favorite classic TV shows is getting rebooted. But I'm not interested in saying "I told you so", so let's get down to brass tacks: when will the Will & Grace revival premiere? It will be speeding your way in time for the 2017-2018 season, so there isn't long to wait. But that's not very specific.
It was revealed on Wednesday that the classic comedy will be returning for a limited, 10-episode run with the entire main cast signed on. That's right, not only Eric McCormack and Debra Messing as Will and Grace themselves, but also Sean Hayes and Megan Mullally as Jack and Karen, will be swooping back into your lives to bring their beautifully dysfunctional relationships back into your living room. Or onto your phone, or wherever you watch TV these days — I'm sure I don't know.
The announcement was made at the Television Critics Association's press tour on Jan. 18, and the only specifics that fans got at this time is that we can expect the show in a slot during the 2017-2018 season. As NBC Entertainment Chairman Robert Greenblatt said in a statement:
We're thrilled that one of the smartest, funniest, and most defining comedies in NBC history is coming back. This groundbreaking series for everything from gay rights to social and political commentary — all disguised as a high-speed train of witty pop culture — is coming back where it belongs.
That might sound just like a sound bite, but, when paired with co-creator Max Mutchnick's thoughts on the revival — "Dave and I are absolutely thrilled about the opportunity to write what Will, Grace, Jack and Karen are thinking about in 2017" — it does seem to give a little more insight. The fact that both NBC and the show's writers are pitching the Will & Grace revival as a commentary on current events, much like the 2016 Election Special released back in September, suggests to me that they'll rush it through production to make sure the content is as timely as possible.
To that end, I would predict we'll see the new episodes in Fall 2017, clustered with the rest of the new must-see TV, to give it the best chance of success. But, either way, more Will & Grace can only be good news, so thank the pop culture gods up in the sky, who heard your prayers and bestowed this nostalgic gift upon us.