'The X-Files' Season 11 Premiere Date Could Be Very Soon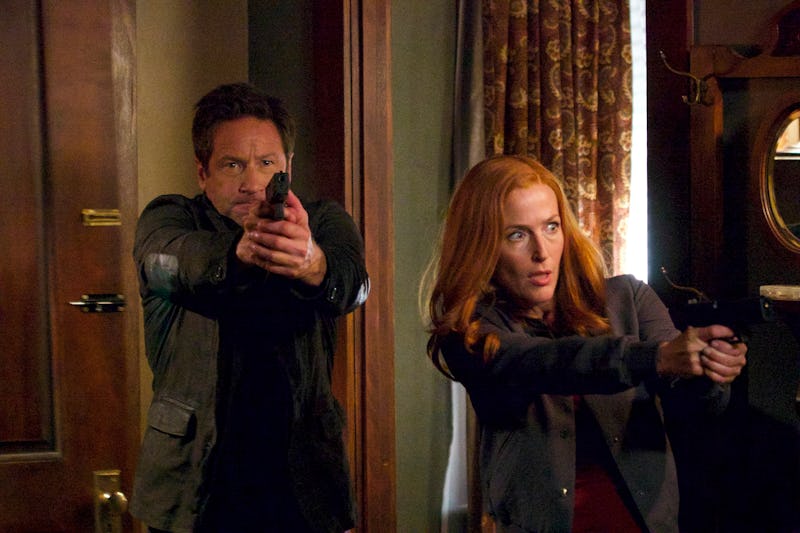 FOX/FOX Image Collection/Getty Images
It already seemed too good to be true that The X-Files came back for a tenth season over a decade after its first nine seasons wrapped in 2002. Now, I'm so excited that the reboot will return that I have to find somewhere to put my focus, or else I might explode. So let's talk about the nitty-gritty: when will The X-Files Season 11 premiere? This announcement is still very new, so there aren't any official or exact dates out in the world yet. However, the figure that's being cited by most outlets is the 2017 — 2018 television season. It's good news and it's bad news; good news because that's surprisingly soon, but bad news because it's remarkably vague.
Update: Fox announced on Nov. 15 that The X-Files Season 11 will premiere on Jan. 3.
Earlier: The 2017 — 2018 season begins in September 2017 and stretches all the way to August 2018, so that's almost a full year of programming to speculate about. Normally I'd at least be able to eliminate to eliminate the first half of the season, as the New York Times reports that production won't even begin until Summer 2017. I do feel confident guessing that the series won't appear until 2018, even if it's early in the year, but this project is so hotly-anticipated that it's really anyone's guess when it comes out.
Maybe FOX would want to rush it for their fans, or maybe that would be added incentive to take their time, to make sure everything is perfect. And there are only 10 episodes, so the network wouldn't be bound by the constraints of a typical, 22-episode season. However, there's no way to be certain of the premiere date until an official announcement is made.
What we can look at for clues is Season 10, which returned to FOX in late January 2016 after being announced in late March of 2015. So that puts 10 months in between the announcement and its premiere, for a six-episode season. And yes, this season is longer, but they also just did this, so I imagine that would cut down on some of the time required to put things together. I'm predicting a repeat phenomenon of the 10 months between the announcement and the premiere, for a first episode of X-Files Season 11 cropping up in late June.
Not a ton of shows are on in the heat of summer, so the competition wouldn't be overly high And, with a truncated season, it could be over and done with before fall programming started. Take that and put it in the bank, and feel free to send me an Edible Arrangements if I'm right. (No melon, please.)