The Lack Of Women In The 'Counterpart' Premiere Is Actually A Major Clue To Its Central Mystery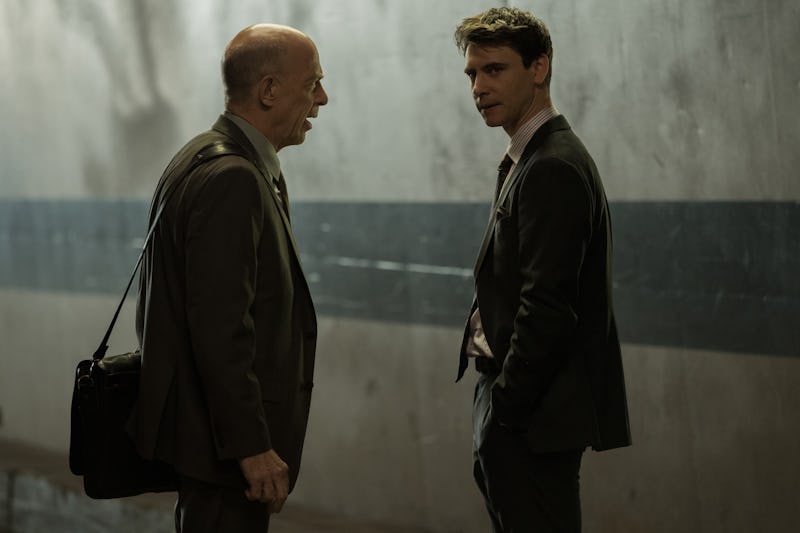 Starz
There are a lot of bizarre elements in the Starz series Counterpart (executive producer: Amy Berg), but one of them is sure to please a certain frustrating subset of Star Wars: The Last Jedi (producer: Kathleen Kennedy) "fans," so to speak. The Ministry of Magic-esque "Office Of Interchange" is inhabited exclusively by men, at least in the Jan. 21 premiere episode. Where are the women in Counterpart? In a round table interview at a preview event, creator Justin Marks assured reporters that everything we see is happening for a reason. And in fact, the gender imbalance may even be a clue.
First and foremost, there are female characters in the show, though they haven't gotten much screentime yet. Olivia Williams is a series regular as Emily Burton Silk, the wife of J.K. Simmons' character. You may recognize the actor from other high concept genre shows like Dollhouse (writer: Maurissa Tancharoen, 26 episodes) and the political thriller Manhattan (production designer: Ruth Ammon). More women will be revealed as the story goes on, but but what's striking about Howard Silk's workplace —at least on his side of things — is that there are virtually no women.
"Like the 'interface room,' as we call it, that long line," Marks says in the round table, describing the all-male regimented bureaucracy that is Howard's daily routine. "It was a specific choice." Everything is intentional, and will help fans unravel the mystery. "There are two things that are very antiquated there," says Marks about the place where we first meet Simmons' character. "The gender division, when it comes to that, and the technology are still both sort or rooted in a time that might give clues as to when the crossing first began. And the fact that [the employees are] sort of frozen in a certain version of that culture."
According to the official trailer, that time frame appears to be the Cold War era. That's when the world split, creating this parallel world that the Howard we first meet inhabits. Is it difficult to imagine a world in which women's rights were not advanced after the '50s? Unfortunately, not really, as the desire to go back to a society like that is still expressed by some politicians in 2018.
"Now on the other side," Marks teases about the parallel 'verse, "not to spoil anything, but you're gonna see a little bit of a different spread. We actually have, in the show, a predominantly female cast." He cites upcoming characters like Sara Serraiocco's Baldwin and Clare, played by Nazanin Boniadi from Homeland (director: Lesli Linka Glatter, 19 episodes). "She appears in the second episode as kind of one of the key villain figures," the showrunner explains.
The series may start out from the prospective of characters played by male actors Simmons and Harry Lloyd, but that world expands. (Oh, and in case you don't recognize the latter without the platinum waves and petulant glare, Lloyd played Daenerys' brother Viserys on Game of Thrones [director: Michelle MacLaren, four episodes].) So, where are the women? On the "other side" of the portal, it seems.
Gender will actually play into how these universes and the characters in them operate in an interesting way, according to the boss, thanks in part to the women writers on staff. "We didn't want to get locked into what feels like an antiquated gender play," Marks says, "and we wanted to make the show, in a lot of ways, very much about gender, which is what you're gonna see as the season unfolds."
So if you instantly noticed the lack of female characters, even in the background, you're spot on. Maybe those women are hiding in unexpected roles. This show is about discovering another side of yourself, after all.
"A lot of characters on the show thrive on being underestimated," teases Marks, warning the audience not to pre-judge any of the characters based on who they are or how they look, either. Gender and gender roles certainly play a part of that in our own society, which means this should make for some exciting and unexpected storytelling in this strange world of alternative possibilities.
Additional reporting by Sage Young