Here Are The Only Places You Can Buy Rihanna's New Matte Lipsticks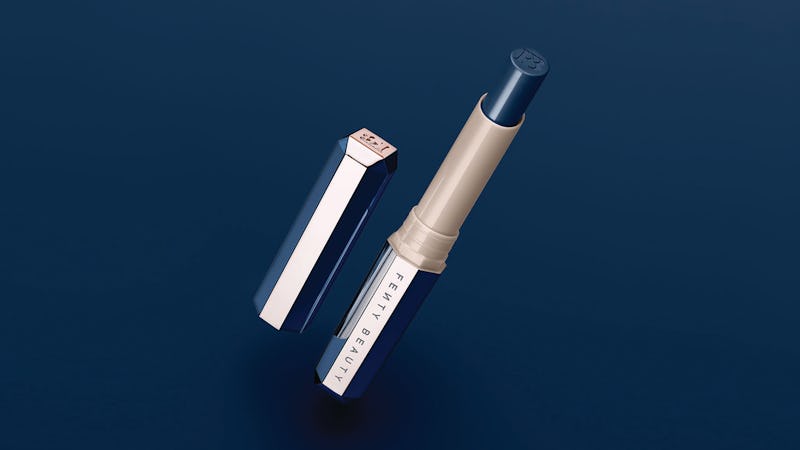 Courtesy Fenty Beauty
The beauty industry has become a place of elitism. The trendiest lip colors, perfumes, or whatever other celebrity-named products are the easiest to come by and the hardest to actually get. Until now. Fenty Beauty's Mattemoiselle Lipsticks will be available all throughout the U.S. and the UK in abundance on Dec. 26. The brand is not only changing the makeup game by offering a wide variety of shade ranges and universal lip colors, but it's made products readily available upon launch.
The 14 shades of matte lip colors are set to release on Dec. 26 at 9 a.m. ET/ 6 a.m. PT. You can buy them on the Sephora and Fenty Beauty websites as well as in-store when Sephora doors open. You can also snag the shades at Sephora in JC Penny and Harvey Nichols in the UK. Each color will be $18 each, according to the press release.
There's no secrets, social media hints, or weeks of waiting involved. Everything you need to know is all laid out, and what you do with it is up to you.
The 14 lip colors are absolutely stunning and just as quirky as the products that came before it. Deemed by Rihanna as "a color for everyone," the shade range has a hue for every mood. That's included, but not limited to, the "moody brown" PMS and the bright purple One Of The Boyz.
Whether you're looking to buy at first launch or wait it out, time is on your side. If the previous launch has anything to say for how this one will go, you'll have plenty of time to think over your purchase before you spend the money. Each of the lipsticks are permanent to the collection as well, so you can save up for your favorites.
In case you don't remember, Fenty Beauty had in-store launch events at Sephora stores all over the United States, letting people try the products for themselves. The brand also made the line readily available on the Sephora website for the people who couldn't get to the events. The major takeaway from that is that you don't have to buy their products — you want to.
Other celebrity brands — *cough* Kylie Cosmetics *cough* — are only available at one place for a limited time. It not only hypes up every single launch, but leaves customers impulse buying.
There's a difference in building the hype around a product and making fans beg you for every single detail. The two, albeit a relationship, are not the same. Yes, Rihanna pops up on your Instagram feed wearing that gorgeous Midnight Wasabi lipstick that you so desperately wish you could pull off. While the look may be a challenge to pull off, she doesn't make the buying process hard. It's not a challenge for you to look like her. Instead, it's about self expression — and feeling inspired by the line.
"Lipstick is all about having fun and expressing your mood at any given moment," Rihanna says in the press release. "This collection makes it easier than ever because there's a color for everyone."
Easier, indeed. Fenty Beauty and its Mattemoiselle Lipsticks are not for the elite makeup buyers that are in the right place at the right time. It's for everyone. Part of that "fun" means not having to have a virtual Hunger Games to add it to your cart.
Say goodbye to the day of stalking a celebrity's social media page to gawk over their exclusively guarded swatches and maxing out credit cards without time to save up. Rihanna will always give you all the details, Fenty Fam.