Too Faced Is Releasing Better Than Sex Stilettos To Go With Your Lush Lashes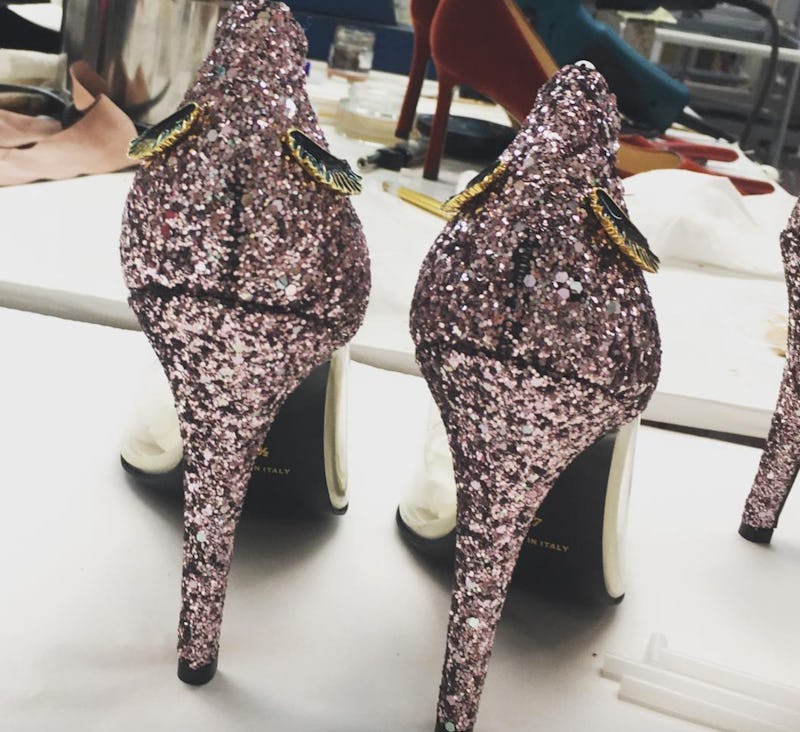 Too Faced is stepping out of the makeup world and to new heights — literally. A few months ago, brand co-founder and creative guru Jerrod Blandino posted one of his signature "sneaky peaks" featuring bedazzled stilettos inspired by Too Faced's best-selling, Better Than Sex Mascara.
At the time, Too Faced faithfuls freaked out, hurling wished-for sizes at Blandino in the comments. Some even noted that the pink bejeweled heels, which were stamped with the phrase "Better Than Sex" in gold on the sole, looked like sex toys when photographed from certain vantage points.
That said, Blandino noted in the caption via a hashtag that the shoes were merely a prop for an upcoming video or ad, and unfortunately not for sale.
That hashtag crushed the hopes and dreams of shoe-loving beauty obsessives . It seemed to effectively shut down the rumors that Too Faced heels would be an actual thing, much like the dark rinse Too Faced denim jacket that was custom designed for Blandino himself as a one-off.
Either Blandino was teasing fans and keeping a big secret, or he straight up changed his mind because he posted several images of the mass-produced heels, hashtagging that they would be available soon. The glitter-encrusted heels, which also feature a pair of eyelashes on the back, will indeed be available for purchase at the brand's Better Than Sex NYC pop-up shop, which arrives this October.
Yes, unfortunately these shows are only available for one time only.
That's a lot of shimmer and sparkle. Blandino did confirm that there will only be a limited amount of the Italian-made shoes for sale at the pop-up. He also revealed that the shoes are vegan, so Too Faced fans with animal sympathies can feel good about strutting their stuff in these stilettos.
Here's a look at the front of these glamazon-worthy shoes. Are you already dreaming about what outfits you could pair these with?
Blandino didn't share the price of the Better Than Sex heels just yet. The cost and size range are the two main questions marks at this point.
You probably never knew you needed or wanted a pair of millennial pink heels inspired by a popular mascara. But, alas, you do.
ICYMI, here are the shoes as they were originally posted by Blandino back in July. At the time, we were left thinking they were promo only. Thankfully, that assumption is a thing of the past.
These shoes make a literal statement, too. Now you can flaunt your Better Than Sex status.
Notice the length of the heel. It's certainly long and lean, much like the Better Than Sex mascara lengthens and extends lashes. That's totally not an accident.
Of course, Too Faced loyalists weighed in and shared their emotions about the shoes and their new availability.
Too Facers aren't shy about coveting this footwear and shouting it all over Insta. Can you blame them, though? They are sparkly, fun, flashy, and allow the wearer to proudly display their love of their lush lashes and makeup.
Fans once again began requesting sizes and other locations in which to purchase these shoes. Clearly a cosmetics brand switching lanes and veering into fashion feels totally seamless for them.
This isn't exactly new terrain for Too Faced, though. In addition to a range of makeup bags with Skinnydip London, the brand enjoyed a cute collab with Quay sunglasses for a promo, too. Too Faced's imaging and graphics certainly avail themselves of accessories.
Now, if only Too Faced would manufacture and sell t-shirts and hoodies. Hey, maybe those will happen at the much hyped pop-up shop, too.