This Too Faced Denim Jacket Is Too Cute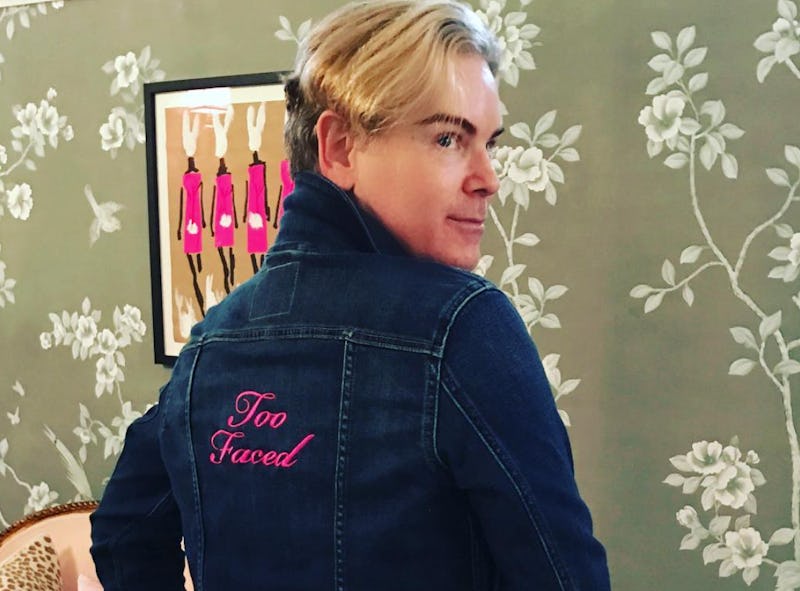 Branded merch is all the rage — from Ariana Grande's Dangerous Women Tour offerings to Beyonce's Lemonade zipper hoodie to Justin Bieber's Purpose Tour capsules to Glossier's branded sweatshirt. Fans of artists or brands want to broadcast their love and loyalty on their person. Jerrod Blandino posed in a dark rinse denim jacket with the pink Too Faced logo on the back via his personal Instagram, striking an over-the-shoulder pose and staring off camera. It was a true model moment for the brand's co-founder and Chief Creative Officer, who was riffing on the iconic Brooke Shields Calvin Klein jeans commercial from the '80s. Fans and Too Facers immediately flooded the post's comments sections with inquiries about the cute coat, going as far as to describe it as a wadrobe "need." Is the Too Faced denim jacket available for purchase?
Bustle reached out to Too Faced reps to inquire about the jacket's status and to see if it is a custom piece or staff only, a promo item, something that will eventually be commercially available, or something you can buy with an additional product. The brand did release Too Faced-branded Quay sunglasses earlier this year so anything is possible.
UPDATE: Too Faced reps got back to Bustle via email on Oct. 24 to confirm that the jacket is Blandino's custom piece; it will not be made available for purchase.
Observe J. Blandino in his snazzy Too Faced denim jacket.
The jacket is a seriously stylish basic and lets the wearer — in this case, the brand's guru— express their love for Too Faced.
Dark rinse denim jackets are always a wardrobe essential and a "do." Blandino clearly loves wearing his!
Fans certainly blew up the comments with asks.
The Too Faced fan contingent has spoken. If the brand produced a limited edition run of jackets, customers would scoop them up and sport them proudly, based on all the chatter that erupted when the jacket entered the Instagram space. You can never go wrong with a denim jacket with a twist like this.
Images: Jerrod Blandino/Instagram (1); Too Faced/Instagram (1)