Lifetime's 'Beaches' Changed Up The Soundtrack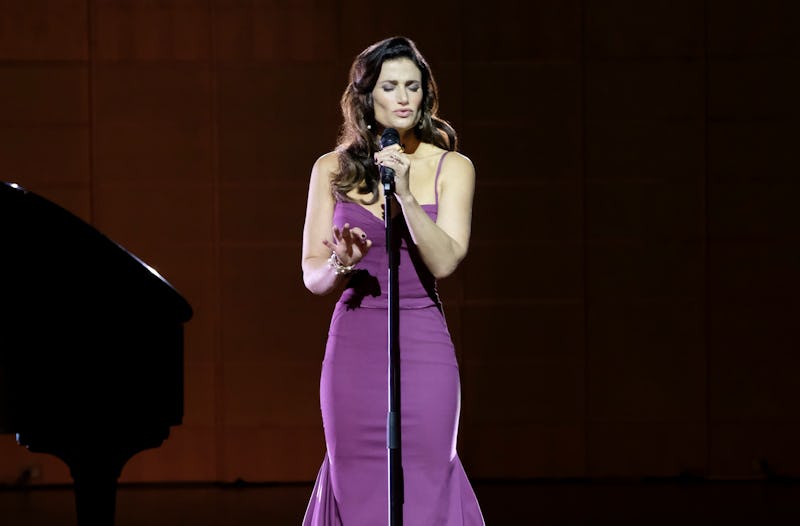 A&E Television Networks, LLC.
My mother is a wonderful, caring, giving woman, but one thing she isn't is a music buff. When I was growing up, there were exactly four albums that we listened to when cleaning the house on Saturdays — the soundtrack to Jesus Christ Superstar, The Carpenter's greatest hits, Gloria Estefan's greatest hits, and the Beaches soundtrack. When I hear the first brass tones of "Under the Boardwalk," I am still inspired to pick up a duster — it's almost Pavlovian. That's why when I heard that Beaches was getting remade, I was very excited to see Idina Menzel in Bette Midler's iconic role, singing "Wind Beneath My Wings" and more. However, some of the songs from the original Beaches aren't in Lifetime's remake.
Don't worry — "Wind Beneath My Wings" and "The Glory Of Love" are still big players in the remake, but songs like "Otto Titsling," "I've Still Got My Health," "I Think It's Going To Rain Today," and "Baby Mine" (oh god, "Baby Mine") are notably missing. I understand the change a bit because Idina Menzel's CC is less of a lounge singer than Midler's version, but how could they take "Otto Titsling," the man who invented the first over-the-shoulder boulder holder, away from me like that? Luckily, Beaches executive producer Alison Greenspan is able to shed some light on the situation in a statement to Bustle:
"We had such reverence for the original soundtrack, but also were aware as with any re-imagining of an original, there is an entire generation of females out there that haven't seen Beaches or heard the wondrous songs within. It was important to us and Idina to hit the emotional highs of "Glory Of Love" and "Wind Beneath My Wings" and also provide other fun music moments for the film. I think also Idina felt so much respect and admiration for Bette that she not appear to imitate her in anyway, and so Idina was super involved in producing and crafting the arrangements of both iconic numbers so that they are both true to the original iterations, and also feel very much like her own creations."
Playbill reported last year that the remake would have new songs and new scenes, and Menzel said as much, too, when she tweeted out a sneak peek during filming.
It's understandable that Lifetime and the producers would want to remake Beaches so that it's relatable to both original fans and a new audience. The story is the same, and both Menzel and Nia Long are great in it, but people who loved every song from the original may be disappointed to see that the entire iconic soundtrack wasn't included. That being said, I'll get over it, because I definitely understand how it could be daunting to fill Midler's shoes, though Menzel is selling herself short and is more than capable of taking on the role.
Hopefully, viewers will keep an open mind when it comes to the updated soundtrack, because through these changes, Beaches is introducing an iconic story to a whole new generation.