Here's What The Attorney Who Defended Michael Peterson On 'The Staircase' Is Up To Now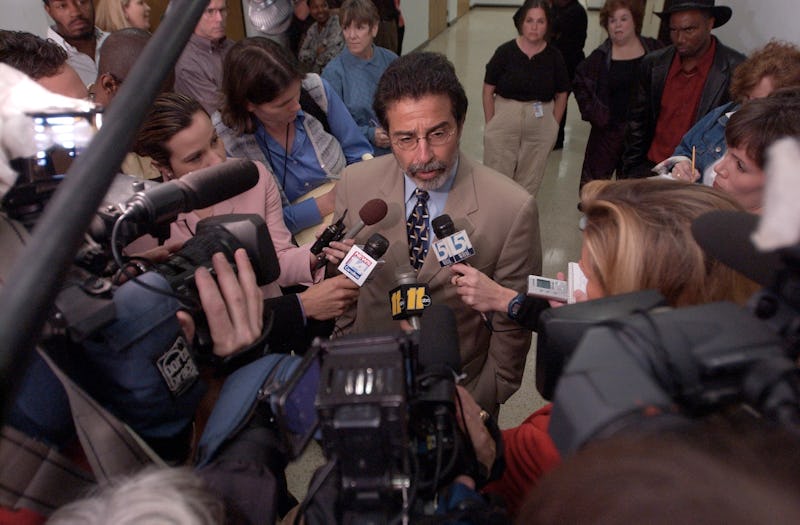 WhatsUp / Netflix
Attorney David Rudolf came to national prominence for defending Michael Peterson in his initial murder trial, which was chronicled first in the 2004 miniseries The Staircase. Now that Netflix will be debuting new episodes following all the twists and turns of Peterson's case, Rudolf is back in the spotlight. So it's fair to wonder if David Rudolf is still practicing law today. And indeed, he is.
When Peterson was accused of killing his wife, Kathleen, who was found dead at the bottom of their home's staircase, according to the Associated Press, Rudolf was on his defense team. After a long trial, Peterson was convicted of first-degree murder in 2003 and was initially sentenced to life in prison without parole. But the case didn't end there. Years later, after a judge found that a blood analyst offered misleading testimony during the trial, Peterson was released and granted a new trial, the AP reports.
According to another AP article, Peterson was eventually able to walk free in 2017 following a second trial with the help of Rudolf. Peterson entered into a plea deal known as the "Alford plea." This kind of plea essentially acknowledged that the prosecution had enough evidence to convict him of manslaughter, but still allowed him to maintain the position that he did not kill Kathleen, the AP states. Because the sentence he faced was less than the eight years he'd already spent in jail following the faulty trial, he was able to walk away without more prison time, according to the News & Observer.
Now, after the case is all said and done, Rudolf remains an attorney. He's a part of the Rudolf Widenhouse law firm in North Carolina, and continues to be recognized in the community for his accomplishments as a lawyer, according to the firm's website. The website states that the company specializes in criminal defense, complex civil litigation, appeals, college disciplinary proceedings, post-conviction challenges, and civil rights matters.
Rudolf said in a 2016 News & Observer interview that he suspected he might return to Peterson's case even after the years he spent away from it. "I spent a good deal of my life on this case," he told the paper. "I'm very interested in it." Bustle reached out to Rudolf for additional comment about the documentary and the case as a whole but did not immediately receive a response.
Rudolf has seen at least some of the footage from The Staircase before — according to the Daily Beast, the doc first aired on French, British, and American television in 2004 before being rebooted in 2013 after the sentence was vacated, and now it's being continued again on Netflix. He told the Los Angeles Times in 2005, following the first batch of episodes, that watching the documentary was "a very, very emotionally wrenching and depressing experience. It put me right back in the middle of it, except that I knew that the outcome was going to be a disaster."
He also said in the same article that the trial was wearing on him heavily in the immediate years following the first-degree murder conviction. "It made me so suspicious and untrusting of the system," he continued. I always felt like if I was able to just get in there and do what I needed to do, that logic and facts would prevail. I don't think that's what happened here."
That was all, of course, before Peterson would eventually be released and allowed to walk free, so watching might very well be a different experience for him this time around. The situation as it exists today is starkly different than it was when it looked as if his client might spend the rest of his days behind bars.