Everything Dean Strang's Been Up To Since 'Making A Murderer' Part 1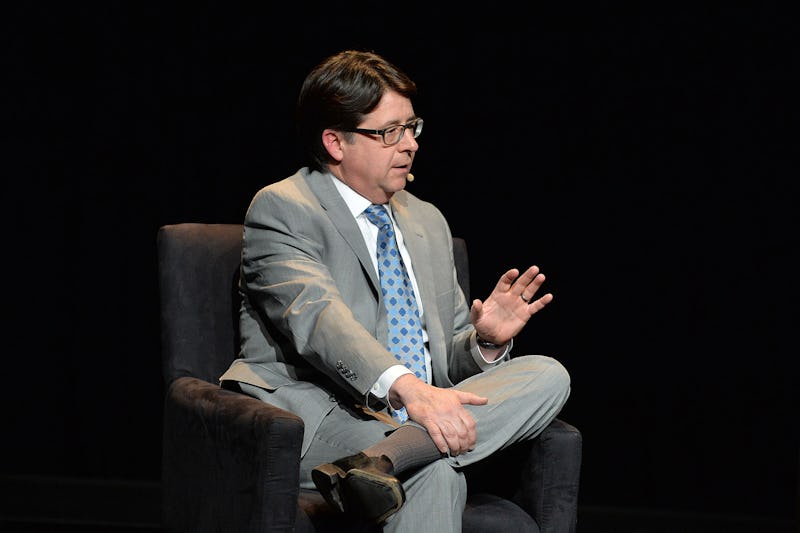 Slaven Vlasic/Getty Images Entertainment/Getty Images
Dean Strang has been in and out of the public eye for over a decade now. He shot to the forefront of local Wisconsin news during Steven Avery's 2007 trial, then was bumped to the national stage when Making A Murderer hit Netflix in 2015. But where is Dean Strang in 2018, nearly three years after the series swept the nation?
For those who need a refresher, Strang was Avery's defense lawyer alongside his co-counsel, Jerry Buting. It was a tricky case, and ultimately, they lost: Avery was convicted of Teresa Halbach's murder in 2007 and sentenced to life in prison without parole, though he has repeatedly claimed he's innocent.
Shortly after Making A Murderer exploded in popularity, Strang and Buting did a speaking tour called "A Conversation on Justice" about Avery's case and the criminal justice system at large. In 2016, they also found themselves in the news when Avery hired a new lawyer, Kathleen Zellner, who stated that her intention for Avery's appeal was to take apart his trial defense — aka the defense that Buting and Strang mounted. But the pair told Newsweek that they were not offended, and in fact, felt it was warranted.
"It's a case where we as trial counsel could have missed something that could have been significant," Strang explained. "We really did want fresh eyes to look at all of the issues, including whether we possibly rendered ineffective assistance of counsel."
He continued, "Nobody likes unfair criticism — I don't. Until I can look you in the face and say, 'I'm perfect,' I don't have any right to bristle at fair criticism. So far all I've heard is potentially fair criticism."
Then, in 2017, Strang again made headlines when he started advocating for his fellow Wisconsin lawyers to make more money from the state when clients can't pay them. According to the Green Bay Press Gazette, the state paid court-appointed lawyers $40 an hour to represent low-income clients, but it reportedly cost $42 an hour to run a law practice. So, Strang joined forces with other lawyers, including Buting, to lobby for a pay increase. And it worked: According to the State Bar of Wisconsin, the state agreed to raise hourly wages for court-appointed lawyers to $70-$100 an hour earlier this year. However, the rate for private lawyers who take on overflow public defender cases remains at $40 an hour.
All of this brings us to 2018. Strang is still speaking at colleges, still practicing law, and still advocating for his peers. In July, he signed a letter in The Cap Times with 25 other Wisconsin lawyers urging voters not to dismiss a candidate for governor simply because of who he had represented in the past. "Lawyers ought not be judged by their clients," the letter read in part. "To reject a lawyer because of what his or her clients did, or may have done, is unavoidably to reject due process of law."
According to his website, Strang himself has been at the law firm StrangBradley LLC since 2014. His site bio states that he is absolutely dedicated to his client's cases — no matter how tricky. "When this means taking the longer, harder route, I do that with a client," he wrote. "Shortcuts usually serve a lawyer's comfort, not a client's cause. And cutting corners serves neither the client nor the lawyer."
His bio also says he's been teaching at the University of Wisconsin's Department of Continuing Studies since 2013. Additionally, Strang headed across the pond in February 2018 to teach a six-week lecture series at the University of Limerick in Ireland, according to The Irish News. Strang told the outlet he was excited to learn about another country's laws.
"To immerse myself in an Irish law school for nearly two months, and to learn about how law is taught and lived in Ireland ... I will have chances to hear and meet Irish students, professors, lawyers and judges and to consider questions that daily law practice either crowds out or omits."
The university was just as excited to have Strang, with the law school's head Professor Shane Kilcommins telling The Irish News, "Dean Strang has a unique perspective on the U.S. legal system and a very valuable contribution to make to our understanding of the relationship between the legal profession and the citizen."
After completing that lecture circuit, Strang returned to the United States and spoke to a Utah law school, where he opened up about whether or not he believes Avery's claims of innocence. Per the Desert News, Strang had this to say about Avery: "I don't know that Steven Avery is innocent, but I've always had a nagging suspicion that he is."
With Making a Murderer Part 2 coming out on Oct. 19, Avery's case will once again be in the public eye — which means that Strang will be as well. But even though he's been a big part of the series, Strang once said he doesn't plan to watch Part 2. He told Today's TMJ4 in 2017, "I need a little coaxing to watch this. I lived much of it and haven't been all that anxious to re-live it."
Instead, he'll likely keep his head down, focusing on his clients, fellow lawyers, and the future lawyers at the schools he talks to. Strang clearly loves to speak about the law system, and it doesn't seem like he has plans to stop any time soon.