How Wilson Fisk Totally Played The Feds In 'Daredevil' Season 3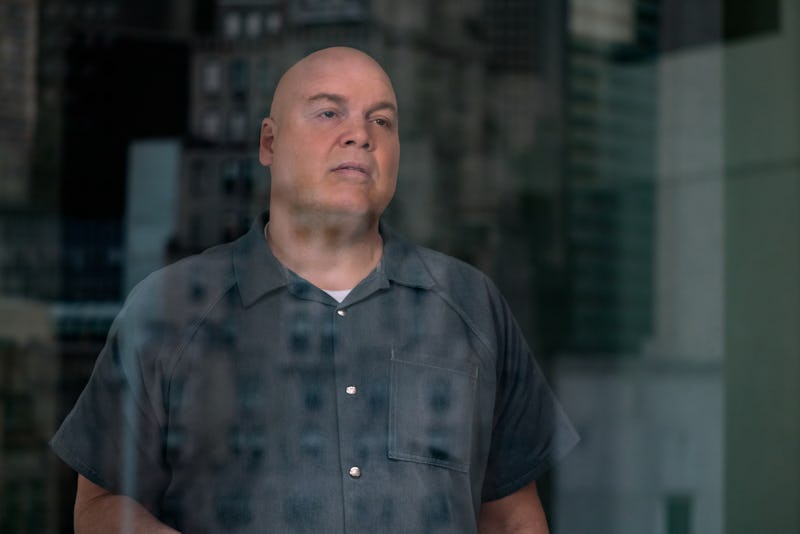 Nicole Rivelli/Netflix
Matt Murdock successfully got Wilson Fisk imprisoned in Daredevil Season 1 and that's where the Kingpin stayed for the following season. However, that all changes in Season 3. Spoilers for Episodes 1-6 follow. While Kingpin starts the season in jail, Fisk's prison in Daredevil Season 3 soon becomes a swanky hotel. In the Season 3 premiere, Fisk learns from his lawyers that the federal government is charging his fiancée Vanessa Marianna as an accessory to his crimes. To save Vanessa, he strikes a deal with FBI agent Ray Nadeem to give up other criminals. Part of that deal leads to Fisk ending up in the penthouse of the Presidential Hotel. The public is already angry at this move since it seems like Fisk has been set free. But if the residents of New York City knew the full truth that Karen Page is trying to uncover, they'd be even more outraged.
Wilson Fisk is ruthless, but he does have a soft spot when it comes to his love, Vanessa. So perhaps like Ray, you initially believed that Fisk is genuine when it comes to his deal with the Feds. After all, his information leads the FBI to take down the Albanian crime syndicate and an inmate attacks Fisk for being a snitch. However, Matt Murdock, Karen Page, and Foggy Nelson all know that Kingpin is not to be trusted and they assume this must be a master play by Fisk — and they're right.
Karen uses her journalistic skills to learn more about the terms of Fisk's release. When she tries to get information from Agent Nadeem, he tells her, "Fisk has not been released. That's fake news. He's a cooperating witness, but he's very much a convicted prisoner and he's being treated as such." Yet, Karen echoes the outrage of the crowds when she replies, "Being held in a $20 million penthouse?" Ray reveals that the U.S. government seized the hotel from a Wall Street investor who was convicted of fraud. (Although there's a President Hotel in Time's Square operated by Best Western, there's no real Presidential Hotel in New York City. And this entire scene doesn't seem like it would have appeared in a pre-President Trump world.) But Karen suspects there's more to the story and does some digging.
She discovers that Fisk is keeping money in the offshore Red Lion National Bank. Through fixer Felix Manning, Fisk's shell organization VanCorp actually bought the hotel. Karen informs Ray that his "so-called prisoner just bought the prison you're keeping him in." But a combination of her anger and his desperation to make this Fisk deal work means that he doesn't take her accusations seriously. Not only does Ray need this for his career, but many FBI agents died in the process of getting Fisk to his luxury prison.
As part of his terms, Fisk also gets many of his possessions back. So, just like he ruled the roost in prison in Season 2, he's now calling all of the shots from his deluxe apartment in the sky. And he's able to get around his 24/7 surveillance by having meetings with his lawyers, which allows him time to do his shady business.
Matt confirms that Karen's investigative work is correct by figuring out that Fisk staged his own shanking in prison. So Karen reluctantly teams up with Matt to expose this truth. Meanwhile, Foggy is encouraged by girlfriend Marci to try a different approach — run for District Attorney against Blake Tower. Like Ray, Blake is willing to allow Fisk this "house incarceration" if it means getting other criminals off the streets.
Even though Karen and Foggy are far from being on friendly terms with Matt, thankfully this trio is back to doing what they do best in Daredevil Season 3 — bringing down Fisk. And hopefully, the authorities will realize that Fisk is playing them before it's too late.