Why Midge *Had* To Leave New York For 'Mrs. Maisel' Season 2, According To Its Creators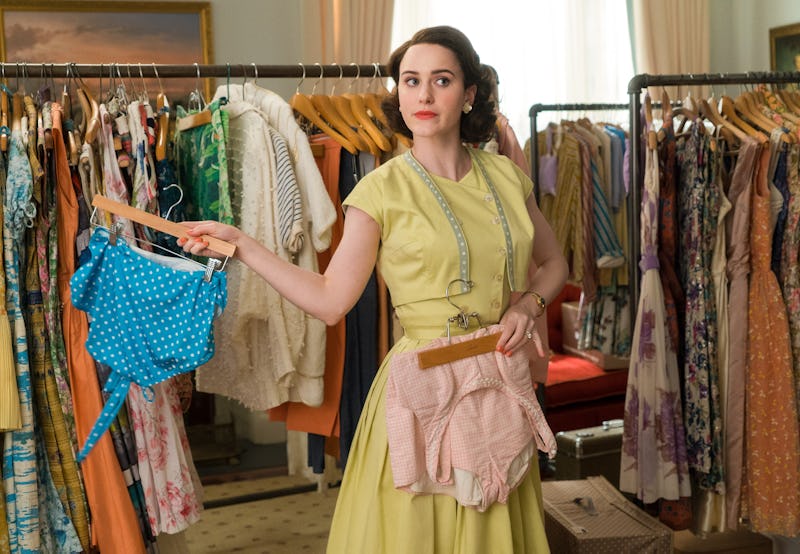 Amazon Studios
The Marvelous Mrs. Maisel Season 1 transported viewers to 1958 New York. And while Season 2 will still take place in the city that Midge calls home, she'll be leaving Manhattan as she continues to grow her stand-up comedy career. New filming locations for The Marvelous Mrs. Maisel Season 2 ranged from the Catskills to Paris, and even if that doesn't necessarily mean Midge will be performing in these new locales, she'll undoubtedly dazzle fans wherever she goes.
Season 1 of the Amazon series began firmly rooted in the Upper West Side, but slowly expanded to the rest of the isle — to the Greenwich village nightclubs where Midge's husband, Joel, would hopelessly nurse his stolen stand-up routine, to the seedy downtown bars where she and Susie tried out her own (and much funnier!) material. As the New York Post reported, Season 2 will continue to showcase New York City in the late '50s with the series venturing to a brand new borough with Queens, but Midge will also be getting out of the concrete jungle with big trips to the Catskills and France.
"We shot in this beautiful resort in Deposit, New York," Brosnahan said on The Tonight Show with Jimmy Fallon. As FOX affiliate WICZ reported, that resort is Scott's Oquaga Lake House, which has been family owned and operated since 1869. "They were looking for an old-style Catskill resort and we were fortunate enough to have what they were looking for," owner Patty Holdrege told WICZ.
Besides Midge performing her act there, Brosnahan noted there's another reason entertainment fans should be excited to see Scott's Oquaga on-screen. "Rumor has it that years and years ago, the resort turned down Dirty Dancing," Brosnahan explained to Fallon. "And so when we came to them, they were like, 'Get on over here! Sign us up. We can't miss our shot!'"
As the Huffington Post reported (and Dirty Dancing showed), the Catskills were a popular vacation destination for Jewish families in the mid-20th century. And aspiring comics — many who turned out to be big — would try out their sets there. So for people aware of this history, Midge performing in the Catskills shouldn't be too surprising. It was also always a part of the plan to film there, according to executive producer (and creator Amy Sherman-Palladino's husband) Daniel Palladino. "We told Amazon pretty much while we were doing the pilot that we wanted to recreate the Catskills in Season 2," Palladino told the The Hollywood Reporter. "It's an emblem and a big part of Jewish cultural history here in New York and the surrounding states."
However, another location for The Marvelous Mrs. Maisel Season 2 that's a bit more unexpected is Paris. In an interview with Us Weekly, Brosnahan declined to reveal why Midge ends up in France, as it's a "big spoiler." But Palladino offered some insight to The Hollywood Reporter. "We went to Paris because we had laid in groundwork for it with [Midge's mom] Rose that she had happy memories in Paris where she went to school, and so having become unhappy with her circumstances, we thought she'd run to a place where she was unabashedly happy before she got married," he said.
Lastly, Midge ventures to the oh-so-exotic Philadelphia (though it appears that no on-location shooting was needed for that). But even with these changes in scenery, the majority of The Marvelous Mrs. Maisel Season 2 will have Midge right where you want her — pounding the pavement of New York City.