Here's What The Real Greg From 'The Room' Is Doing In 2017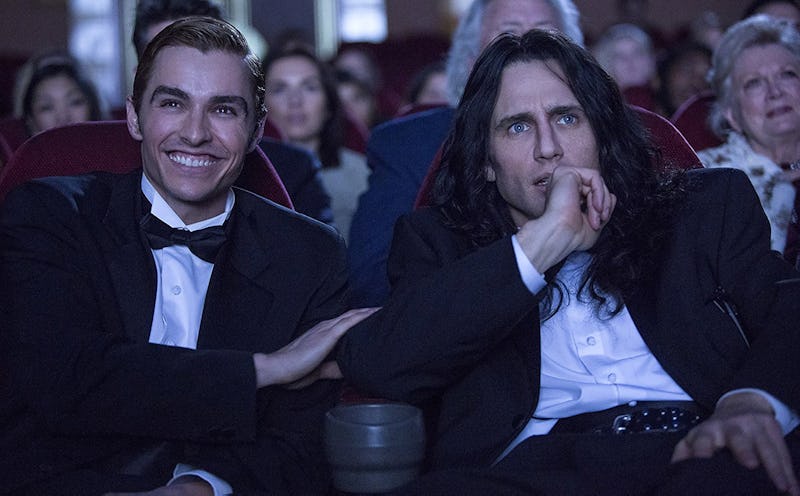 A24/Warner Bros.
The Disaster Artist is an unusual movie. It's a movie about a movie, but not just any movie. It's about the movie that is considered by many to be the worst picture ever made: The Room. The notorious 2003 film was directed, written, produced by, and stars Tommy Wiseau; and it co-stars fledgling actor Greg Sestero, who also served as the film's line producer. The Disaster Artist features James Franco — who also produces and directs — in the role of Wiseau, while his younger brother Dave Franco portrays Sestero. But where is the real Greg Sestero now?
Believe it or not, Sestero has actually managed to spin his experience on The Room into a successful Hollywood career, and is still working as an actor today — he even appears in The Disaster Artist. Sestero cameos as a casting agent in the film, which isn't too surprising considering the fact that the movie wouldn't exist without him. The Disaster Artist is based upon his 2013 memoir of the same name, which details the making of The Room and the behind-the-scenes relationship he shared with Wiseau during the film's production. But the actor, who is now 39, has done a lot more than just work on projects related to The Room.
Before appearing in The Room, Sestero had a handful of television and film appearances, many of them uncredited according to his IMDb page. He appeared in the films Patch Adams, Gattaca, and EDtv, as well as the soap opera Days of Our Lives and cop drama Nash Bridges, all before working on the film that would ultimately make him famous. But The Room's reputation as a must-see, so bad it's good cult film didn't kick in until years after its little-seen initial release, which would explain why Sestero went three years before he earned another IMDb credit, which finally happened with an appearance in the 2006 comedy Accepted.
Sestero followed up that appearance with a handful of roles in mostly low budget projects over the years, such as Sci-fi film Alien Presence, Edgar Allen Poe adaptation The Pit and the Pendulum, and prime time soap opera Fashion House. He also appeared in the music video for country star Miranda Lambert's 2010 song "White Liar."
Sestero has also done a number of projects with 5-Second Films in recent years. In 2010, he starred in the company's short End Zone, and the following year he co-starred alongside comedian Patton Oswalt in another 5-Second Film, You Got Mail. In 2015, Sestero scored what is arguably his most significant post-The Room role to date, starring in the full-length feature from 5-Second Films, Dude Bro Party Massacre III. Oswalt also appears in the film, as does Larry King. But the most exciting project for Sestero fans is still to come.
Sestero is reuniting with Wiseau in their first collaboration since The Room for the upcoming film Best F(r)iends. This time, however, it's Sestero who's acting as writer and producer, while starring alongside Wiseau. The film is directed by Justin MacGregor. The road comedy/thriller witnesses the breakdown of a friendship between a drifter (Sestero) and a mortician (Wiseau) after the two begin a shady business together. The film does not yet have an official release date, but it's expected to be released early next year. It previously screened in Los Angeles at this year's Beyond Fest, according to the Los Angeles Times.
Sestero earned a cult following by appearing in one of the worst movies ever made, and he's used that status to further his career; first by writing a book about his experience, and now by re-teaming with his old friend Wiseau for a brand new film. Fans will have to see what kind of reputation this one earns, but hopes are definitely high.