Sonja Commented On The Tinsley & Dorinda 'RHONY' Drama & Is Basically Over It Already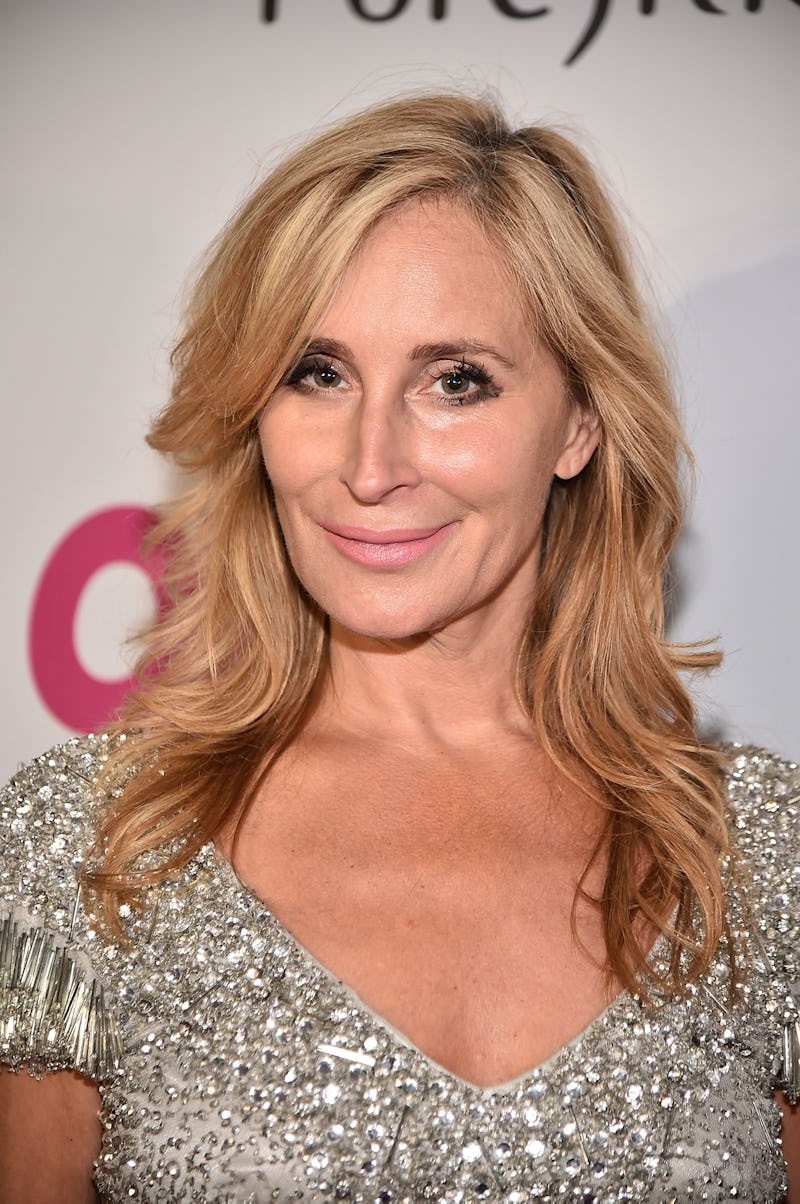 Theo Wargo/Getty Images Entertainment/Getty Images
Season 10 of the Real Housewives of New York City has already gotten off to a dramatic start. There have been intense fights and friendship breakups galore, and Sonja Morgan's found herself at the center of much of it, especially when it comes to Tinsley Mortimer and Dorinda Medley. But, Sonja Morgan isn't letting the RHONY drama get to her. In fact, she's already putting it behind her.
"The thing is, I want what's best for Tinsley," she says at OK! Magazine's Summer Kick-Off event Tuesday night. "If that means that our relationship takes a break for a while, then so be it. I want what's best for her in the end, that's the whole reason why I invited her to come stay with me."
On the last season of RHONY, Tinsley moved into Sonja's townhouse, and ever since she moved out, the pair's relationship hasn't exactly gone smoothly. Things came to a head this season when the two got into a major screaming match in the Hamptons. But now, Sonja says that the two are still on speaking terms, even if they aren't in the best place with the relationship.
Tinsley also has had well wishes for her former bestie, as she told Page Six in April. While she was "very hurt" by some of Sonja's comments, she did say that she's not ruling out a friendship reunion in the future. "The thing about Sonja is, there is a deep-rooted friendship there. We're like sisters, we'll always be able to get through it," she told the publication.
It's a slightly different story when it comes to Dorinda, another Housewife who Sonja's gotten into it with on the current season. Sonja still has a positive outlook on the whole dramatic situation, but she's not exactly into Dorinda's behavior.
"I don't mind when Dorinda vents on me. You know, she can talk to me all she wants about Richard and the pain she's going through," Sonja says. "But, when she starts to attack things that affect my family and my daughter, that's when I start to draw the line. And I start to wonder if I even want to be friends with her."
Sonja also says that she's in a good place right now and doesn't necessarily want to be involved with what she sees as someone else's negativity: "I'm happy! Why would I want to be associated with someone who's hating on other people?"
In case you don't remember, Sonja and Dorinda got into it at brunch during a recent episode when Dorinda said that there's a big difference between losing your husband, in her case, and getting a divorce, as was the case for Sonja. It was one of the most intense fights on the series to date. And while the two sort of made up later at Ramona Singer's party for Carole Radziwill, the Housewives weren't exactly leaving as BFFs.
Still, even though they have had their ups and downs, Sonja doesn't wish ill on her frenemy: "I do care for Dorinda and want what's best for her, as well, as I would for anybody on this Earth."
For her part, Dorinda discussed the situation with Us Weekly in April. She said that she got "frustrated" about how the situation with Sonja went down, but thinks there could be a reconciliation in the future. "We're sort of in similar parts of our life," she said. The Housewife also said that she's a "total forgiver" so it's possible that the two reality stars could truly make amends.
Sonja is just all about moving on right now. She says that she's "happy" and is focusing on herself, just as she stated on the show. She's also busy with her appearances in fellow Housewife Luann de Lesseps' cabaret shows. The Housewife has appeared in Luann's "Countess And Friends" show and has even recounted the fun times on social media. Sonja's appeared in multiple shows so far with the Countess, where they've done some hilarious skits together.
Fans will just have to tune in to RHONY to see what else goes down with Sonja and the other women this season, but rest assured that she won't let the drama get to her too much.