Here's Where To Buy The "Nasty" Bracelet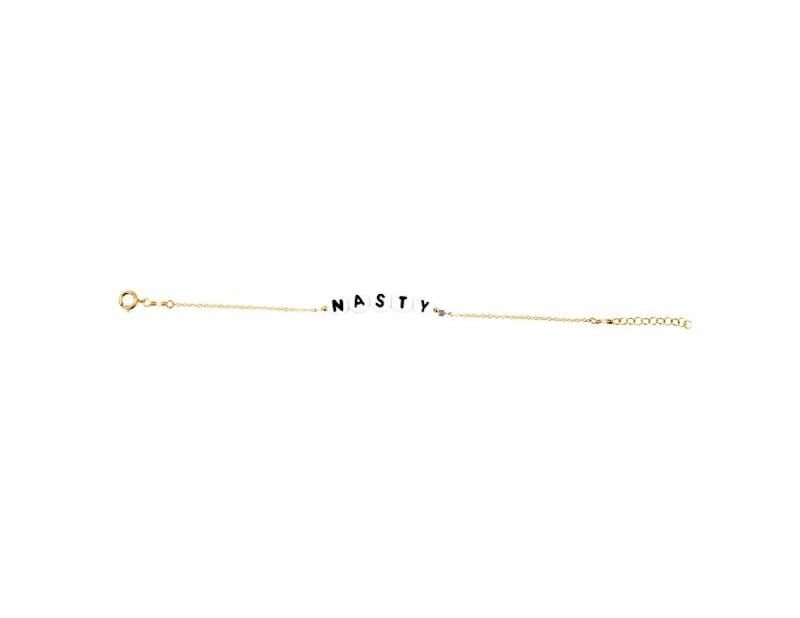 Combining politics and fashion together in the best way possible, Stella And Bow created the "Nasty" Bracelet. It's got a '90s feel and all proceeds go to an amazing cause, so, basically, you need this accessory in your collection. Where can you buy the Nasty Bracelet? There's only one place to shop the piece, and you're going to want to add it to your virtual cart as soon as possible.
Odds are you've seen the Nasty Woman shirts floating around over the past few months. Well, now there's an accessory that you can add to your wardrobe as well. According to the site, Stella And Bow's Nasty Bracelet was created to "empower 'Nasty' women across the nation." The bracelet has a 14k gold-filled band with black and white beaded letters spelling out "nasty." It's like the fashion-forward, politically savvy older sister to your '90s friendship bracelet — except instead of twine, it's made with gold and mother of pearl.
The best part, however, is that the proceeds go towards Planned Parenthood. That's right! The entire $44 goes towards the organization. You shouldn't need a bracelet to encourage you to donate, but it doesn't hurt to snag something cute while putting your money in good hands. The bracelet is available on the Stella And Bow website right now. Something tells me it won't be around for long though, because this accessory is fabulous.
NASTY Bracelet, $44, Stella and Bow
If you're confused as to why "Nasty" is being used as a rallying cry of sorts, let me fill you in. In the final presidential debate of the 2016 election, Donald Trump called Hillary Clinton "a nasty woman." Instead of viewing it as an insult, many women have started embracing the term. Thanks to Stella And Bow, you can wear it on your sleeve while benefitting PP.
You'll be happy to know that this isn't the only piece of "nasty woman" jewelry out there. If you choose to opt for a different piece of arm candy, I would urge you to consider still donating to Planned Parenthood through the organization's website.
1. Cuff Bracelet
Nasty Woman Bracelet, $21, Etsy
This ones isn't 14k gold, but it's just as trendy.
2. Pendant Necklace
Nasty Woman Necklace, $33, Etsy
You can take your pick of pendants with this range.
3. Dainty & Golden
Nasty Women Gold Minimal Necklace, $20, Thoughtful-Impressions
This one is just as dainty as Stella And Bow's piece.
4. Cursive Statement Piece
Nasty Women March On Washington, $35, Etsy
If you're looking to make a bold statement, this is the one for you.
5. Nasty Woman Ring
Nasty Woman Ring, $10, Etsy
There's even a little heart on the back!
6. Minimalist & Trendy
Hand Stamped Nasty Pendant, $14, Etsy
The bar necklace is one of my personal favorites.
7. Vintage-Looking Cuff
Nasty Woman Textured Bracelet, $18, Etsy
This style is a really different, edgy way to show your Nasty Woman pride.
You can't go wrong with any of these options when it comes to style, however Stella And Bow's is the best choice if you're looking to put some money toward an important cause.