Cath Kidston's 'Alice In Wonderland' Collection Is Here, & Yes We Want It All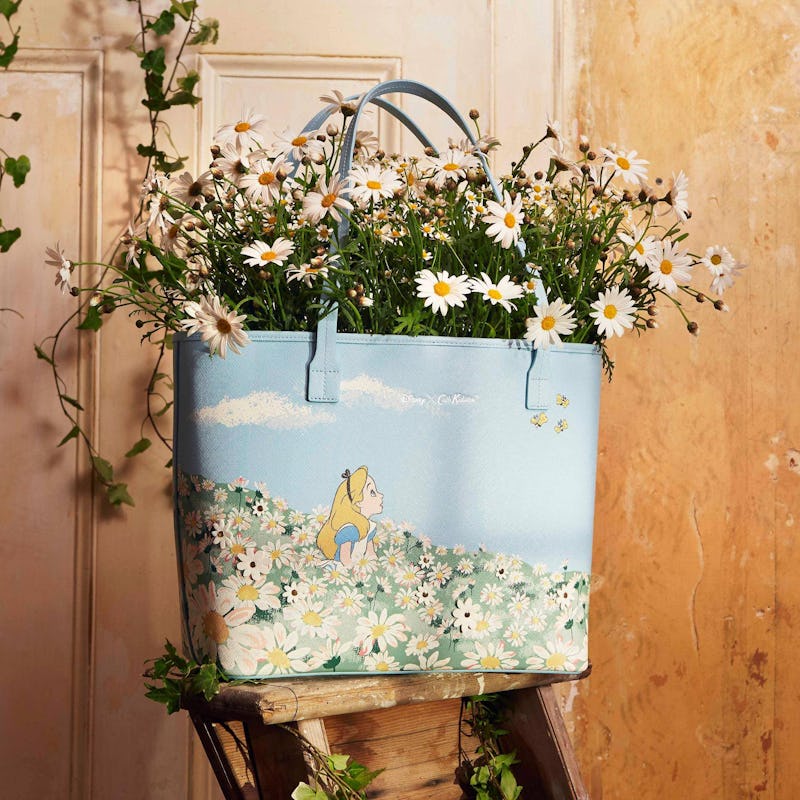 Cath Kidston/Facebook
It seems like the world's Disney obsession will never disappear — and I for one couldn't be happier about that. Since early childhood, Walt Disney's animations have filled our lives with joy, causing us to laugh and cry in equal measure. But in 2018, Disney is about much more than just films or theme parks. Today, you're likely to find their signature characters popping up in both designer and high street fashion. Brands seemingly can't get enough, and British designer Cath Kidston's Alice in Wonderland collection is the latest range to bring the Disney universe to life.
Launching on May 25, the range is Kidston's sixth collaboration with Disney, and the collection will span clothing, accessories, and homeware, with each design showcasing an adorable fairytale twist. Of the 1951 film's characters, you can expect to see Mad Hatter, Cheshire Cat, Tweedledum and Tweedledee, White Rabbit, and, of course, Alice herself.
In an April 26 blog post, the brand explained their thinking behind the collection:
"Alice in Wonderland is full of colour, imagination and humour, which made it the perfect fit for our iconic prints. For one of our prints in the collection, we were inspired by the scene in the original 1951 film where the white roses are being painted red by the playing cards, and we immediately thought of our archive filled with roses!"
Using this idea, Cath Kidston combined Alice's painting attempt with its blue flowers, printing it onto a wide range of accessories such as tote bags, makeup bags, and leather purses. The rest of the collection has a pop art feel with a red polka dot print appearing on yet more bags, as well as phone cases and a statement knit.
Fashion features heavily this time round. A whimsical scene depicting Alice sitting in a meadow full of daisies provided the inspiration for a summer dress and skirt combo, while memorable quotes from the film can be seen on a white cotton shirt dress. The denim jacket embroidered with a big red heart on the back and grinning cat T-shirt is also not to be missed.
If your wardrobe's already filled to the brim, Cath Kidston has also turned Alice's world into some homeware staples. Your bedroom can be filled with Mad Hatter-style bedding and pillows while kitchens will benefit from an Alice in Wonderland apron or teapot.
The collaboration also includes the perfect presents for an Alice fanatic such as mugs and notebooks, as well as complete crockery sets. Although some things fall on the pricier side (ranging up to £115), you can pick up a knick-knack for as little as £4.50.
Considering previous collections dedicated to Winnie-the-Pooh and Mickey Mouse sold out pretty quickly, Cath Kidston has decided to give people a better chance of scoring their favourite piece. While the collection will launch in all stores on May 25, you can get early online access from 7 p.m. on May 24 by signing up on their website.
There's a couple of things to remember before buying. As it's a limited edition collection, you will only be able to nab five of any one item. And unfortunately, no discounts or promo codes will be allowed. You'll also want to get in there fast, as judging by Twitter, demand is going to be pretty high.
Not only are people confessing their love for the collection, they are also begging Cath Kidston for more.
If the brand listens, expect to see a Cinderella or even Dumbo collaboration in the pipeline.
Cath Kidston also isn't the only brand to partner with Disney this year. Coach recently released its third collection with the childhood favourite, focusing on the darker side of classic films Snow White and the Seven Dwarfs and Sleeping Beauty. And in June, comfy footwear brand TOMS is launching a huge 30-piece collection inspired by all of the Disney princesses.
Looks like it's time to go down the rabbit hole once and for all.