Where To Buy Chelsea Handler's "Sorry About Our President" T-Shirt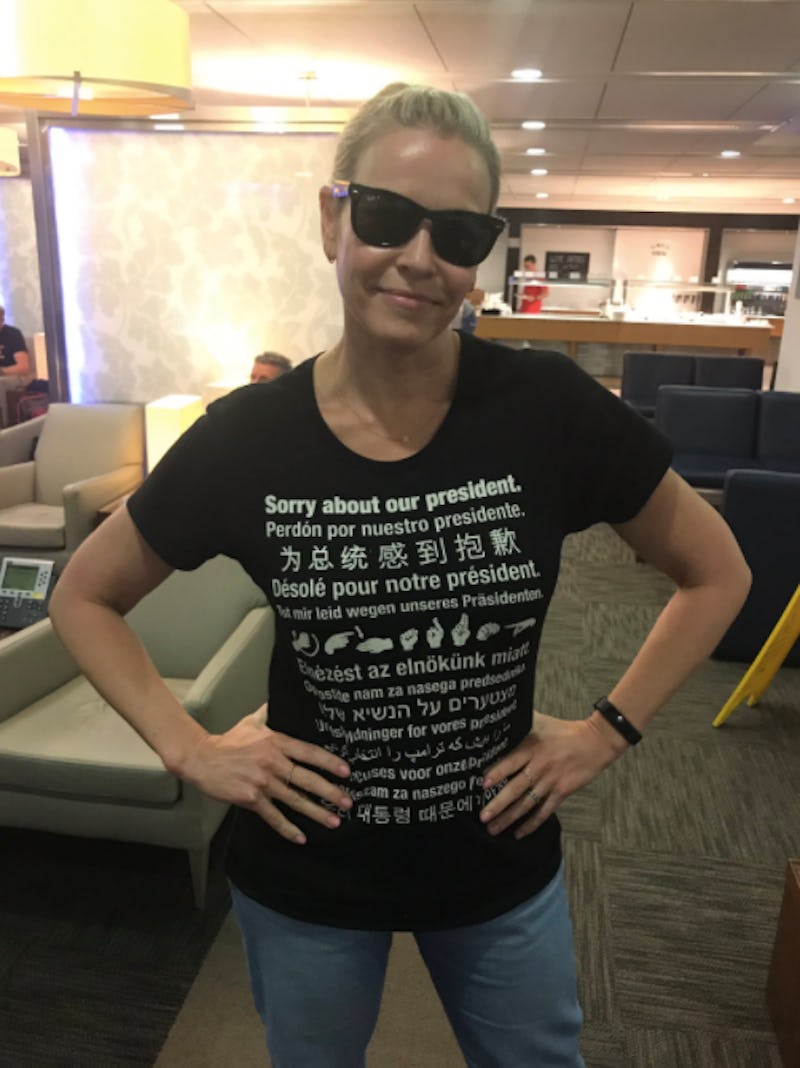 Chelsea Handler/Instagram
Chelsea Handler is infamous for causing a reaction — whether she's telling a joke on stage or tweeting about something. Her next antic comes in the form of fashion. Chelsea Handler's "Sorry About Our President" t-shirt made the rounds on Twitter, and people are already on the hunt for it.
On Aug. 10, Handler posted a photo on Twitter of herself wearing a black t-shirt with the message "Sorry about our president" in several different languages — 14 to be exact. Including sign language!
Handler captioned her Twitter photo,"The shirt I wear for travel." Behind her are lounge chairs and what looks like a buffet. Paired with jeans and some black sunglasses, she's got a "don't mess with me" stance.
The shirt, while plain, packs one major punch, and you will definitely want to shop it before your next trip.
Sold in four different colorways (asphalt, black, navy, and dark heather), you've got some choices on how you want to present this bold message. It also comes in men, women, and youth sizes, too. So if you and your friends or family don't want to say your opinions out loud, you can all certainly wear them on your chest.
So. Good.
Sorry About Our President T-Shirt, $24, headlineshirts.net
People are going crazy over it.
And now the GIFs are coming in.
Tonya's in support.
People aren't holding back with their thoughts.
See? Fans are dying to know.
You can!
Luckily for everyone who wants to purchase one for themselves, they're actually available for purchase at headlineshirts.net along with some other cheeky tees.
Handler has never been afraid to state her opinions, so much so that she posted a video on Instagram in February defending herself from a friend that who told her she was "too political" and "too aggressive." And since then, it looks like she's not stopping with voicing her opinion. Case in point: this t-shirt with a very clear point of view. If some are criticizing her for being "too political," well she just showed them once again that she's not stopping.