Dua Lipa's Latest Show Stopping Shoes Are Wonderfully Extra & They Could Be Yours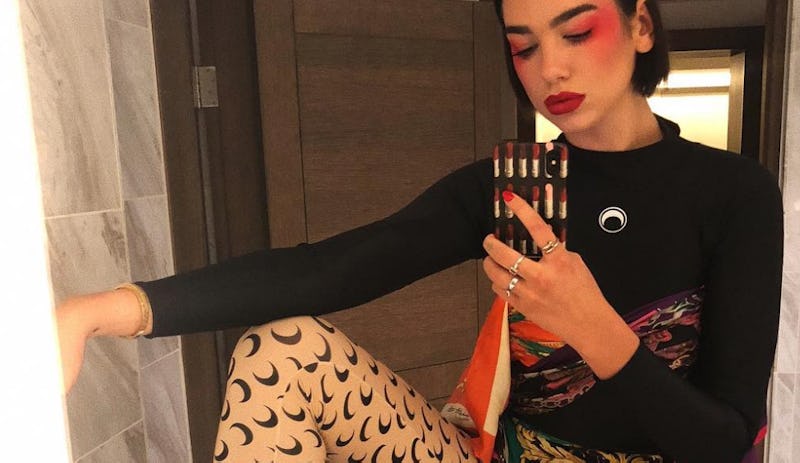 Dua Lipa Instagram
Dua Lipa certainly isn't one to shy away from a bold fashion or beauty trend. In fact, in her most recent Instagram post, she proved just how out there she's willing to go with the most lit AF pair of leggings and matching sock boots. But where can you buy Dua Lipa's boots and leggings?
I did a little digging and found out the brand that makes these interesting creations is in fact French label Marine Serre. You can head on over to their Instagram page to see the crescent print Dua Lipa is rocking all over other pieces such as leotards and polo necks. Marine Serre is sold in lots of bricks and mortar stockists, including London's Dover Street Market, and on online store Matches Fashion. Dua's boots are on sale there right now in fact. Unfortunately they don't come cheap. The 'Crescent Moon-Print Sock Boots' will set you back a rather spenny £475. But I have to say they're pretty damn cool.
With a sock boot design (meaning you can just pull them right on) and a cool printed design, I'm actually becoming more tempted to buy them the more I think about them. Annoyingly, the matching leggings Dua is sporting in her Insta post don't seem to be on Matches, but I have to say I am less enticed by them. I'm not sure I would be brave enough to rock them alongside the boots at the same time, à la Dua. Just don't think I am fash-UUUN enough, ya know?
So more on Marine Serre — the brand that creates these delights. Their latest collection for AW18 was called 'Manic Soul Machine,' and is the line the boots and leggings in question originate from.
The label's website shares describes the collection as "upbeat radicalism". Intriguing. Let's hear more: "Though deeply anchored in past and present, Marine Serre's upbeat radicalism always keeps the future in sight," it says. "Fall '18 unveils a splicing of fragments from contemporary life with futuristic references. Tensions combine and evolve, bringing high-end fashion closer to its logical and necessary next step."
It continues: "What Marine Serre truly stands for is a genuine care for reality, grasping a new and radically direct authenticity and inclusivity. She is driven by the desire to push the world of fashion some inches toward an actual future."Not going to lie, I am kind of loving this brand and its weirdly wonderful designs.
It isn't the first time Dua Lipa has chosen a bold outfit choice. Earlier this month, the singer divided fashion fans with a pair of knee-high Ugg boots, which she again debuted on her Instagram.
The boots were first shown at Paris Fashion Week and are created by Ugg in collaboration with high fashion label Y/Project. Interestingly, although the footwear choice wasn't not for everyone, Lipa was in good company as Rihanna shared a picture of herself rocking the boots earlier this year.
Whether you love or loathe her style, you've got to admit that Dua Lipa is one fierce, bold lady.