Rihanna Dropped ANOTHER Stunna Lip Paint Shade & She's Going To Make Us All Broke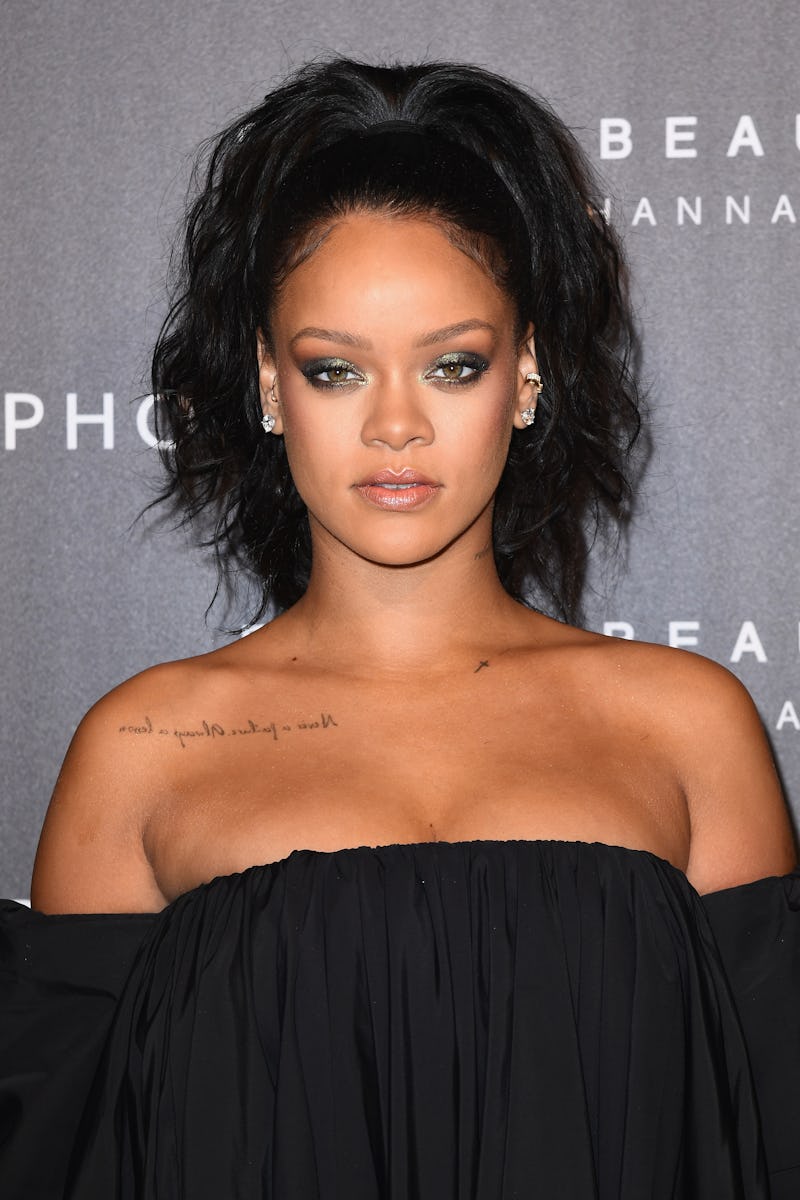 Pascal Le Segretain/Getty Images Entertainment/Getty Images
A nude lipstick is a staple in probably every makeup maven's beauty box. But being human, we'll forget to restock. That moment you've just about swiped out the last drops in the tube of your favorite naked liquid lipstick, Fenty Beauty releases another nude Stunna lip paint. Like you, we also are hyperventilating because this lip paint shade is even more nude (nuder?) than her last nude lipstick launch.
Fenty has made this week way more bearable, giving fans now three new shades as an extension of the Stunna products. We kind of hope these surprise drops don't ever end despite our bank account's howling when the lip paint party is over. Only two days after releasing the rosy mauve lip paint color "Uncuffed" in the Stunna series, Fenty steps us the nude game to another level. Continuing it's mission on versatility, the shade is described as a universal peachy nude.
Although it seems like Rih Rih is shooting her shot delivering lip paint after lip paint in almost no time, according to Fenty, she spent a year creating this particular nude shade. Oh Na Na, how we love to see you continue to put in that werk, werk, werk, werk, werk, werk!
As always, Rihanna never lacks the sauce when naming her lip shades and this one doesn't disappoint. "Unbutton" is the name and it's a shade that's got game in a makeup bag.
This peachy nude is a jaw-dropping follow-up to Uncuffed because this is a go-to shade for fall. Lucky for us, this shade doesn't switch up its formula, staying true to the long-wear abilities of its sister shades. And its great for all of us because this is a day to night neutral shade that you can dress up with a fierce eye look.
If there's anything Rihanna knows best about makeup is that a nude lip just enhances what's already there, giving your natural lip lines and curves the center of attention. Rih's got a set of lips that many of us can only dream of having, but she's made every nude shade fanatic death drop with this new shade.
With all these unexpected shook-worthy lip paint releases, you can only get these new lip paints online at Fenty Beauty's site or on Sephora. If you're the kind of gyal who prefers to swatch up your sleeve, you'll have to wait until October 1st to see them live and in person at Sephora. Uncuffed is like the peachy nude to rule all nudes, after all, so don't wait too long before snatching one (or three) of these babies up. After all these launches, we might go broke, but at least we'll be serving face.