Meghan Markle Just Wore A Pair Of Flats That You Can Buy Right Now For Less Than $150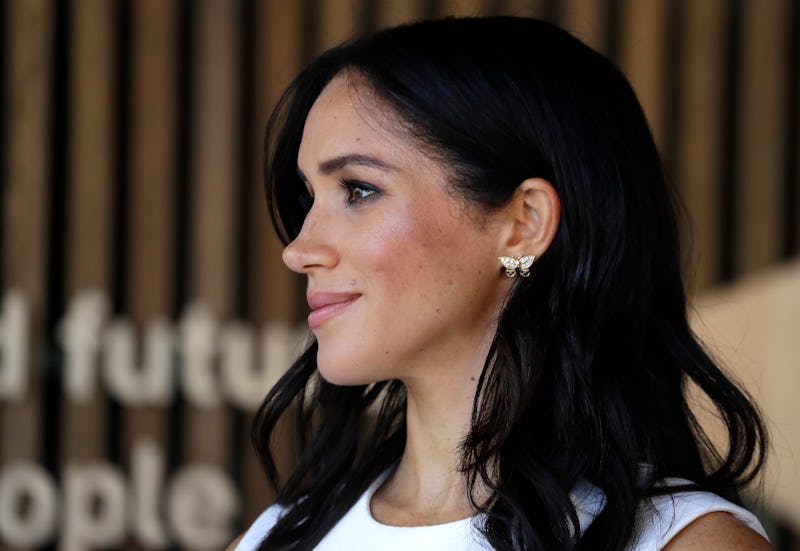 Pool/Getty Images Entertainment/Getty Images
In case you hadn't heard, Prince Harry and Meghan Markle are on a royal tour of Australia. Yes, that means baby bump watch, but it also means Markle fashion watch, and the duchess is looking perfect (as usual). As it turns out, you can shop Meghan Markle's Rothy flats and emulate her Australian style. The chic, classic flats are a great deal, and you can officially dress like the duchess (you know, minus the Givenchy and Burberry) because the flats are available to shop.
During the first part of Markle and Prince Harry's visit to Australia, the pair greeted crowds and visited a zoo (among other events of course), and it was during these moments that Markle switched up her shoe game. Typically, the Duchess of Sussex wears a pair of pumps to nearly every event. From tan to black to tortoiseshell heel styles, Markle's pump game is on point. Sometimes, though, a woman just can't handle walking in heels all day long, and that's exactly where Markle seemed to be during her visit in Australia.
After greeting people and meandering through the zoo, Markle and Prince Harry headed away from their adoring fans, and the duchess seemed tired of those pesky heels. To give her feet a break, she switched over to a pair of black Rothy's flats, and it turns out, you can totally shop them.
The flat, from brand Rothy's, are simple and perfect if you need a quick change from heels. Not only are they perfect for practically any outfit, but check out the way they bend when she walks. They look totally comfortable, right?
The best news about Markle wearing the flats isn't even that it's a totally relatable moment. It's that she may have just introduced the world to their new favorite pair of shoes. You can snag the pair right now on the Rothy's website, and despite Markle wearing them, they haven't sold out yet! You may want to move fast, though, because the Markle effect is real.
What is the Markle effect, though? Well, it's similar to the Kate Middleton effect, where something affordable a royal wears is suddenly out of stock. It's already happened with Markle's white sheath dress during her Australia visit. The frock is from designer Karen Gee and retails for a whopping $1800. While reported earlier as sold out, it appears to be back in stock if you're willing to splurge a bit. However, if it is in stock, the amount of traffic received by Karen Gee actually caused their site to crash yesterday. See, don't you want that more affordable pair of Rothy's flats now?
If you've been searching for a new, classic pair of shoes, Markle's Rothy's flats are the perfect choice. Not only are they offered at a total deal, but they're surprisingly not sold out. Move fast if you want a chance to dress like the duchess. Given her style popularity, it probably won't be long until these flats are all gone.