The Beaut NARS 2018 Advent Calendar Is Basically A Greatest Hits Catalogue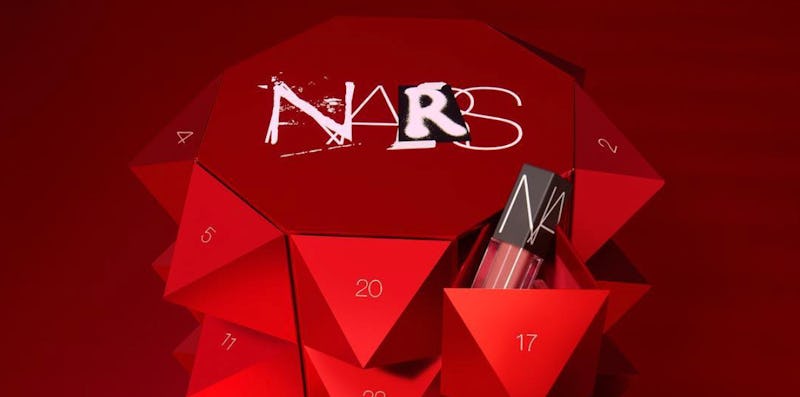 NARS Instagram @Narsissist
For beauty fans, the beginnings of the festive season are most exciting not for the ice-skating pop-ups and seasonal mulled wine drinking, but for the opportunity to shop Christmas offerings from some of the hottest brands around. Most squeal-inducing for us? The advent calendars, ofc. Screw chocolate, it's all about opening tiny little windows to reveal uber-cute mini makeup surprises and skincare heroes. More brands than ever are jumping on board this year, including MAC and NARS. The latter seem to be delighting fans with the idea of their Uncensored Advent Calendar. So where can you buy the NARS Advent calendar, and what does it have in it? I have all the deets you could ever need.
If there's anything better than beauty products, it's diddy-sized products, and this is where the NARS calendar excels. Each door opens to a teeny tiny version of a beloved NARS classic, including the brand's bestselling Orgasm range. Alongside a smaller-than-small Orgasm blusher, the calendar will also include other NARS classics such as the Radiant Creamy Concealer (legit one of the best concealers I have ever used), Audacious lipsticks (insanely good shades and colour payoff), and everybody's favourite Laguna bronzer.
The brand's U.S. website lists everything featured in the calendar in its entirety, but I reckon it's more fun to allow the element of surprise to take effect each day. All I will say is that you're in for a great journey through the history of NARS bestsellers, from lip pencils to eyeshadows and even a mini kabuki brush.
Now onto the nitty gritty details. The new NARS calendar is currently available in the U.S. on the brand's website, and is selling for $150. For us Brits, we only have a little longer to wait until we can get our hands on it, as it's being released over here on 1 November 2018. The UK price will be £150, which equates to nearly $200 in the current exchange rate, however for the amount you get, it seems pretty worth the money.
The advent calendar will be available exclusively to NARS boutiques throughout department stores around the UK (find your closest here) and its website, so it's worth logging on or popping by a store on release day or soon after. If the advent calendar is a little out of your budget, NARS also has some other (just as delightful) Christmassy options to appease you. There are a number of palettes with irresistibly gothic packaging, lipstick sets and eyeshadow duos.
If I were you, I'd pop the Riot Velvet Matte Lip Pencil Set on your Christmas list, as it contains four bestselling Velvet Matte Lip Pencil shades and a limited edition cosmetic case which is just straight up COOL.
While we have just a few more days to wait for the advent calendar, the rest of the Christmas collection is available to buy right now on the NARS website, so get going. Or, you know, dropping some hints via a good old Instagram DM.