Here's Why Everyone Thinks 'The Shape Of Water' Could Win The Best Picture Oscar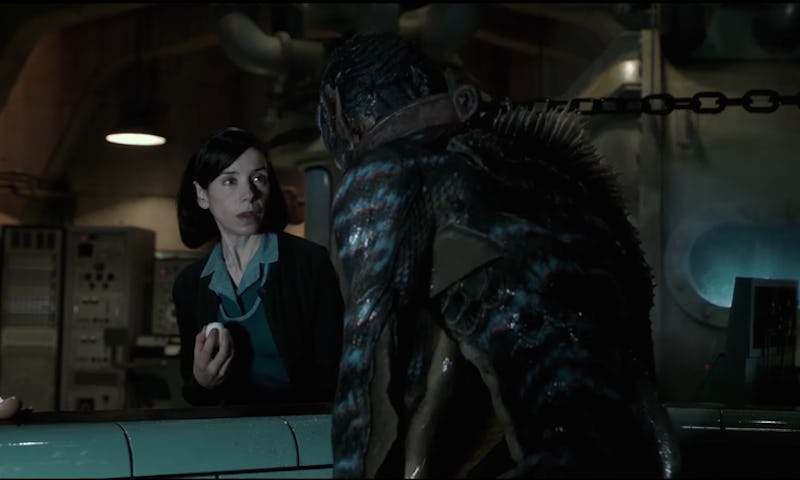 Guillermo Del Toro's semi-aquatic Cold War romance The Shape Of Water was a surprise winner at this year's Golden Globes, nominated for seven awards and nabbing Best Director for Del Toro over seasoned heavyweights including Christopher Nolan, Ridley Scott, and Steven Spielberg. With the Oscars coming up fast, here's where to stream The Shape Of Water before the little golden men get handed out and the movie dominated that show, too.
The Shape Of Water's post-Globes popularity means it's still playing in many theaters across the country, and with the film's gorgeous cinematography one of the film's 13 nominations (the most of any 2018 film), catching it on the big screen is still the best way to see it while you can. And it'll be quite a sight; in an interview with Vanity Fair, production designer Paul Austerberry notes the film's rich use of color, citing influences like the supersaturated film The Red Shoes. Del Toro said on Twitter that many of the film's sets and framing were inspired by the modern alienation seen in the paintings of George Tooker. A giant painting of famous Japanese block print The Great Wave off Kanagawa was carefully mottled in the background of leading lady Elisa's bathroom, something Austerberry points out you'd only see if you looked for it, and a lot easier to catch on a bigger screen.
If you can't make it out to the theater, though, you can find it online. On Feb. 27, The Shape Of Water became able to buy on Amazon Prime and iTunes, but there's no word yet on when the film will reach other streaming services like Netflix or Vudu. Given that only a few of Del Toro's film are currently available on any streaming services (though many are available for rent), odds are it might be a while before you can click in and catch Shape Of Water.
Physical media has an even longer wait, and all of the dates are currently post-Oscars. Even If you pre-order now, the soonest you'll get your hands on a DVD or Blu-ray is March 13 from Amazon. If you're still getting physical DVDs from Netflix, the film won't be available until March 20, well past the Oscars' March 4 screening date. And if you're hoping for a RedBox release, your wait will be delayed even longer; The Shape of Water won't hit the box until April 10. All that is assuming the film won't win any one of its many nominations, particularly Best Picture, as that would probably drag the wait time out even longer as demand surges.
Even so, it would be well worth the wait. Normally known for monster-filled action and horror, The Shape Of Water shows a softer side of Del Toro. Sure, there's still a monster front and center, as the film's inspiration came from Del Toro's love of Creature From The Black Lagoon, and his childhood presumption the creature and woman would get together at the end and live happily ever after. With The Shape Of Water, the director's childhood dream comes true, as mute cleaning woman Elisa falls for the creature brought in to the top-secret government facility she works at.
Instead of gory ghosts (Crimson Peak), giant insects (Mimic) or interdimensional kaiju from the deep (Pacific Rim), Wired reports that the monster at the heart of The Shape Of Water was lovingly created over three years, with a nose based on Michaelangelo's David, body based on biology, and... well... butt based on the careful and consistent input of every woman in the Del Toro household. Love may be blind, but a little eye candy on screen certainly makes Elisa's romance a lot easier to believe.