Where To Watch Chance's Video For "Same Drugs"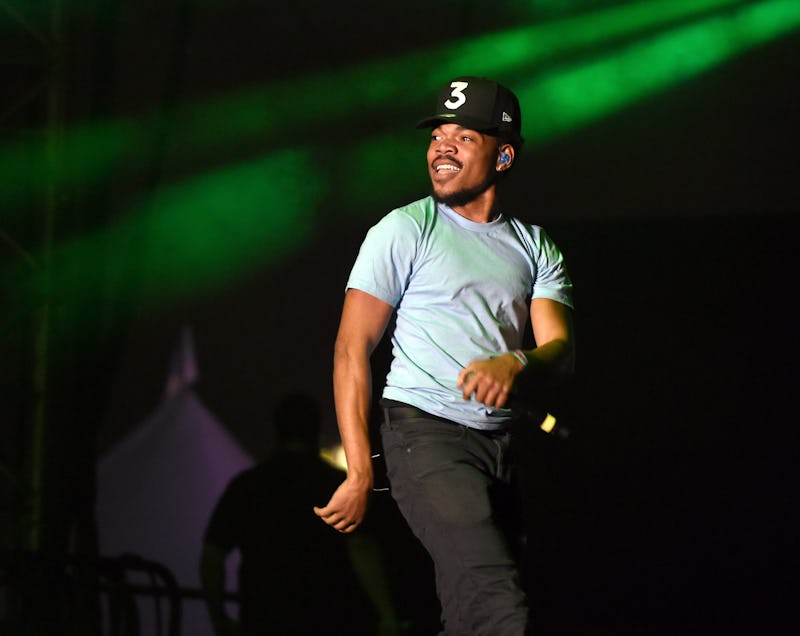 Kevin Winter/Getty Images Entertainment/Getty Images
If your Chance the Rapper spidey sense began tingling, or you happened to tune onto the 23-year-old's Facebook account just in time, you were lucky enough to witness the premiere of his music video for the "Same Drugs" video on Feb. 6 via Facebook Live. If you missed your chance to see the video streaming live, never fear, for there is still a way for you to check it out. The video is gone from Facebook Live, but where to watch Chance The Rapper's "Same Drugs" music video is on Chance's website, chanceraps.com.
For those of you who weren't (obsessively) following Chance's "Same Drugs" tweets on Monday, you missed out on a rollercoaster of emotions there. First, he dropped the video on Facebook Live and there was much rejoicing but also sorrow for those that missed the video. Then, he tweeted that "Same Drugs video drops next week" and the rejoicing turned to tears for those that hadn't seen it or those who wanted to squeeze in a re-watch. But finally the rapper shared on Twitter that, "I changed my mind Same Drugs video drops at 3:30 Chicago time today, thanks Facebook for letting me do that on such short notice."
Bustle reached outt to Chance The Rapper's reps for comment regarding the last-minute change, but did not hear back in time for publication. It sort of seems like he wasn't made aware until last minute that Facebook would be able to air the video — a theory backed by his tweet, "all love to the social media platforms who couldn't livestream premiere [of] same drugs. but extra love to FBLive for coming thru last minute today" — so therein must lie the confusion. Whatever the case, at least fans got an awe-inspiring new Chance video to enjoy and rewatch, because it's on YouTube now.
The video is the perfect mixture of goofy visuals and amazing vocals. This alternate version of "Same Drugs" is backed by the heavenly crooning of Eryn Allen Kane as Eryn Koehn, Yebba, John Legend, Francis Starlite and Macie Stewart. The video is simple — it begins with the rapper playing piano in a studio as a puppet gently rests on his shoulder. Suddenly, the puppet awakens and begins singing along with him — and her voice is fire. When it begins snowing in the studio, the puppet with the voice of an angel falls back asleep, and Chance gets up and walks around the puppet-controlled studio singing along with the soul-churning background vocals. It's honestly a little trippy.
Like much of Chance's work, this video from frequent collaborator director Jake Schreier is an indie masterpiece. Chance, who remains unsigned to any label, has to get creative with his videos. In this case, the video features many of the visuals, puppets included, from his Magnificent Coloring World Tour. This makes it feel like we got a good little taste of his tour, which is nice. Thanks, Chance!
If possible, the alternate "Same Drugs" and connected video has me even more hype for Chance's performance at the 2017 Grammy Awards on Feb. 12. Let's hope the artist, who is nominated for seven Grammys, brings his puppet friends along for the show. I'm looking forward to a full Chance takeover.