'On Chesil Beach' Is Now A Movie & You'll Want To Visit The Stunning Locations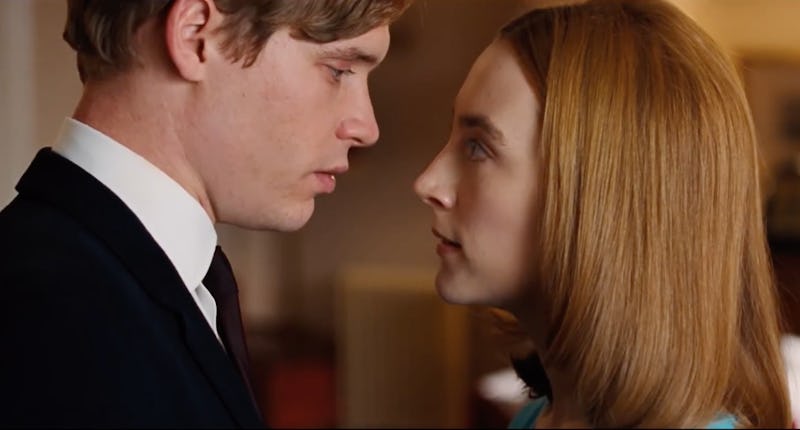 Lionsgate
With three Academy Award nominations under her belt, Saoirse Ronan may be hoping that a return to her roots could finally secure her the trophy. On Chesil Beach, released May 18, is her second appearance in an adaptation of an Ian McEwan novel, after her role in 2007's Atonement, which earned her a Best Supporting Actress nomination. This new film is set a bit more recently, in 1962, and centres on a newly married couple honeymooning by a windy British beach (I'll give you three guesses which one). But where exactly was On Chesil Beach filmed?
The aforementioned newlyweds are Florence and Edward, recent Oxford graduates (with firsts, no less!). In the film, directed by The Hollow Crown's Dominic Cooke, Saoirse Ronan plays upper-class violinist Florence, who meets Billy Howle's Edward at a Campaign for Nuclear Disarmament meeting in Oxford. Edward's origins are significantly less privileged, to the pointed disapproval of Florence's domineering parents, played by Emily Watson and Samuel West. Still, the couple makes it down the aisle, only for the marriage to dramatically unravel after spending the night together for the first time. "We can never be happy," an anguished Florence declares. "And it's all my stupid fault!"
Jumping between Florence and Edward's pasts and the single night that comes to define the rest of their lives, the film explores the societal and personal anxieties about intimacy that threaten to devastate their relationship.
As the title would suggest, location is central to On Chesil Beach, so unsurprisingly, a significant portion of the film was shot on Chesil Beach itself, in Dorset, England, according to The Bournemouth Echo. The vast, cloudy British beach sets a foreboding tone for the honeymooners, whose marriage is set to disintegrate amongst the shingle.
The CND meeting where Florence and Edward first meet was filmed in Mansfield College, Oxford, according to student newspaper Cherwell, and several Mansfield students appeared as extras. Oxford street scenes were shot on nearby Merton Street, while filming also took place near the Radcliffe Camera library and famed pub The Turf Tavern. It's not the first time Mansfield has made it to the big screen, though director Dominic Cooke will likely be hoping it's the most profitable: the college stood in for Harvard in the 1980 Western Heaven's Gate, once considered Hollywood's biggest bomb.
Further scenes were shot in London – according to location agency FilmFixer, filming took place in Lambeth's Territorial Army Centre, Lewisham's Broadway Theatre, and the former Central St Martins studios. Outdoor filming also took place in Bloomsbury's Gilbert Place.
Interiors were filmed, meanwhile, in Buckinghamshire's Pinewood Studios. The renowned studios have recently hosted films including both Star Wars sequels The Force Awakens and The Last Jedi, Annihilation, Doctor Strange, and both Kingsman films, though it's unlikely that On Chesil Beach will employ quite as many special effects.
Of course, there's more to a film than it's setting, but there's no reason to worry about the acting or screenplay of On Chesil Beach. Author Ian McEwan actually adapted his own 2007 novella for the screen and told Newsweek that Ronan "is one of those actors who, just with a silence, can show you a thought process in her face." McEwan said that he recognised Ronan's talent on the set of Atonement, in which she played 13-year-old Briony Tallis, alongside Keira Knightley, James McAvoy, and a fleeting appearance from Benedict Cumberbatch. "Even then, she showed an extraordinary ability to take control of the material," the author said.
As for Ronan, it's likely her second collaboration with McEwan won't be her last. "Ian is someone who writes women incredibly skillfully, with a well-rounded perspective," she told Newsweek. "I'd like to play another one written by him every 10 years."
So there you have it, On Chesil Beach fans. Once you see and undoubtedly love the movie adaptation, you can visit all the filming locations on your dedicated On Chesil Beach tour. Just one suggestion: maybe don't go there on your honeymoon.