Here's Exactly Where Winning Powerball Ticket Was Sold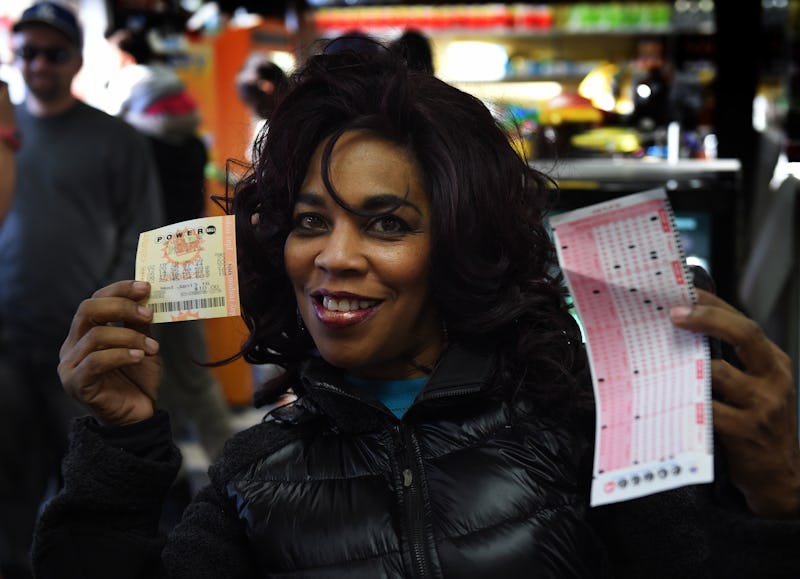 MARK RALSTON/AFP/Getty Images
Wednesday evening's Powerball jackpot was, at $758.7 million, the second-largest in the lottery's history. A significant amount of anticipation and excitement surrounded the drawing, but when the numbers were finally announced, the Massachusetts State Lottery initially announced the wrong store and city as the location where the winning ticket was sold. The winning Powerball ticket was sold in Chicopee, Massachusetts, at the Pride Station & Store.
Update: CBS Boston reported that Mavis Wanczyk bought the winning ticket at 2:30 p.m. on Wednesday.
According to The Washington Post, the Massachusetts State Lottery first reported that the Handy Variety convenience store in Watertown — just nine miles from Boston — had sold the winning ticket. This store did, in fact, sell a ticket that won $1 million, but the winning ticket had actually been purchased in Chicopee.
The Pride Station & Store is a gas station and convenience store located in the western Massachusetts town. The founder of the Pride chain, Bob Bolduc, told a local CBS station that a middle-aged woman had purchased the winning ticket on Wednesday afternoon, at approximately 2:30 p.m. local time. Because it sold the winning ticket, Pride will receive $50,000 — but it won't be keeping the money.
"We're going to give all the money to charity, that's out pattern," Bolduc told reporters during a press conference outside the Chicopee store. "We really believe in supporting local charities."
It took more than six hours for the Massachusetts State Lottery to amend its original announcement and declare Pride as the actual vendor of the winning ticket. Michael Sweeney, the Executive Director of the Massachusetts Lottery, said in a statement that the mistake was merely an example of human error, coupled with an incorrect transcription of information and general nervousness about handling such a hefty jackpot.
"What happens is, the $50,000 will go to the store that actually sold the winning ticket, which is Pride Station & Store out in Chicopee," Sweeney said. "The good news for the people out here is that, in Watertown, a $1 million winning prize ticket was sold, as well as an additional $1 million sold in Dorchester. There is a prize for those, up to $10,000 on the $1 million prize."
Chicopee's sale of the winning ticket makes it the fourth time a winning ticket was purchased in Massachusetts. The last three times were in consecutive years: 2011, 2012, and 2013. The owner of the Handy Variety store in Watertown, Kamaljeet Kaur, told the Boston Herald that she was thankful despite her initial disappointment over the mix-up.
"Still happy, thank God, better than nothing," Kaur said.