What The "Black Widow" Convicted Of Murdering The Gucci Heir Is Doing Now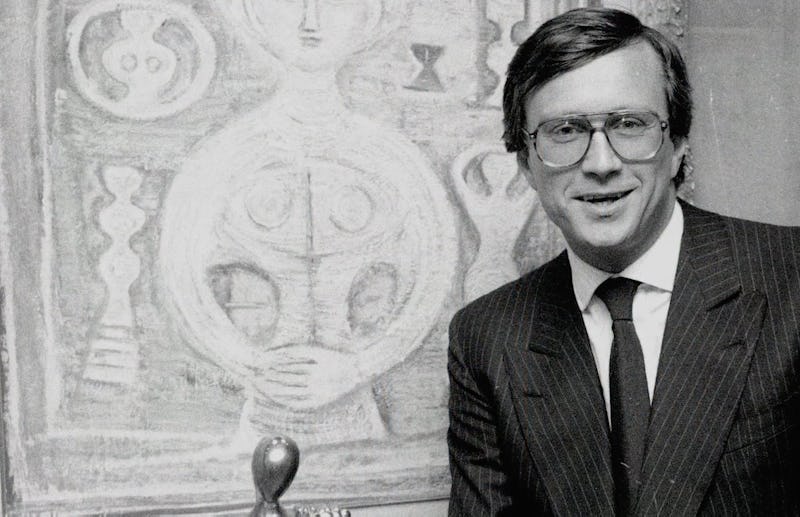 Screenshot via Investigation Discovery
Investigation Discovery is shining a light on a high-profile Italian murder with its latest edition of People Magazine Investigates. The July 16 episode of Crimes of Fashion focused on the story of Patrizia Reggiani, her ex-husband Maurizio Gucci, and his untimely death. If Gucci's name rings a bell, that's because he was the heir to the eponymous, Italian fashion house. But where is Patrizia Reggiani in 2018?
Per The New York Times, Maurizio and Reggiani divorced in 1985. Gucci was the last member of his family to own any shares in the family company, according to The Chicago Tribune, and in 1993, he sold them to the Bahrain investment company Investcorp for a reported $100 million to $140 million. Then, on Mar. 27, 1995, Gucci was shot outside of his office in Milan, and in 1998, Reggiani was convicted of having him murdered, per another New York Times piece. However, she maintained her innocence throughout the trial. Per The Irish Times, her lawyers attempted to convince the court that Reggiani couldn't have planned the murder because she had undergone an operation for a brain tumor. The New York Times reported that, as she was led away after sentencing, Reggiani said, ''Truth is the daughter of time."
Reggiani, nicknamed "The Black Widow" by the Italian papers, was sentenced to 29 years in jail. Benedetto Ceraulo, the hitman; Ivano Savioni, the doorman; and Orazio Cicala, the getaway driver, were also given long sentences, the Times reported. Reggiani's personal psychic, Giuseppina Auriemma, was also sentenced to 25 years, as she was the one who reportedly hired the hitman to kill Mr. Gucci. According to CBS, Auriemma eventually pleaded guilty. In fact, everyone but Reggiani and Ceraulo confessed to playing a role.
According to the Times Italian locals called Reggiani "Liz Taylor" — both because she looked like the American actress and shared her fondness for jewelry. The story also cited her as once saying, ''I would rather weep in a Rolls-Royce than be happy on a bicycle.''
So where is "The Black Widow" now? According to People, Reggiani spent 18 years in prison before being released in 2016. Per a 2016 profile on Reggiani in The Guardian, she did her time in San Vittore prison in Milan. "I think I am a very strong person because I survived all these years in captivity," she said in her Guardian interview. "I slept a lot. I took care of my plants. I looked after Bambi, my pet ferret."
Gucci's ex-wife still maintains that she was wrongfully convicted, saying that her best friend, the psychic, set her up. ''Never let even a friendly fox into the chicken coop,'' she said during her 1998 trial, per the Times. ''Sooner or later it could get hungry.'' Reggiani has two daughters, Alessandra and Allegra, who live in Switzerland and manage Mr. Gucci's estate, according to The Telegraph.
As of 2014, Reggiani was working as a design consultant for the jewelry brand Bozart, according to The Guardian. And, per The Telegraph, a court ruled in early 2017 that Reggiani was entitled to £900,000 a year — or approximately $1 million — from Gucci's estate. However, she hopes to return to her ex-husband's brand. Per The Guardian, she told the Italian newspaper La Repubblica, "They need me; I still feel like a Gucci — in fact, the most Gucci of them all."
The ubiquitous House of Gucci, meanwhile, is doing very well. Not only have celebrities like Harry Styles and Dakota Johnson appeared in its campaigns, but creative director Alessandro Michele is arguably fashion's golden child. Michele both dressed and escorted Lana Del Rey and Jared Leto to the 2018 Met Gala, the theme of which was Heavenly Bodies, per Vogue. What's more, the brand has even entered the rap zeitgeist, with Lil Pump's song "Gucci Gang" and the artist Gucci Mane, among others.
"If I could see Maurizio again I would tell him that I love him, because he is the person who has mattered most to me in my life," Reggiani said in the same Guardian interview. However, when asked how she thought her ex-husband would respond, she answered, "I think he'd say the feeling wasn't mutual."
23 years after the fact, Maurizio Gucci's murder is still being discussed. But through it all stands the House of Gucci, stalwart, successful, and fabulous.