What It Was Really Like Playing Thackery Binx In 'Hocus Pocus'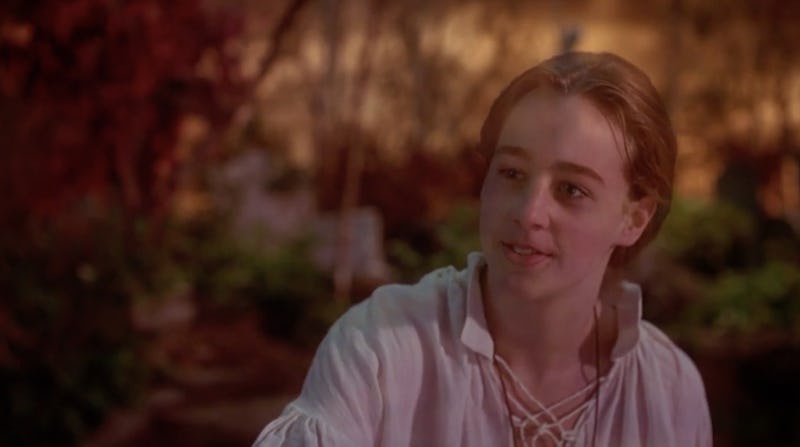 Walt Disney Pictures
There's absolutely no doubt that Disney's Hocus Pocus has become a Halloween classic in the 25 years since its debut. Though the movie, which tells the tale of three 17th-century witches brought back to life 300 years later, came out in the dead of summer in 1993, the House of Mouse is nothing if not persistent. There's no escaping Hocus Pocus when Halloween rolls around, which is great news for fans of the comedic romp. Disney's Freeform network plays the movie practically around the clock in October. Recently, members of the cast gathered for a special Hocus Pocus anniversary celebration at the Hollywood Forever Cemetery, which will also air on Freeform on Saturday, Oct. 21. The film has a lasting legacy that's not just felt by its fans.
"I consider myself very fortunate to be a part of that," Sean Murray says, speaking over the phone in early October. "It was a really good time and I learned a lot. I'll always remember it fondly."
Murray just began his 16th season on CBS' NCIS, but Hocus Pocus fans will definitely recognize him from the opening and closing scenes of the film. He played Thackery Binx, the 17th-century teenage boy who gets turned into an immortal black cat. And Murray's memories of filming Hocus Pocus are still magical in his mind.
"The one [thing] that I'll never forget is when I came on the lot, the soundstage for the first time, and was shown the Sanderson sisters house," the actor says. "The house, the moat...I've never seen anything like that. To this day, it was just incredible."
Although Binx remains a cat throughout the majority of the movie, Murray was on set to read his lines to the rest of the cast while they shot, and as a result he was able to bond with the other young actors, Omri Katz (Max), Vinessa Shaw (Allison), and Thora Birch (Dani), whether they were shooting on a soundstage or on location in Salem. "There was just a lot of fun a lot of camaraderie. We had a good time," he recalls.
Murray had plenty of fun with his peers while shooting the film, but he also got to learn from some of the best: Bette Midler, Sarah Jessica Parker, and Kathy Najimy. "Those women were fantastic," he says of the three Sanderson sisters. "Those characters were so defined and different and what they did was amazing. I remember Bette being super down to Earth, and so was Sarah and so was Kathy. At the time, you don't realize what kind of talent you're getting to work with. And later on in retrospect you go, 'I got to work with Bette Midler,' which is pretty sweet," Murray adds.
The actor remembers a particularly hilarious moment when the three witches were being fitted for harnesses to fly. "This is slightly PG-13, but they were trying to figure out something so Bette didn't look so busty," Murray says laughing. "She said she was concerned she was going to look like a pair of flying boobs." Which, honestly, sounds like a very Bette Midler thing to say.
Hocus Pocus superfans know, however, that Murray's voice isn't the one used in the final cut of the film, that job eventually went to Jason Marsden, a friend of Murray's in real life. "They weren't exactly sure what they wanted to do with Binx," he explains, remembering the process. "They originally wanted a sort of California vibe with the voice, and then at some point thought [they] should do it Olde English. I'm not a voice actor; I couldn't do an English accent, I'd never been trained to do that, and I was young." But he doesn't have any regrets regarding the vocal replacement, saying Marsden, "is a great guy! So it's never bothered me."
Though he's still asked about his experience 25 years later, the longstanding legacy of the movie is one that the cast didn't expect. "We had no idea this was going to last. We had a Halloween movie come out in July with not too much fanfare and just kind of floated away," Murray says. "A lot of us figured, well that was it. That was the shelf life of the movie I guess. But you know how Disney is. They've kept that alive over the years. And the people that saw it apparently have really connected with it."
Indeed, Hocus Pocus has become one of the most popular Halloween movies of all time, and both Murray's career and his personal life have benefitted from the holiday staple as a result. He met his wife at a Halloween party. "I was like an evil doctor with a ton of blood. It wasn't that great," he says of his makeshift costume. "She was a She-Devil. Halloween is kind of a fun tradition in our family."
Murray's kids, however, aren't that impressed with his history. "I thought they'd be impressed by it, that daddy was in Hocus Pocus," he says. "They liked the movie but they couldn't care less that dad's in it. They're like, 'Oh yeah that's dad we see him all the time.'"
But he needn't worry, there are plenty of other kids, and their parents, who are definitely impressed. Fans who were children when the movie came out are now showing it to their kids as well, just like Murray. He's even seen the film come to life in a Hocus Pocus drag show. "It's wild because I get tons and tons of parents who grew up with the movie whose kids are watching the movie," he says. "People dress up as the characters. It's so cool to see the interest after all of these years. It has become a cult classic."
Watching Hocus Pocus has definitely become a Halloween tradition, whether you have kids or not. Just don't light the black flame candle, OK?