These Are The 'Big Little Lies' Cast Members Who Have Hinted They'll Be Back For Season 2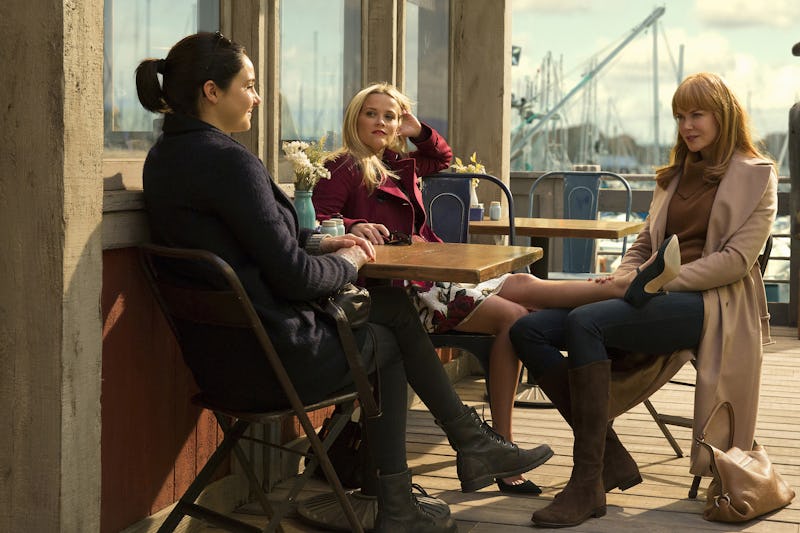 HBO/Hilary Bronwyn Gayle
On Thursday, news broke that Big Little Lies Season 2 is happening, with production reportedly starting in spring 2018, according to TVLine. While the news hasn't been officially confirmed by HBO, this move is something fans could've guessed since the riveting drama racked in a whopping eight Emmy wins and 16 nominations at the awards show in September. The cast members have hinted at where Season 2 could potentially go, but will the Big Little Lies cast return for a second season?
The cast has remained tight-lipped about details (largely because they genuinely may not have known where the story would go and if it would return), but their eagerness to return isn't something they've been quiet about. After all, why wouldn't they want to? After premiering in April, the series, based on Liane Moriarty's novel, won the Emmy for Outstanding Limited Series with three of the leads (Nicole Kidman, Laura Dern, and Alexander Skarsgård) taking home awards as well. Not to mention, the audience demand for a second season has been out of control.
Still, none of the actors, including stars Kidman, Dern, Reese Witherspoon, and Zoe Kravitz, have confirmed their return. Now that Season 2 is (basically) happening, they could announce the news any minute. But fans shouldn't worry, because the cast's hints at returning have been super promising.
Nicole Kidman
Kidman, who executive produces the show (in addition to Witherspoon and some others), has emphasized the importance of continuing a solid BLL story. "So much of it is trying to stay true to the characters and their voices," she told Entertainment Weekly. "I believe their stories warrant it and I don't want to abandon them. We don't want to sell them short, either." But she assured fans that she was all hands on deck. "If we can do it, then it will be done." Nothing to worry about here, folks.
Reese Witherspoon
In August, Witherspoon told The Hollywood Reporter that moving forward was "totally" in the hands of novelist Moriarty, whose whole book was covered in Season 1. "She really created an incredible road map for us that we followed almost to a T... We're optimistic that there might be more," she said. It just comes down to, do we have the story?" After the Emmys, the actor told E! News the BLL cast members "want to do it" and in early November, she dropped out of Pale Blue Dot (which she was attached to since 2015) to reportedly clear her schedule.
Shailene Woodley
In September, Woodley said she was totally down to return if Season 2 knocked on her door. "Of course I'd do it, it would be so fun," she told Marie Claire UK. And she has ideas about where Jane's story could go. "I think it would be interesting to explore the psychological trauma she's undergoing post seeing him [Perry]," she said. Like all the characters, there's much to be explored for Jane and her storyline. "These are lifelong pains that you're constantly working through." Watching Jane, Celeste (Kidman), and all of the women cope with Perry's (Skarsgård) death could be interesting, to say the least.
Laura Dern
Like Woodley, Dern has not only expressed willingness to come back to the series, but thoughts on where her character Renata could go. "It's ended and they're on the same team and they have the same secret. I find that fascinating," she told The Hollywood Rreporter in August. "In terms of Renata as a character, I think it's really moving to consider... who is she really and what has she had to survive to get where she is." Dern said that continuation could "be a really beautiful ride," which is a thumbs up from the actor.
Zoe Kravitz
Like her costars, Kravitz would want the continuation to make sense and feel honest for her to join. "[If] it's going to elevate what we've done, then we're all happy to do it," she told E! News after the Emmys. And the opportunity to work with such brilliant actors again is something Kravitz said she just couldn't turn down. "I want to do it and just to spend time with those ladies again would be amazing," she said.
Adam Scott
The actor (who plays Witherspoon's on-screen husband) has joked that creative control was totally out of his hands when it came to Season 2. Still, Scott didn't deny that he and his costars would jump at the chance to return if the concept felt right. "I think everyone would [come back]," he told IndieWire in July, saying when it came to loose ends, "all" characters have them.
James Tupper
The actor who plays Kravitz's on-screen husband, James Tupper, said more BLL episodes would be "fantastic," and even suggested bringing on more stars like Vince Vaughn and Colin Farrell. "I'd love it. I'd love to do another series," he told Entertainment Tonight in May.
Looks like the gang would all be back, that is, of course, unless Big Little Lies succumbs to internet theories and actually becomes an anthology. BLL's Season 2 storylines remain a mystery, but given the aforementioned feedback and excitement from the cast, that route seems unlikely.