Celebs Who Will Be At Trump's Inauguration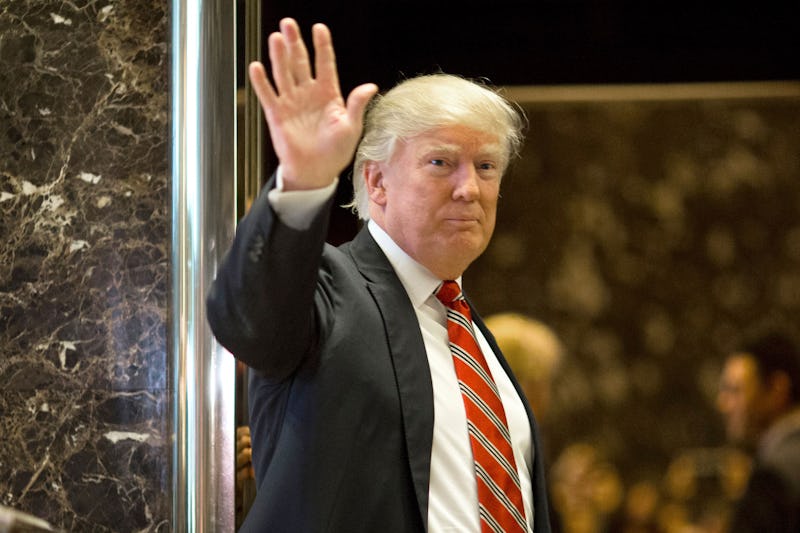 DOMINICK REUTER/AFP/Getty Images
On Friday, Jan. 20, Donald Trump's inauguration as the 45th president of the United States will take place in Washington D.C. Ever since the former Celebrity Apprentice host won the 2016 election, there has been much discussion over who would and would not perform and who would and would not attend the inauguration. This has been one of the most controversial presidential inaugurations, especially with many celebrities refusing to participate in any capacity. So, if any, which celebrities will be at Donald Trump's inauguration?
In news that may surprise some of you, there is a list (yes, an actual list) of famous faces who will be in attendance and performing at the inauguration and events like the Make America Great Again! Welcome Celebration being held on Thursday, Jan. 19. (It remains to be seen if those attending and performing at the pre-inauguration events will also attend the actual inauguration on Friday.) That said, the list doesn't really include any A-list stars and not that many recognizable faces. Basically, Trump's inauguration doesn't really compare to past inaugurations, where there have been many well-known celebs in attendance.
When soon-to-be former President Barack Obama was inaugurated in 2009, a slew of huge stars were part of the celebration, including Bruce Springsteen, Mary J. Blige, James Taylor, John Legend, Jennifer Nettle, Sheryl Crow, Stevie Wonder, Usher, U2, and even Beyoncé. That's only the short list of big names.
As you'll see below, those showing up to support Trump by no means compare when it comes to fame to those who supported Obama.
Attending Inauguration
Jackie Evancho
16-year-old singer Jackie Evancho, who was a contestant on America's Got Talent, is looking to unite the country with her performance of the National Anthem. She told CBS Sunday Morning in January, "I hope to just kind of make everyone forget about rivals and politics for a second, and just think about America and the pretty song that I'm singing. I'm hoping that I can bring people together."
The Radio City Rockettes
Those in the Rockettes seemingly haven't been in complete agreement over performing for Trump. There were many rumors that the dancers were allegedly contractually obligated to dance or they would lose their jobs. However, in December 2016, the Madison Square Garden Company (they manage the Rockettes) and the dancers' union, the American Guild of Variety, released statements saying the dancers didn't have to perform if they didn't want to.
"For a Rockette to be considered for an event, they must voluntarily sign up and are never told they have to perform at a particular event, including the inaugural," a statement from Mikyl Cordova, a spokeswoman for the Madison Square Garden Company said, via The New York Times. "It is always their choice."
Mormon Tabernacle Choir
There has been controversy surrounding the Mormon Tabernacle Choir singing at the inauguration, as well. According to CNN, one member quit and refused to sing for Trump.
The choir has not commented, but another member of the choir, Cristi Ford Brazao, shared a video on Facebook defending her decision to perform. "I can't speak on behalf of everyone in the choir but for me, my mission as a singer has always been to soften hearts, to bridge gaps, to make connections and also to make friends," she said. "[Music] can heal hearts and I want to contribute to that healing and also to bringing people together."
Boris Epshteyn, a spokesman for Trump's inaugural festivities, said (via CNN), "We're honored to have the Mormon Tabernacle Choir perform in the 58th Inauguration, their sixth time participating in inaugural ceremonies, and we look forward to their uplifting performance."
Caitlyn Jenner
Caitlyn Jenner is also attending Trump's inauguration on Friday. People first reported the news Wednesday and Jenner's rep confirmed the report to Bustle. A source told People, "Caitlyn has been a Republican all her life and she sees this as an opportunity to represent and defend the LGBTQ community within the party." On Wednesday, Jenner took to Twitter seemingly responding to the news of her inaugural attendance by posting, "Republicans need help understanding LGBTQ issues and I'm here to help!"
Performing At Pre-Inauguration Events
Toby Keith
After it was announced that country singer Toby Keith would perform for Trump at the Make America Great Again! Welcome Celebration on Thursday, Jan. 19, he spoke out in defense of his decision. In a statement released to Entertainment Weekly in January, Keith said, "I don't apologize for performing for our country or military. I performed at events for previous presidents [George W.] Bush and [Barack] Obama and over 200 shows in Iraq and Afghanistan for the USO."
Jon Voight
Jon Voight is a huge Trump supporter, so it's not surprising he is attending Thursday's concert. "I'm very supportive of Donald Trump, yeah," he told Philly.com at a January Hallmark Channel party. "I'm happy to be there."
Lee Greenwood
You should recognize this name, especially since Lee Greenwood is known for his patriotic songs "Proud to be an American" and "God Bless the U.S.A." He doesn't think it's a "mistake" to perform for Trump Thursday and told The Hollywood Reporter in January,
"It's not just about the Trump event, it's about the change of power in D.C. This is our fourth inauguration. I think whenever you're asked to do a Congressional appearance, I think it's in bad taste to say, 'No.' It's not political. I consider it a great honor and prestige of being able to sing the song I wrote in 1983 at the Lincoln Memorial. It will be a wonderful moment for my career, but also for the citizens who will be watching it on television worldwide."
3 Doors Down
If you are old enough to remember the year 2000, then you most certainly remember 3 Doors Down's hit "Kryptonite." Well, agreeing to sing for Trump at the big concert Thursday is kryptonite for some of their fans. It doesn't appear that the band has responded to the negativity thrown their way, but they are promoting the inaugural concert on social media.
The Frontmen Of Country
The Frontmen of Country is made up of Restless Heart's Larry Stewart (far left), Little Texas' Tim Rushlow (far right), and Lonestar's Richie McDonald (not pictured). It doesn't appear that Stewart or McDonald have publicly commented about attending Thursday, but Rushlow spoke to The Hollywood Reporter in January about his decision to perform for Trump. He said,
"I'll be really honest on this: I think the only political statement I'm making is that I love my country enough to look past — whether I voted for Trump or I didn't vote for Trump, whether I voted for Hillary or didn't vote for Hillary, whether I'm hot on one topic or hot on the other — to just say, look, 'I just want to support my country.'"
The Piano Guys
They first found fame on YouTube after sharing piano and cello covers of popular songs and classical music. The band released a statement on Facebook Monday explaining why they chose to attend the concert Thursday. It reads in part, "We felt very strongly that we needed to accept this invitation. We, too, are distraught over how divisive this chapter in our nation's politics has been, but we have hope for the future!"
Travis Greene
Gospel singer Travis Greene will also be part of Thursday's welcome celebration concert. He announced the news in an Instagram video Sunday, Jan. 15. "So I believe that this is a door open from God for me to engage in culture — not to sit back and tolerate or complain, but to help redefine culture in some way," he said. "So I'm taking the light and the love of Jesus where it belongs."
DJ RaviDrums
DJ Ravidrums, aka Ravi Jakhotia, is also set to perform at the inauguration concert. According to The New York Times, he previously performed with Paula Abdul at the 2008 Super Bowl pregame show. It doesn't appear he has released any type of comment on joining the inaugural festivities.
Larry Gatlin & The Gatlin Brothers
As you can see above, country band Larry Gatlin and the Gatlin Brothers are excited to support Trump at the Black Tie & Boots Inaugural Ball on Thursday. In June 2016, Larry also endorsed Trump for president and told FOX Business Network, "He's an old friend of mine, Donald doesn't really make friends — he takes hostages. So I've been a hostage for over 40 years. He's been very nice to me."
Big & Rich
Big & Rich is ready to belt it out for Trump at Thursday's Great America Alliance's Inaugural Gala. "We're thrilled to be performing in our nation's capital during this historic moment in time," John Rich said in a statement. "A Presidential Inauguration is a uniquely American event, so we are honored to be a part of it and hope to help make it a memorable event."
Darryl Worley
Another country singer on the docket is Darryl Worley, who isn't shy about expressing why he thinks he was asked to be part of Trump's day at the Great American Inaugural Ball. "This particular event has nothing to do with politics — for me," he told Billboard Tuesday. "I don't believe that's why I was asked to do it. I do know where I stand on the issues, but this is to celebrate and honor the military." He also said, "It's a grand opportunity. It's very historic. I also believe that it's a monumental time in our nation. I think that this election might be one of the most important that the United States has ever had."
Gary LeVox
It doesn't look like Gary LeVox, aka the frontman for Rascal Flatts, has commented on joining the Veterans Inaugural Ball Salute to Heroes for Trump. According to Rolling Stone, LeVox is part of the Veterans Inaugural Ball in partnership with Songs for Sound, a Nashville nonprofit focusing on hearing-loss detection and treatment. It was founded by LeVox's brother and sister-in-law whose daughter was born deaf.
Neil Thrasher & Wendell Mobley
Country singer and songwriter Neil Thrasher and country songwriter Wendell Mobley are both set to join LeVox's acoustic sets, Rolling Stone reports. Mobley and Thrasher both co-wrote Rascal Flatts' hits "I Melt," "Fast Cars and Freedom," "Banjo," and many others. It appears neither songwriter has opened up about heading to D.C. for the inauguration event.
Sam Moore
Sam Moore, from the soul duo Sam & Dave (they are known for "Hold On, I'm Comin'" and "Soul Man"), is heading to D.C., as well, for Thursday's big welcome concert. "I am not going to let them, the left side, intimidate me from doing what I feel is the right thing to do for the country and that [presidential)] seal," he told the Associated Press Tuesday (via Hawaii News Now). "He's got a big mouth, like me," Moore said about Trump. "Whether you agree with him or not, he's going to say what's on his mind." He also added, "Give the man a shot. He hasn't even said 'I do' yet. Give him a chance. If you don't like him after four years, then don't vote for him next time."
It's a list of celebrities, but definitely not like the previous ones, that's for sure.