Celebrities That Will Be At Trump's Inaugural Ball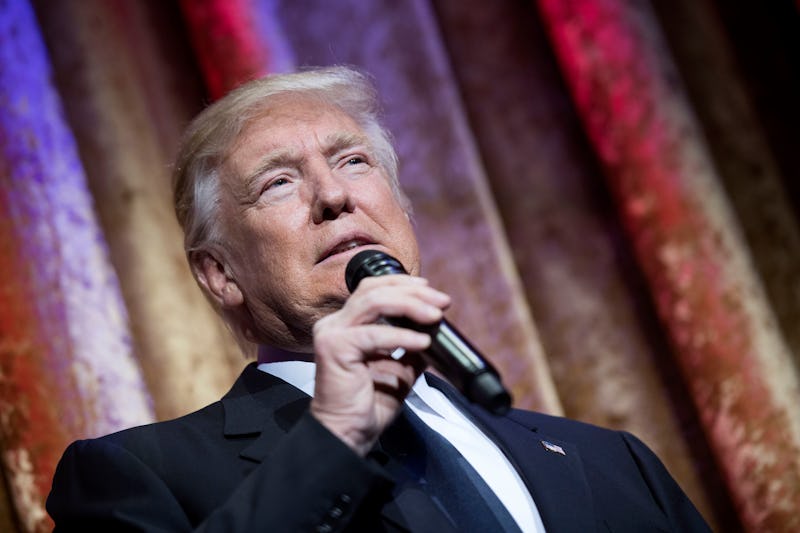 Pool/Getty Images News/Getty Images
After Donald Trump is sworn in as president he'll get a chance to celebrate at the Inaugural ball. According to ABC News, Trump will only be attending the three official balls taking place, the Liberty and Freedom: The Official Presidential Inaugural Balls where Trump and his wife Melania will have their first dance, and the Salute to Our Armed Services Ball, which honors American troops. For a comparison, President Barack Obama attended 10 while President George W. Bush went to eight balls. Trump is the obvious star of the night, but it's those actual stars that will show up to honor the new president that have piqued people's interest. So which celebrities will be attending Trump's inaugural balls?
"Who?" has been a major question when it comes to the celebrities coming to Trump's Inauguration. Mostly because the celebrities who have been selected to perform at both Trump's Inauguration and the official balls are not of the same caliber as the ones who were at Obama's. Who can forget Beyoncé's performance of Etta James' "At Last" at his 2009 Inaugural Ball?
The more low-key lineup though is reportedly purposeful, as Trump inauguration Chairman Tom Barrack told ABC News:
We're fortunate in that we have the greatest celebrity in the world, which is the president-elect, side by side is the current president ... So, what we've done instead of trying to surround him with what people consider A-Listers is we are going to surround him with the soft sensuality of the place. It's a much more poetic cadence than having a circus-like celebration that's a coronation. That's the way this president-elect wanted it.
Whether you believe Barrack or not, especially knowing that there were a whole lot of performers that turned Trump's Inauguration invitation down, is up to you. Either way, these are the stars who will officially help get the inaugural party started for Trump.
1. The Rockettes
The Rockettes are performing at Liberty and Freedom: The Official Presidential Inaugural Balls. Shortly after it was announced that they were picked to perform, members of the dance team including Phoebe Pearl expressed their concerns. In a now deleted Instagram post, Pearl wrote that finding out she was performing for Trump
...makes me feel embarrassed and disappointed. The women I work with are intelligent and are full of love and the decision of performing for a man that stands for everything we're against is appalling.
After it was alleged that the Rockettes attendance at the inauguration was mandatory, the Madison Square Garden Company clarified in a statement to The Hollywood Reporter that the dancers "must voluntarily sign up and are never told they have to perform at a particular event, including the inaugural. It is always their choice." The company then said that they "had more Rockettes request to participate than we have slots available."
2. Sam Moore
Half of the soul group Sam & Dave will perform at the official ball, according to the Inauguration's official site. In an interview with the Associated Press, Moore said he asked to perform after Jennifer Holliday backed out of her "Make America Great Again! Welcome Celebration" performance at the Lincoln Memorial. "I am not going to let them, the left side, intimidate me from doing what I feel is the right thing to do for the country and that [presidential] seal," the 81-year-old said. Moore, who is best known for his group's song "Soul Man," has performed for five other U.S. presidents and said he doesn't know Trump personally.
3. Tim Rushlow And His Big Band
Rushlow, the former member of the country supergroup , is actually slated to perform twice during Trump's inauguration. He will first perform at the Lincoln Memorial concert with his other band The Frontmen Of Country before heading to the Ball. Rushlow told USA Today that he and his Big Band will perform for the first dance of Trump and Melania at the Liberty and Freedom Ball. Rushlow told The Hollywood Reporter that saying yes to Trump was a no-brainer. "From the bottom of my heart, trying to do this with all the great intent, as an American," he said, "and this is not about who thinks this way or believes that way."
4. Pelican212
According to Facebook, Pelican212 is the "world's shortest horn band featuring identical twin trumpet players" Max and Colbe Rees. The Nashville family band also features Max and Colbe's four siblings. The band, which plays Dixieland music, previously appeared on the NBC kid's talent show Little Big Shots.
5. The Piano Guys
The Utah-based piano and cello group known for their orchestral covers of famous songs became famous for their impressive YouTube videos that have been filmed all around the world. In a statement obtained by Billboard, the guys said performing for Trump wasn't an endorsement. "Our desire as The Piano Guys has always been to spread hope, love and joy through our music and videos," they said. "We accepted the invitation to perform at the Inauguration with this objective in mind. We would have been honored at the opportunity no matter who was being sworn in."
6. Circus 1903
Deemed "the greatest show on earth," the modern circus spectacular has made headlines for bringing back elephants — sort of. The show will use life-size puppets to incorporate elephants back into the circus made by the team who did the 2011 Steven Spielberg movie War Horse, specifically, two elephants, a mom and her baby. As Salon wrote last year, Circus 1903 attempts to "capture the magic of circuses at the dawn of the last century, with strong men, foot jugglers, contortionists, acrobats, knife throwers, teeterboarders, high-wire performers, and a bicycle stuntman."
7. Cache Olson
On his Soundcloud, Olson says he's a "16 yr old making music." The electronic artist from Highland, Utah, who has a remix of Childish Gambino's "3005" on his Soundcloud, will be DJing an hour of the Freedom Ball, according to Utah's local news site Deseret News. He'll reportedly play the walk-in music for the ball before playing a set that will "feature six or seven of his own songs in a mix of about 35." It's a big weekend for the teen, who doesn't share how exactly he booked this gig; he's also going to "get his Eagle Scout Award on Sunday night."
On Twitter, he wrote, "The fact that im apart of an inauguration for a u.s president is beyond me. incredibly humbled for this opportunity to serve my country."
8. Lexi Walker
Utah is clearly well represented at the inauguration. This 14-year-old singer is also a Utah native who performed at the 2016 National Republican Congressional Committee. According to Deseret News, Walker will perform Vice President Mike Pence's first dance with his wife at the Freedom Ball. "It's really big, and it's really cool, because it's my first ball," she said. "I think I'm going to have a major Cinderella complex. It's pretty exciting." Walker said she will be playing a "couple of songs," maybe even three at the event. As for why she's performing, she was honest. "My view is I'm there to be patriotic," she said. "I'm not there to make any kind of statement. I'm 14. I don't really have many political views yet."
9. Erin Boheme
Erin Boheme is a jazz singer signed to Concord Music Group and has since become a protege of Michael Bublé. It was he who urged the Wisconsin born singer to go in a more pop direction with her music. Her second album What a Life was released in 2013.
10. Tony Orlando
Orlando will honor the troops by performing some of his hits like "Knock Three Times," "Candida," and "Tie a Yellow Ribbon Round the Ole Oak Tree" as the Salute to Our Armed Services Ball.
On The O'Reilly Factor, Orlando said that it was "sad" to him that so many performers would turn down the chance to perform at the Inauguration "because I am in a red, white, and blue state of mind. It saddens me that this country is being torn apart when we are seeing a transition of power." He said it was his "patriotic duty to answer when the president-elect asks me to sing at the Armed Services Ball" and would have done the same if Hillary Clinton had won.
11. Josh Weathers
The Fort Worth, Texas, singer-songwriter will headline the Salute to Our Armed Services Ball alongside his seven-piece band. Weathers' mandolin player told the Fort Worth Star Telegram that the "primary focus" of this performance is to help raise awareness for Weathers' nonprofit, Love Like You Mean It, which helps the less fortunate in U.S. and around the world.
Weathers also told the paper that his presence at the ball was not political. "I know that's going to come with some backlash, and some craziness, but the people that know me and know my heart — it's not a political move by any means," Weathers said, adding Trump "will be the president of the United States and we'll be there, and we're going to do what we do."
12. Silhouettes
Silhouettes are playing at either the Liberty or Freedom Balls, but right now what exactly they are going to do is a mystery. This is because this group is nearly impossible to find on the internet. Maybe it's just a slideshow of all Trump's silhouettes?
These are the lineups of the official balls, but they aren't the only events going on in town. According to USA Today, there are at least 18 balls taking place Inauguration weekend, including the Peace Ball featuring performances from Solange and Esperanza Spalding.
While Trump is keeping things low-key, his Inauguration certainly isn't cheap. CBS News reported that Trump's Inauguration is estimated to be between $175 and $200 million.