'Castle Rock' Will Get Fans In The Mood To Revisit These Creepy Stephen King Books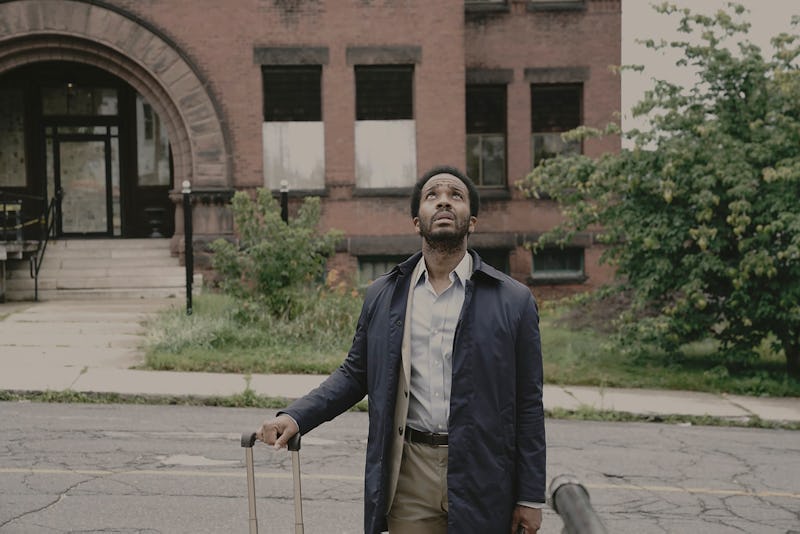 Hulu
If you want to rush out to read the source material for the latest Stephen King project before it premieres, you're going to have a little trouble finding it in your local library or bookstore. Which Stephen King book is Castle Rock based on, exactly? Well, the upcoming Hulu series isn't actually an adaptation of any of the author's popular novels or short stories, in the strict sense of the word. You won't find Castle Rock on the shelf between Carrie and Cujo. Rather, the horror show pulls from a number of King influences to craft an original scary story.
Conceived of by J.J. Abrams alongside King, Castle Rock is basically a mash-up of all of the author's most famous tropes and themes and plots. Eagle-eyed fans were quick to point out the dozens of Easter eggs on display in the two-minute trailer, and there are likely even more in wait once the series debuts on July 25. So while you can't read a book called Castle Rock, there are plenty of King works that you can devour in order to understand the melange of references you'll be showered by when you tune in.
But which of King's works to start with? Here are some of the books that seem to be the biggest inspirations for Castle Rock, based on what's known about the show so far:
1. Rita Hayworth And Shawshank Redemption
Perhaps the most obvious King reference in Castle Rock is the presence of Shawshank State Penitentiary, the jumping off point for the story when a feral young man is found locked in a cage deep beneath the prison. The penitentiary in question was first introduced in the novella Rita Hayworth and Shawshank Redemption, published in King's 1982 collection Different Seasons, and famously adapted into the acclaimed 1994 film The Shawshank Redemption. The prison has also appeared or been mentioned in a number of other King works, including It, The Dead Zone, and Under The Dome.
2. The Dark Half & Needful Things
Most of Castle Rock's inhabitants appear to be original creations, and so far the only character confirmed to be pulled directly from the pages of King's work is Alan Pangborn, the town sheriff played by Scott Glenn (Daredevil, The Leftovers). Pangborn was the protagonist of two King novels, 1989's The Dark Half and 1991's Needful Things, both of which were later adapted into films starring Michael Rooker and Ed Harris as the sheriff, respectively.
3. Cujo
During the trailer, an old newspaper clipping bearing the headline "Rabid Dog Tears Through Town" can be briefly glimpsed. This is a clear reference to the 1981 novel Cujo (and its 1983 film adaptation), about a beloved pet Saint Bernard who terrorizes the town of Castle Rock after being bitten by a rabid bat. Another apparent Cujo reference comes when Sissy Spacek's Ruth Deaver can be seen sitting in bed staring at a blood-soaked German Shepherd. Of course, it's not a Saint Bernard, but any large dog covered in blood in a Stephen King property is bound to bring up memories of Cujo.
4. Carrie
Speaking of Sissy Spacek, her mere presence in Castle Rock is itself a meta Stephen King reference. Of course, a young Spacek starred in the earliest adaptation of King's earliest novel, 1976's Carrie (based on the 1974 novel of the same name). Spacek was nominated for an Oscar for playing the traumatized telepathic youth, and given her inextricable association with King's earliest work, her casting here is quite a coup.
5. It
Spacek's is not the only familiar face from King's oeuvre, either. Bill Skarsgård — who recently terrorized moviegoers as Pennywise the clown in 2017's remake of It — also appears in Castle Rock as the aforementioned young man found lurking in the bowels of Shawshank.
6. The Shining
While Pangborn might be the only character lifted directly from King's established works, at least one other figure in the fictional town seems to have been inspired by a famous King persona. Horror heroine Jane Levy (Evil Dead, Don't Breathe) has been cast on Castle Rock as someone named Jackie Torrance. Those who have seen or read The Shining will recognize that name as a thinly veiled version of that story's unhinged hero-turned-villain Jack Torrance.
7. Even more…
Aside from the specific references listed above, there are still a number of other King stories that all take place in the fictional town of Castle Rock. These works include novels Bag of Bones, The Dead Zone, and Lisey's Story, as well as the novella The Body (which was adapted into the 1986 film Stand By Me). Even more stories contain references to the town even if they don't take place in it, like Pet Sematary, The Stand, The Mist, and Under The Dome.
Catch up on all these King books to get the most out of your visit to Castle Rock.