Everything You Need To Know About Princess Eugenie's Bridesmaids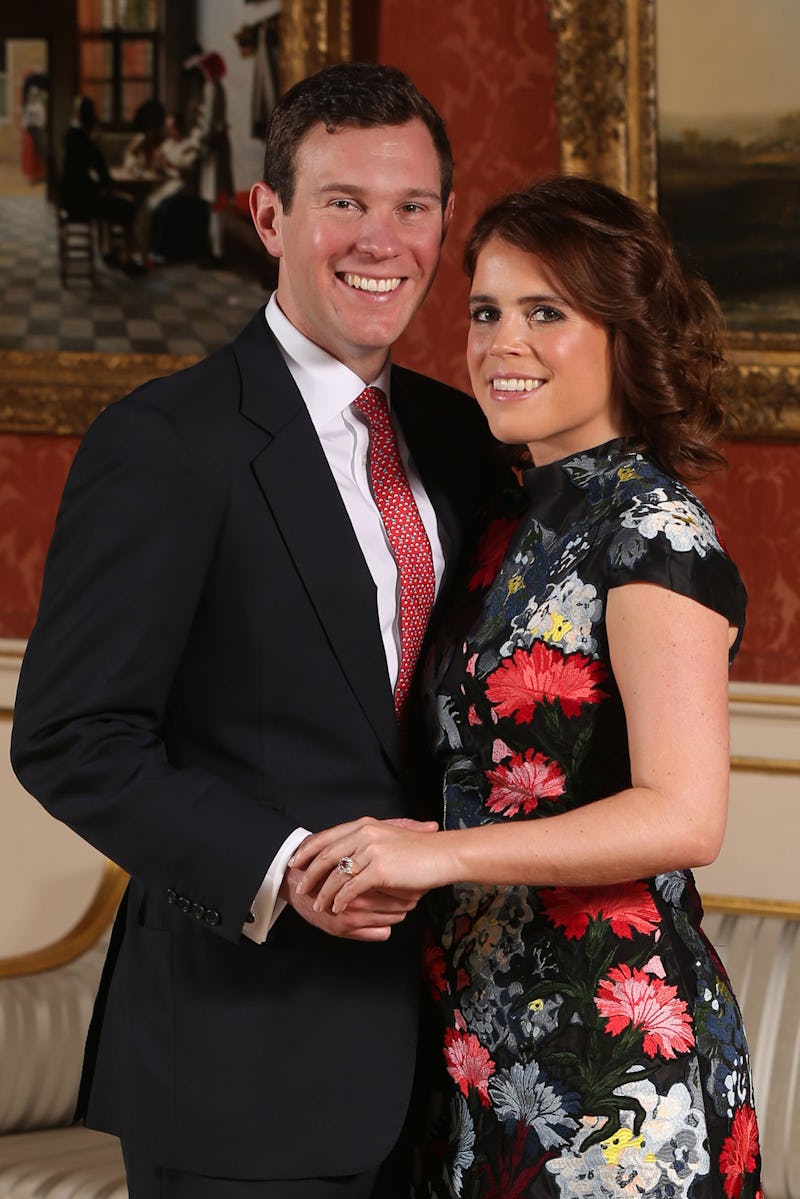 WPA Pool/Getty Images Entertainment/Getty Images
There's another royal family wedding in the works, and just like the ones before it, people want to know all the details. For example, who are the bridesmaids in Princess Eugenie's wedding to Jack Brooksbank? Hello! Magazine shared the list of girls who will have a role in her big day. Just like Meghan Markle and Kate Middleton's weddings, Princess Eugenie's bridesmaids are all young children, per tradition.
Well, that is mostly true. Princess Eugenie will have her older sister Princess Beatrice standing by her side as her maid of honor, according to Harper's Bazaar. Having a maid of honor for a royal wedding is not something that's historically common, but it's happened with this generation of royal family members.
Back in 2011, Pippa Middleton was the maid of honor when her sister Kate Middleton married Prince William. Meghan Markle did not have a maid of honor when she married Prince Harry in May, but that's probably for the best. (The Duchess of Sussex's half-sister Samantha Markle has found herself in the middle of some very public family drama.)
So, who made the cut for the rest of Princess Eugenie and Jack Brooksbank's Oct. 12 nuptials? Of course, there are some obvious family members who will be there to fulfill the bridesmaids duties.
Her Royal Highness Princess Charlotte Of Cambridge
Unsurprisingly, Princess Charlotte is going to serve as a bridesmaid, as confirmed by Hello! Magazine. Her father Prince William is Princess Eugenie's cousin, she's fourth in line to the throne, and Princess Charlotte is very experienced as a bridesmaid.
In 2017, she was a bridesmaid in her Aunt Pippa Middleton's wedding. Earlier this year, she pretty much stole the show with her cuteness at Prince Harry and Meghan Markle's wedding. And in September, Princess Charlotte was a bridesmaid in Sophie Carter's wedding, a close friend of her mother's. This will be the third time that Princess Charlotte walked down a wedding aisle in 2018.
Savannah & Isla Phillips
In June, sisters Savannah and Isla Phillips recently made headlines for being adorable, along with Prince George and Princess Charlotte, during the Trooping the Colour to celebrate the Queen's 92nd birthday. According to Good Housekeeping, Savannah and Isla are the Queen's great-grandchildren, they are the granddaughters of Princess Anne, and their parents are Autumn and Peter Phillips. It makes perfect sense for the girls to be a part of Princess Eugenie's big day — they're family and they're cutely entertaining.
Maud Windsor
Maud Windsor is Princess Eugenie's goddaughter and cousin, according to Town & Country. Maud's parents are Lord Frederick and Sophie Winkleman. Maud's grandfather is Prince Michael of Kent, who is a cousin of the Queen. She was actually born in Los Angeles, but was christened in London, where Princess Eugenie became one of her godmothers.
Mia Tindall
Four-year-old Mia Tindall is the daughter of Zara and Mike Tindall, according to Good Housekeeping. Zara is one of the queen's granddaughters and one of Princess Eugenie's cousins.
Theodora Williams
Yes, her last name is a pretty common one, but in this case, the bridesmaid has some famous parents. Theodora Williams is the daughter of singer Robbie Williams and Ayda Field Williams, according to Daily Mail. Her parents are longtime friends of Princess Eugenie and her sister Princess Beatrice.
Of course, all eyes will be on the couple during their wedding day, but these bridesmaids are bound to get some shine and inspire some memes with all their adorableness.