Logic's VMAs Performance Made An Emotional Political Statement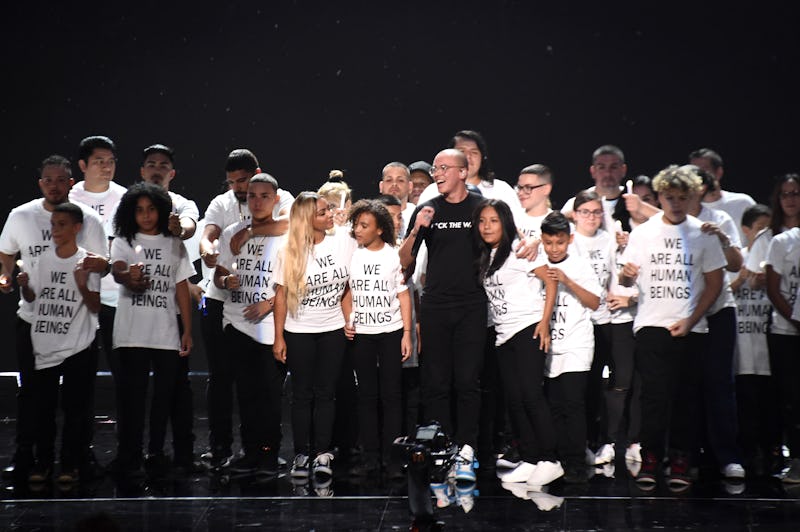 Michael Loccisano/Getty Images Entertainment/Getty Images
It's always a night that's full of surprises, but Logic's performance at the 2018 VMAs was a bonafide showstopper that made a huge political statement. Logic, wearing a "F*ck the wall" shirt, was joined by Ryan Tedder to perform "One Day." Also present were dozens of kids wearing shirts that said, "We are all human beings." Who were the kids in Logic's performance and the people they were united with on stage? The moment was one people will definitely be talking about for a while.
Logic kicked off the performance by walking into Radio City Music Hall with a flood of kids in the matching shirts, walking single-file through the aisles, to ultimately take over the stage. Towards the end of the performance, a screen wall was lifted to reveal more people in the, "We are all human beings" shirts, united with those on stage, leading to them hold and hug each other, some holding candles.
According to a press release, the families on stage were made up of immigrant leaders from the National Domestic Workers Alliance, United We Dream and Make the Road New York, and their children. Further, Logic's intention for the poignant performance was "to protest the Trump Administration's cruel and inhumane family separation policy that tore thousands of children from their parents and continues to keep hundreds apart."
In June, President Trump's separation policy, calling for children to be separated from their immigrant parents at the US-Mexico border, caused major outcry across the country. Families' heartbreaking stories, including children being kept in cages and away from their parents, flooded the news cycle. At the end of June, Trump signed an executive order to end immigrant family separations, but was insisted on a "zero tolerance" policy.
As pointed out in the press release, the Trump Administration is still holding 565 of the children who were supposed to be reunited with their families about a month ago, and 24 of them are under 5 years old.
Three days before the VMAs, Logic released the video for "One Day," a seven-minute video with an extremely powerful story. With appearances by Michael Peña, Judy Reyes, and Luis Guzman, the video chronicles two boys-turned-men from completely different families, whose lives intersect in an unexpected way. One is from a Mexican family, brutally separated from family while attempting to cross the border, and another from a white American family, worshipping the American flag, eventually turning into a bigot.
In a flash forward, the white man attempts to stab a black man in a bar fight, but winds up wounded by his own blade. The Mexican boy, who pursued academics and became a doctor, ends up being the one to perform surgery on the man when admitted into the hospital.
Audiences consistently thank Logic for using his platform to bring positivity and awareness to pressing societal issues, and Monday night was no different.
While music is often a form of personal expression, Logic continues to touch countless lives with his work, and he's really one of a kind.