The Heartwarming Reason A Choir Is Joining Ariana On Stage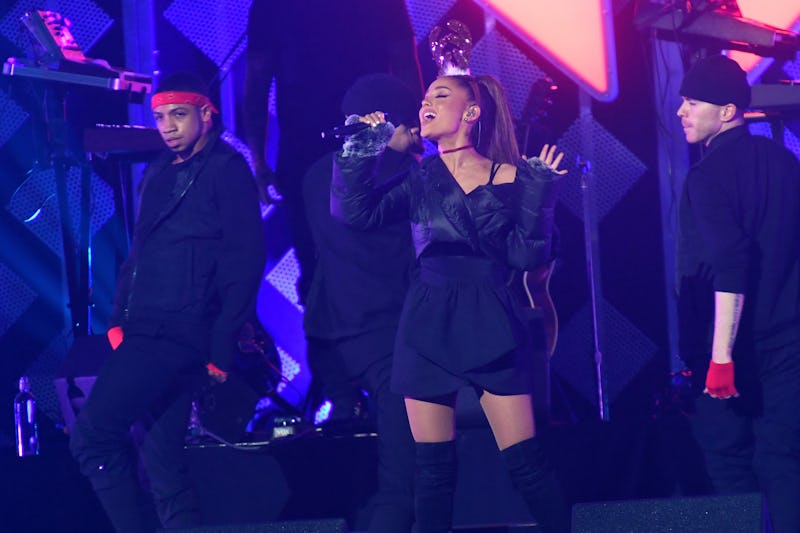 Paras Griffin/Getty Images Entertainment/Getty Images
While big names like Miley Cyrus, Pharrell, and Katy Perry are joining forces for Ariana Grande's One Love Manchester concert on Sunday, there may be a group you're less familiar with. If you're wondering who the Parrs Wood High School Choir are, prepare to be in awe. These students from Manchester first gained attention when they performed a tribute of Grande's "My Everything," as a way to remember the victims of the devastating May 22 attack.
After the choir's cover went viral online, it was announced by outlets, such as the Mirror and The Manchester Evening News, that the Parrs Wood High School Choir would join Grande on stage at the One Love Manchester event. According to The Mirror, the group appeared on This Morning earlier this week and shared how excited they were for the performance, but also re-emphasized the importance of the event: to honor and raise funds for the victims.
If a benefit concert set list circulating Twitter is to be believed, the choir will be performing four tracks with Grande, including "My Everything." Regardless of which songs they sing, it's incredibly touching that these students are sharing the stage with Grande and bringing their tribute to an even larger platform.
According to the school's website, the Parrs Wood students used their tribute to raise money for victims of the Manchester attack and their families on a crowdfunding page. At the time of reporting, they have raised over £4,500, more than doubling their initial goal of £2,000.
You can listen to their online tribute below:
While it's easy to feel scared, confused, and upset in the wake of such attacks — and those feelings are more than warranted — it's groups like this choir that prove the power of coming together. Seeing them join Grande on stage is bound to be a heartwarming moment.