There's Actually A Very Good Reason Why Tiffany Haddish Can't Say Who Bit Beyoncé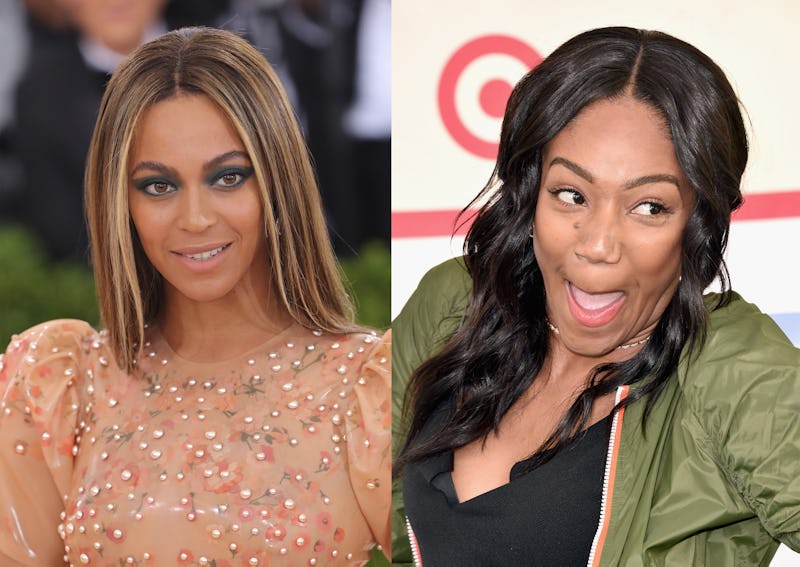 Neilson Barnard/Getty Images Entertainment/Getty Images; Alberto E. Rodriguez/Getty Images Entertainment/Getty Images
If you're anything like the rest of the country, you're currently gripped by the need to know exactly who put teeth on Queen Bey. But don't get your hopes up too high — Tiffany Haddish will never reveal who bit Beyoncé. That's according to what the actor told Instagram followers on Wednesday when she said she vowed to adhere to a non-disclosure agreement. But not before teasing followers with a fake name, of course, because she's still gotta have her fun.
The actor went live on the social media platform during a March 28 visit to her hair salon, and initially seemed determined to talk about other things. But every few seconds, the comment section would be flooded with bee emojis; the symbol that since the story first broke has become shorthand for "tell us who bit Beyoncé, please." So, Haddish finally relented. "I see the bees are out, what up, bees?" she greeted followers, before finally promising the one thing that everyone's been waiting for.
"You wanna know who bit Beyoncé?" she asked her 2.2 million followers. "I'm gonna tell you who did it, and I'm never talking about it again." Breaths were held, butts were scooted to the edge of their seats, and stress balls were squeezed as fans waited for the big reveal. And then, finally it came:
"Everybody going crazy about who bit Beyoncé. I'm gonna tell you, so this can just be done with. I'm gonna tell you who bit Beyoncé… it was Stormy Daniels."
Stormy Daniels, is of course, not Sanaa Lathan or Sara Foster, whose names have been thrown around as possible culprits. She's the adult film star who's currently battling Donald Trump in court, and it's highly unlikely that the 39-year-old was anywhere near the Lemonade singer on the night in question. But, Haddish made clear that Daniels' court case is where our focus should be right now, instead of on a half story that's consumed the nation ever since it was revealed in GQ.
Or, if the legal battle between Daniels and Trump isn't your bag, Haddish also recommends focusing on your taxes, whether your children know how to read and write, whether your house is clean, and what happened in Austin. In short, in the Girls Trip actor's own words: "Pay attention to what's really going on. That's not real news. Who bit Beyoncé is not real news." And even if it was, Haddish again underlines that it's news she isn't able to talk about:
"Once you sign an NDA... if ya'll would've asked me this back when I did the interview, like a month ago — NDAs are real, so I'm not saying sh*t about nothing."
This is hardly the first time that the Los Angeles native has referenced a non-disclosure agreement, but she is certainly being clearer about sticking to it. Earlier in the year, Haddish spoke to a few outlets about the first half of the Beyoncé bite story, claiming that she witnessed Beyoncé approach a woman who put her hand on JAY-Z's chest. As she told TV One's Uncensored:
"Beyoncé came walking up like ... 'Bitttchhh!' But, she didn't say that. But her demeanor, her body from the way she walked up on them, said 'get your hands off my man's chest.'"
A few weeks later, Queen Bey put out a song, "Top Off," which included the lyric, "If they're tryna party with the queen, they gon' have to sign a non-disclosure." E! reports that many people speculated the line was about Haddish, but it didn't trip up the Oscar presenter for even a second. She tweeted that she would be more than willing to sign an NDA for the pop music icon. It's unclear what NDA Haddish may have signed — something to do with the event where they were or from Beyoncé herself. Bustle has reached out to a rep for Beyoncé for comment, but did not receive a response at the time of publication. When asked about the biting story by GQ, Beyoncé's rep replied, "I absolutely cannot comment on any of this, as I have no knowledge."
Some had speculated that Haddish was breaking that NDA even to talk about the biting incident in the first place, but it appears that that isn't the case. According to the timeline Haddish has laid out, she spoke when she was allowed to, and she hasn't opened her mouth since. And that's what we can all expect going forward.