Demi Lovato's "Sorry Not Sorry" Seems To Call Out A Hater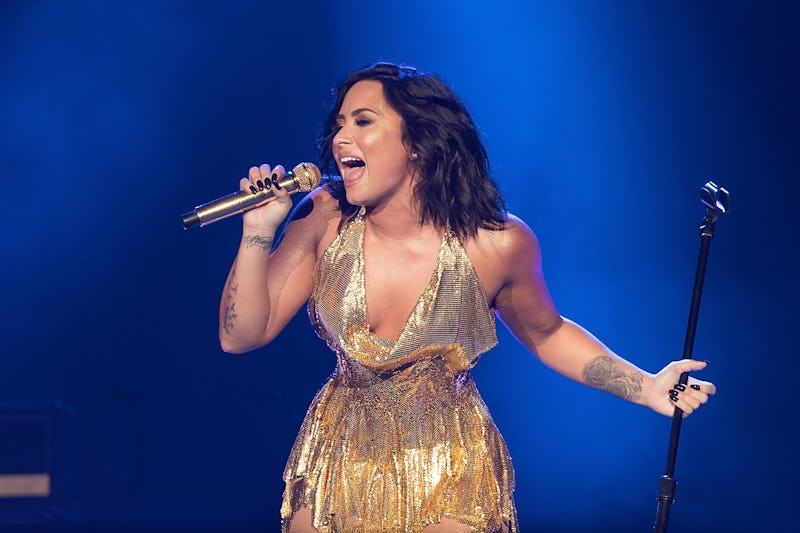 Rick Kern/Getty Images Entertainment/Getty Images
The wait between new songs always feels too long, but Demi Lovato's "Sorry Not Sorry" ended the dry spell in style. The R&B-inspired track calls out an unknown hater in such an epic way that many are already wondering who Lovato's "Sorry Not Sorry" is about. "Now payback is a bad b*tch, and, baby, I'm the baddest," she crooned on the track. "You f*ckin' with a savage... and it'd be nice of me to take it easy on you, but nah." Those are some very strong words, strong enough that whoever the subject of the song actually is might be worried right about now. Until and unless Lovato airs this grievance for herself, let's speculate.
"'Sorry Not Sorry' is the first of many songs that I've been working on, and I can't wait for you guys to hear all of them," she wrote in a Facebook post introducing the banger. "...This is an anthem for anyone who's ever been hated on and has risen above it and come out from the other side like a f*cking savage!" Now, the singer has been through her fair share of feuds — and left Twitter multiple times due to trolls — so this hardly narrows down the field. But maybe that's the point.
In June 2016, Lovato quit all of social media except for Snapchat after receiving backlash for defending Ariana Grande against a meme that compared her unfavorably to Mariah Carey, allegedly saying, of Carey, "Mariah is a legend and is so talented but consistently disses people… It's nasty the way she treats Jennifer [Lopez]." October 2016 saw Lovato making headlines for calling out Taylor Swift in a Glamour interview, saying, "I think that having a song and a video about tearing Katy Perry down, that's not women's empowerment. We all do things that aren't, but I have to ask myself, 'Am I content with calling myself a feminist?' Yes, because I speak out." And in June 2017, Demi Lovato tweeted, "I find it funny when bullies play the victims. Oops. I spilled my tea." As these tweets came hours after Kathy Griffin's press conference about her controversial Donald Trump photo — and three years after Griffin allegedly identified Lovato as "the biggest d*uche celebrity" — they were widely speculated to be about the comedian.
This is just a small sampling of the times that the outspoken singer has been the subject of controversy, and she is known just as much for her music as she is for her opinions and her frequent battles against internet trolls who would try to take her down. Which is why the exact person Lovato's song is directed toward doesn't matter as much as the message. Sure, she could be calling out another celebrity. Sure, she could be calling out an ex — such as Luke Rockhold or Guilherme "Bomba" Vasconcelos, both of whom Lovato split with in 2017 without any public drama. But her words could also be meant to speak to the wider hater culture that seems to breed on the internet and off it.
The next time you come across an ex who hurt you, a co-worker who annoyed you, an ex-friend who gossiped about you, or an internet troll trying to bull you, remember the anthem that Lovato has given her fans. "Baby, fineness is the way to kill," she sang. "Tell me how it feel; bet it's such a bitter pill. And yeah, I know you thought you had bigger, better things. Bet right now this stings." Sounds about right.