Who JAY-Z Cheated On Beyoncé With Shouldn't Matter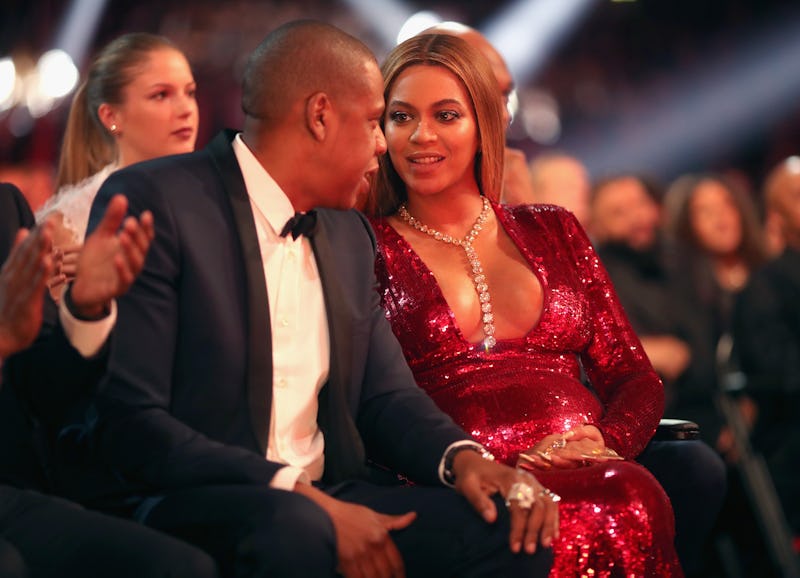 Christopher Polk/Getty Images Entertainment/Getty Images
Following years of fervent speculation, JAY-Z finally opened about his infidelity during an extensive interview with T: The New York Times Style Magazine. Naturally, this re-opened the rumor mill to speculation about who JAY-Z cheated on Beyoncé with, but, more importantly, his admission helped to put things into perspective.
Often, it's easy to see celebrities' personal lives as an open forum. They offer so much of their worlds for public consumption, and we can lose sight of the fact that they're people, not entertainment, and that what they choose to share with us is a privilege, not a prerequisite for fame. JAY-Z and Beyoncé are a notoriously private couple, but, over the last year, both have revealed candid, confessional albums detailing their marital problems. Beyoncé's Lemonade, released in April 2016, played like an emotional torrent of betrayal, disappointment, and rage, and its pointed references to infidelity (Remember "Becky with the good hair"?) seemed to call out JAY-Z directly. But, at the time, it wasn't clear whether Beyoncé was detailing her real-life experiences, or simply writing from a creative headspace.
When JAY-Z's 4:44 debuted just over a year later, it felt like a poignant, purposeful response. In the title track, he outright apologized for "womanizing," and, elsewhere, he expressed feelings of shame, failure, and regret. If it seemed like he and Beyoncé were trading open letters with their music, it's because they were: "We were using our art almost like a therapy session," JAY-Z told T. Still, that doesn't entitle listeners to the intimate details of their marriage.
It's no coincidence that some of their rawest, most vulnerable work is also some of their strongest to date, and it's admirable that the two are so willing to put so much of themselves into their art. But answering the question of who exactly JAY-Z cheated on Beyoncé with seems to be, understandably, where they draw the line. Outside of the so-called "Becky," neither have mentioned anyone by name, though fans certainly have their theories: Rachel Roy, Rita Ora, and rapper LIV are among those who've found themselves swept up in rumors, but all of them have firmly denied any involvement with JAY-Z. Roy released a statement to People saying there was "no truth" to the speculation; Ora shared a short, to-the-point tweet calling the reports "false"; and LIV told Hollywood Life that the song seemingly linking her to JAY-Z — a single entitled "Sorry Mrs. Carter" — had been "construed into something it's not."
To be frank, it seems unlikely that we'll ever know who may have been part of the reason JAY-Z almost lost the "baddest woman in the game." What we do know, however, is that the couple are working through their issues, and JAY-Z's comments did well to ground them in reality. He was upfront about his mistakes and seems to have done some critical reflection about why he's made the choices that he has:
"You have to survive. So you go into survival mode, and when you go into survival mode what happen? You shut down all emotions. So even with women, you gonna shut down emotionally, so you can't connect... And then all the things happen from there: infidelity."
It's tempting to reuse the phrase, "Celebrities, they're just like us," but it's a cliché for a reason. At the end of the day, JAY-Z and Beyoncé are two real, imperfect people trying to make their marriage work, and, for now, they seem to be in a good place. JAY-Z continued:
"We really have a healthy respect for one another's craft. I think she's amazing. You know, most people walk away, and like divorce rate is like 50 percent or something 'cause most people can't see themselves. The hardest thing is seeing pain on someone's face that you caused, and then have to deal with yourself."
Of course, knowing why you cheated and being aware of its consequences doesn't excuse it. But if JAY-Z and Beyoncé can overcome it and put the past behind them, so should we, or at the very least, we should keep our opinions to ourselves.