A Comprehensive List Of Everyone Who Died Or Got Dusted In 'Infinity War'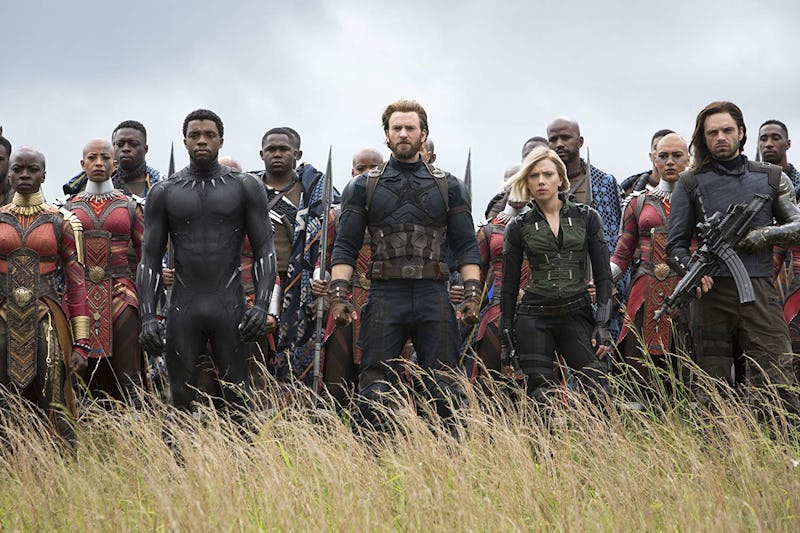 Marvel Studios
We said goodbye to a number of our favorite superheroes as well as some evil aliens in the bloody (and, well, dusty) apocalyptic conclusion of Avengers: Infinity War. And while some of the most painful deaths and/or disintegrations may remain fresh in our memory (like Peter Parker's heartbreaking farewell to Tony Stark), it's difficult to keep track of everyone in the Marvel Cinematic Universe who perished — whether at the hand of Thanos, the impact of his Infinity Gauntlet snap, or in battle with the Avengers — especially since some of the deaths weren't necessarily shown on-camera. To help you keep track, we've recapped everyone who died in Infinity War — as long as they were important enough to have a name.
Just a few weeks before the Avengers: Endgame April 26 premiere date, Marvel decided to use the Endgame movie posters to update us all on who in the MCU did and didn't actually survive the previous movie. All the individual characters whose photos are displayed in full color are those who remain, while those with posters in black-and-white didn't make it.
Not everyone rated a poster, apparently. And it won't hurt to get a quick refresher on how these characters met their ends, permanent or not.