'Bachelor In Paradise' Fans Need To See Angela's Extensive Modeling Portfolio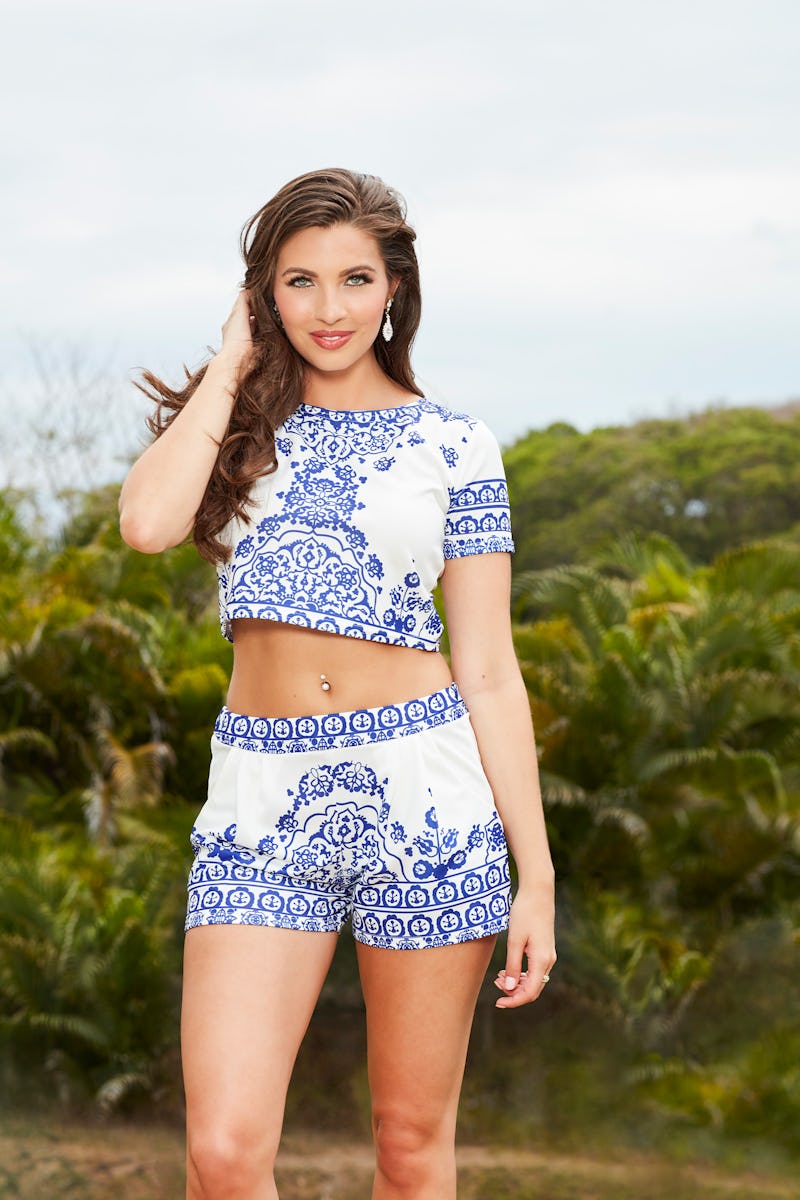 ABC/Craig Sjodin
Some Bachelor and Bachelorette contestants over the years have had occupations that required more than a little explaining. (Tickle Monster, anyone?). "Model" may not be one of them, but fans wondering exactly who Angela from Bachelor in Paradise models for pose a valid question about her vaguely titled profession.
Angela Amezcua may have left Nick Viall's season of ABC's The Bachelor without a rose after just one episode, but after winning hearts on BiP this summer, fans are rightfully wanting to know more about the Greenville, South Carolina native's resume. First of all, her presence in the modeling world isn't limited to striking poses in front of the camera. A December 2016 article in her local newspaper, The State, listed her as an office manager at Millie Lewis Greenville, which they described as "a salon, modeling school and modeling agency." According to Millie Lewis' official website, Angela is also the head of the agency's children's division, as well.
A quick scan of Angela's Instagram page — which lists representation by three different modeling agencies — shows she has an abundance of stunning headshots and professional portraits and is no stranger to walking fashion runways. AMAX, a Nashville-based model and talent agency, has select images from Angela's modeling portfolio on their website, but if the 5-feet-7-inches-tall model didn't quite catch your eye before joining Bachelor Nation, that's probably because most of her gigs have been local.
After landing a 2013 cover of Belle, "a magazine for the modern southern woman," Angela went on to appear in ad campaigns for brands such as Colosseum Athletics, Bay Island Sportswear, Muse Shoe Studio, Hale's Jewelers, Hincapie, and LAT Apparel, according to images posted on her Instagram page. She also frequently models swimsuits for Greenville women's clothing store Splash on Main, including one that made her "feel like a bronze goddess." She also starred in a holiday fashion shoot in TOWN Carolina magazine's Dec. 2016 issue.
One of her more notable print modeling shoots was a 2016 XOXO eyewear campaign. "To model for the brand who's featured my idols like Chrissy [Teigen], Lily [Aldridge], and Miranda [Kerr] has been a dream come true!" she posted on Instagram. In a Dec. 2017 throwback, she also joked that during the shoot she felt like she had "morphed into a naughty librarian."
She did, however, get some major national screen time in 2015, appearing as a cheerleader in a 2015 Dannon yogurt commercial, which starred Carolina Panthers quarterback Cam Newton. Towards the end of the 30-second spot, she can be seen leaping into the arms of a grocery story stock boy, with Newton standing nearby.
"Okay y'all... The secret is out!" Angela wrote in a Jan. 2015 Instagram post, adding:
"I am beyond blessed to say that I was chosen to be a principle role for the new Dannon Yogurt commercial featuring Cam Newton! God is so good! This commercial is part of a multi-million dollar campaign that begins with air time on NFL Network, ESPN, Spike TV, and more! It will be playing this weekend during the NFL playoff games too! Making my dreams a reality one step at a time! #SoBlessed 🙏🙌 #Model #camnewton #dannonoikos"
These days, however, she's taken on more than just a seconds-long supporting role on TV with her appearance on Season 5 of Bachelor in Paradise. As fans remember, she was understandably heartbroken, when Eric Bigger changed his mind about their relationship this week. Angela was subsequently sent home during the week's rose ceremony, and despite choosing to explore a romance with Cassandra Ferguson, Eric left Paradise the following night — with Angela still clearly on his mind.
Although her relationship with Eric on BiP didn't work out, now Angela is dating Clay Harbor from Becca's season of The Bachelorette. "What do the kids call it? Woman crush Wednesday? Welp here's mine 😍 #outkickingmycoverage #whatwashethinking #wcw," the self-described nine-year NFL vet posted on Instagram along with a photo of himself and his new girlfriend on Wednesday, Sept. 5. Harbor also tweeted the same photo with the caption, "If I had a rose to give she would get it EVERY time."
Harbor, who is currently an NFL free agent, also credited Chris Randone for setting him up with Angela, in a post to his Instagram story, giving the Bachelorette and BiP alum a "big shoutout" in the photo's caption.
The same day, Angela also confirmed the new relationship, sharing her own couples' photo on Instagram and captioning the shot, "Paradise Found ❤️."
Not to be outdone, she also shared a collage of Polaroid photos of the pair on her Instagram story, tagging the Bachelorette Season 14 alum.
While she hasn't quite hit mainstream modeling status just yet, with her newfound reality TV fame, Angela is sure to be seeing her career only continue to skyrocket in the future.