Prince Harry & Meghan's Baby Name Was *Finally* Revealed, So Who Is He Named After?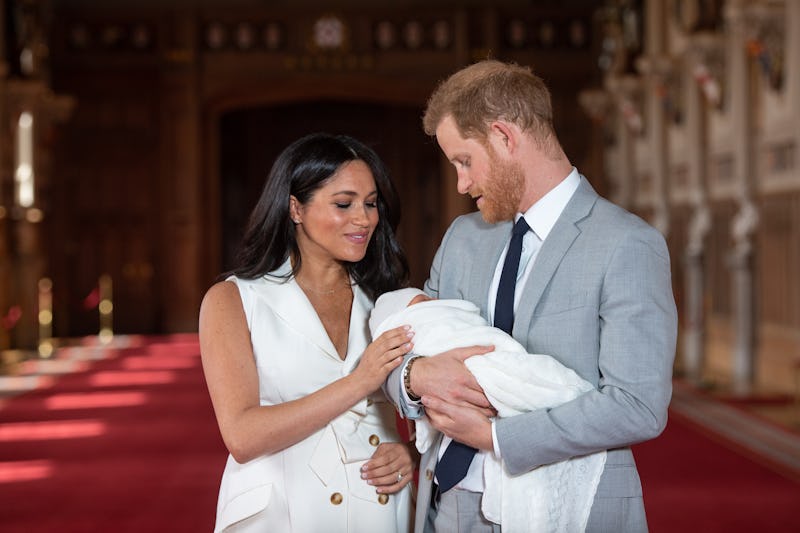 WPA Pool/Getty Images Entertainment/Getty Images
After so much building anticipation, Prince Harry and Meghan Markle baby's name has been revealed in a May 8 Instagram post from the Sussex Royal account. Their son's full name is Archie Harrison Mountbatten-Windsor, but who is Archie named after?
Let's address the "obvious" aspects first. Well, the seemingly obvious aspects. Believe it or not, their son had a few different options for last names. It wasn't just an automatic designation. One possibility was "Sussex," which would make sense since his cousin Prince George uses "Cambridge" as his last name in a school setting.
So, where does "Mountbatten-Windsor" come from? According to the royal family's website, the family members did not have a last name until 1917 when King George V decided that "Windsor" would be the official surname.
Later, in 1960, Queen Elizabeth II and Prince Philip decided that direct descendants should be distinguished from other family members. As a result, they added Prince Philip's last name Mountbatten to their family's name. The website explained,
"The effect of the declaration was that all The Queen's children, on occasions when they needed a surname, would have the surname Mountbatten-Windsor."
Going with a surname means that Archie does not have a title. According to the Telegraph, the new parents decided not to give their son a courtesy title. He could have been the Earl of Dumbarton or Lord Archie Mountbatten-Windsor. Instead, he will just be Master Archie Mountbatten-Windsor.
Town and Country reported that when his grandfather Prince Charles becomes king that Archie will be eligible for a prince title if his parents agree to it.
Meanwhile, the middle name Harrison is clearly a nod to Prince Harry, whose birth name isn't actually Harrison. His given name is actually Prince Henry Charles Albert David, according to his biography on the royal family website. However, BabyCenter confirms that the name Harrison literally means "son of Harrison," which is very fitting for obvious reasons.
And then there's the baby's first name: the real mystery here. Typically, the name Archie is short for Archibald or Arthur. However, that is not true in this case. Not only that, but the newborn is the first in the royal family to be named Archie.
Although there isn't anyone who was born with that name, but Archie might be Prince George's nickname. In January, Daily Mail reported that he said, "I'm called Archie" when he introduced himself to pet a woman's dog in the park.
It's not clear if other people actually referred to him by that or if it's just a nickname for himself. If that is the case, the newborn was sort of named after his big cousin, which would be cute. In all honesty, it's not even confirmed if that nickname revelation actually happened, but if it did, maybe George was the one who suggested the name to his aunt and uncle. Or maybe he just leaked the name early.
Or possibly, the baby's first name is not in honor of anyone else. They could be marking their son's place in history with a moniker that's unique to their family.
Hopefully, Markle and Prince Harry will share the origin story of their son's name in the near future. In the meantime, there will be lots of speculation.