Bill Belichick's Girlfriend Is An Impressive Woman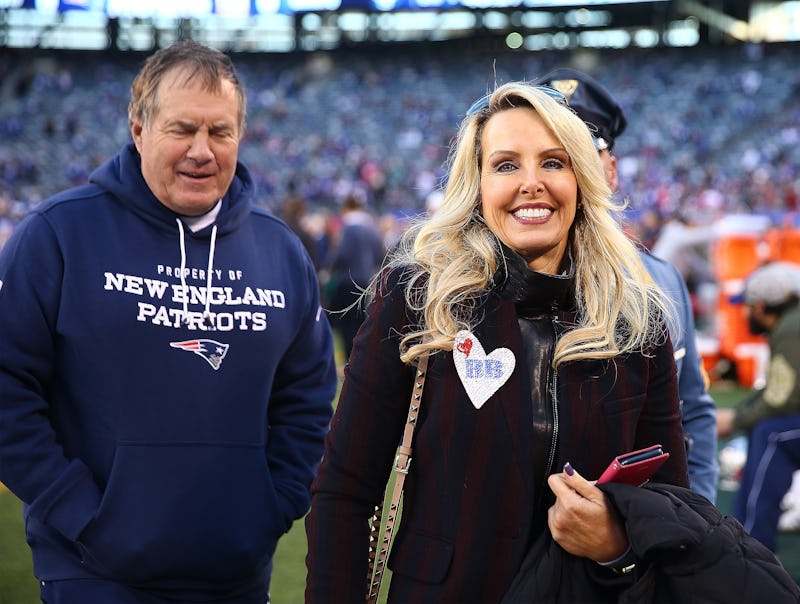 Elsa/Getty Images Sport/Getty Images
After a career in coaching that's spanned more than four decades (yes, four), Bill Belichick, the current head coach of the New England Patriots, will be getting down to business at this year's Super Bowl. The game airs on Sunday, Feb. 5, and from the kickoff to the final play, celebrations around America will commence. However, there will be one woman in particular whose post-game celebrations definitely hang on the fate of the Patriots' win — Belichick's longtime girlfriend. But, wait, who is Linda Holliday? She's a lady you're going to want to know about — if you don't already, that is.
Holliday appears to be a lot of things: a football enthusiast, a diehard Patriots fan (of course), a business woman, a mother — the list goes on and on. Though she's not always in the spotlight, and definitely isn't in the spotlight as much as Belichick, Holliday doesn't seem shy. In fact, she appears to be pretty involved with American football's milieu. She doesn't have Belichick's level of notoriety, but ultimately, his longtime girlfriend is the coach's partner in crime, his better half, his... you get the picture. Here are some more things to know about Holliday.
She's The Director of The Bill Belichick Foundation
According to its website, the Bill Belichick Foundation "aims to provide coaching, mentorship, and financial support to individuals, communities, and organizations. Focusing on football and lacrosse, its mission is to bring the values of the Belichick family — a love of sports, coaching and team building — to the athletic leaders of tomorrow."
She Used To Own A Boutique
The Patriots website reports that Holliday owned her own clothing boutique from 2005 to 2007.
She's A Natural On Camera
She spent some time as Lifestyle Correspondent for styleboston.
She Was In Pageants
According to Boston.com, Holliday was a runner-up in the Mrs. Arkansas Pageant, twice.
She's The Mother of Twin Daughters
Ashley and Katie Hess run their own fashion blog, The Party of Two. It's currently down for maintenance, but Holliday seems supportive of them and often retweets their posts.
She Has A Sense of Humor
Sharing this pic of ol' Billy back in the day — and including the quote, "Sup ladies?" — shows that Holliday's definitely down to laugh at herself. And by herself, I mean really mean Belichick.
If the New England Patriots win, then you better believe Belichick and Holliday will be participating in celebrations, but even if they don't, at least the two have a shoulder to cry on.