John Oliver Tells Bill English To Bring It On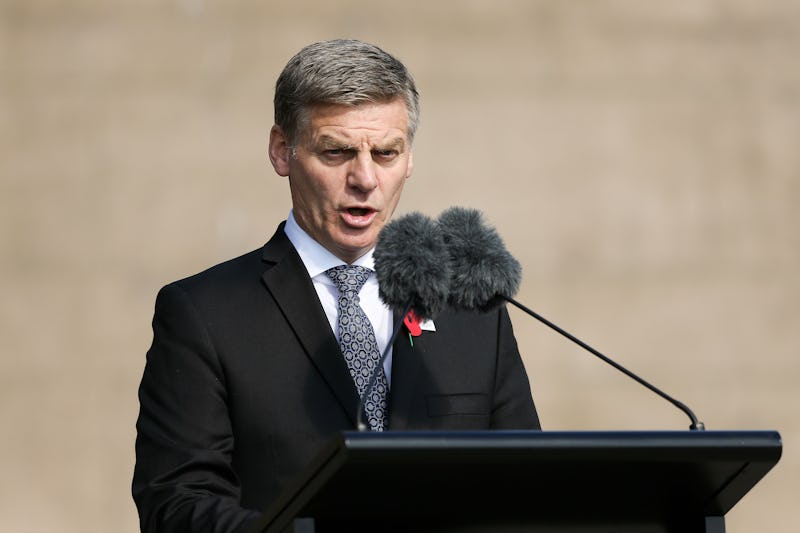 Hagen Hopkins/Getty Images News/Getty Images
On Sunday's episode of John Oliver's Last Week Tonight, the host proved why you don't want to be on his bad side. In other words, if you announce to the world that you don't think his show is exceptionally funny, you're going to be in for a not-so-pleasant surprise. During Sunday's segment, Oliver lambasted New Zealand Prime Minister Bill English for everything from the rather repulsive way he cooks up pizza to a mundane exercise video he once created to document how he runs and walks.
The feud began a week prior, when Oliver covered the copyright lawsuit between Eminem and the New Zealand National Party, which is led by none other than Prime Minister English himself. When asked by reporters whether or not he'd seen the segment on the lawsuit, English was pretty straightforward:
Some of the stuff I've seen he does isn't very funny. I just hope he's funny. ... It's a serious business in the court — that's where it's got to be dealt with. If we attract attention, it doesn't bother me too much.
"You really wanna do this, Bill?" Oliver asks. The lawsuit in question focuses on Eminem's famous song "Lose Yourself." Eminem's music publishers allege New Zealand's National Party violated copyright law when it used a separate song called "Eminem-Esque," which strongly resembles "Lose Yourself," in a 2014 campaign commercial. The party insisted the song was different from the original.
English became New Zealand's 39th prime minister in December 2016 and served as the deputy prime minister of the nation between 2008 and 2016. Prior to that, he was a treasurer for New Zealand and the minister of finance. Furthermore, he's been with the National Party, which is described as a central-right political party, since 1980. Needless to say, English has lots of experience in politics.
Maybe that's part of the reason Oliver chose to attack how the prime minister makes pizzas by dumping canned spaghetti on pizza dough and topping it all off with some traditional items such as pineapple or onion. Considering the talk show host excels at political satire, his "take-down" of English actually wasn't that harsh. If Oliver didn't like English's political leanings, for example, he would have made those opinions loud and clear. After all, I'd rather be insulted for my cooking skills than my political ideology.
Only time will tell whether this lighthearted feud between English and Oliver will continue in upcoming Last Week Tonight episodes.