This Photo Of Doug Jones' Gay Son Staring Down Mike Pence Will Give You Chills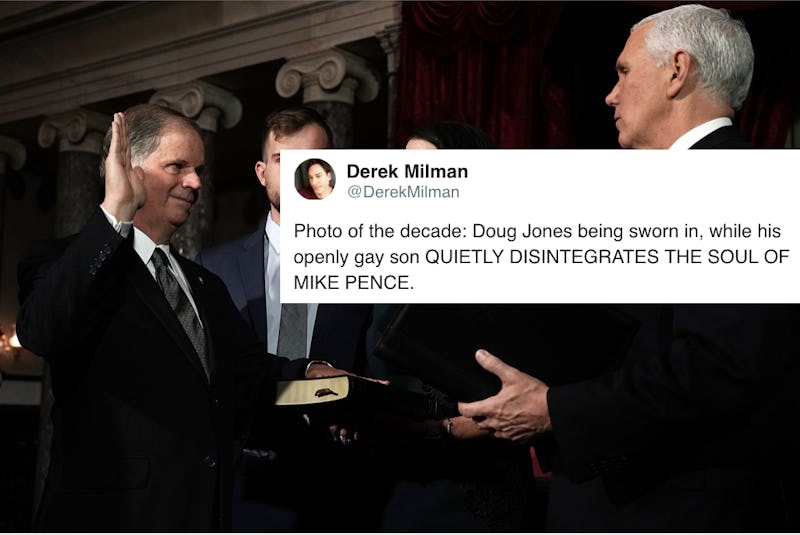 Alex Wong/Getty Images News/Getty Images
After a hard fought special election, the first Democratic senator elected in Alabama in 25 years took his seat in Congress on Wednesday. He enters Washington with the knowledge that President Trump vocally endorsed his opponent and that his presence narrows the GOP's Senate majority. But new tensions became apparent in a photo of Doug Jones' gay son Carson staring down Mike Pence during Wednesday's swearing in ceremony.
Carson stood beside his father as he placed his hand on the Bible and vowed to uphold his office in the U.S. Senate. But as the vice president swore in Alabama's newest senator, Carson, who is openly gay, appeared to be giving him a look. Sure, the camera could have just caught them at a bad time, but Twitter was amused by the idea of Carson openly glaring at Pence.
Pence has a long history of promoting anti-LGBTQ legislation. As governor of Indiana, he attempted to block same-sex marriage from becoming legal, signed a controversial "religious freedom" law that opponents believe legalized discrimination, and opposed the repeal of the military's "Don't Ask, Don't Tell" rule regarding LGBTQ service members.
President Trump also reportedly joked about Pence's stance on gay rights on the campaign trail: "Don't ask that guy — he wants to hang them all!" according to an October New Yorker article.
Like Pence, Roy Moore, the senator's opponent in the Alabama special election, doesn't support gay rights. From sharing an article applauding Russia's anti-LGBTQ laws, to being removed as chief justice of the Alabama Supreme Court for refusing to enforce legalized same-sex marriage, to blaming the LGBTQ community for the child molestation allegations against him, Moore's stance on LGBTQ issues is clear.
Sen. Jones' victory was a major win for LGBTQ rights considering he was endorsed by The Human Rights Campaign for his commitment to equality.
"Moore has never passed up an opportunity to promote bigotry, division and extremism, while Doug Jones has staked his career on fairness, equality and a positive vision for Alabama's future," said HRC Alabama state director Eva Kendrick in an October statement announcing the endorsement. In that same statemen, the senator is quoted as saying, "We must continue to push for equality and fight hate and discrimination in all forms."
Carson told INTO, a LGBTQ millennial culture site, last month that while his parents have "always been really supportive," he didn't come out until college, partly because of his surroundings: "[Mountain Brook] was not a place that I would have felt comfortable coming out in. I only know of one person who was out in my year."
Carson stood by his dad throughout the election, just as he did during Wednesday's swearing in ceremony. He saw the stakes get raised when Moore became his dad's Republican opponent, and he believes Alabama rejected bigotry in rejecting Moore.
When Roy Moore won on primary night, I think we felt such an incredible sense of responsibility. We had staffers who were part of our campaign who were LGBTQ or part of different minority groups, and they were crying. And I think it galvanized us to reach out to those groups, not to get their votes but to say that we cared about them.
He even shared the photo of him glaring at Pence as his dad officially became a U.S. senator on Instagram with the hashtags #WeMadeIt and #NoCaptionNeeded, giving the impression that he might feel similarly about Moore and Pence. In fact, he openly opposes the Trump administration, telling INTO he cried on Election Night thinking about what Trump's election would mean for LGBTQ Americans.
Now, the Joneses have a larger platform to advocate for LGBTQ rights — and continue giving epic side-eyes.