Everything You Need To Know About Ariana Grande's BFF Courtney, Who's In All Her IG Photos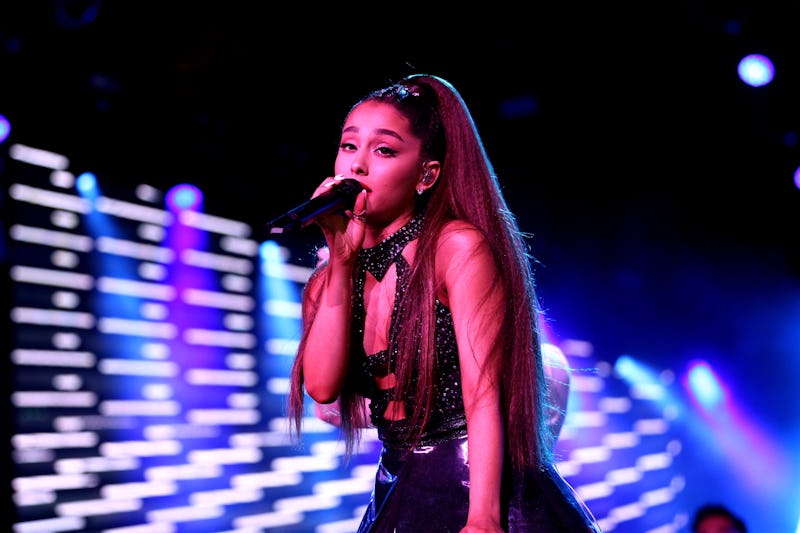 Rich Polk/Getty Images Entertainment/Getty Images
If you've never heard of Courtney Chipolone before, then you're clearly not a true Arianator. Totally kidding, of course. Following a series of recent Instagram posts, though, some people are wondering who's Courtney Chipolone — aka Ariana Grande's BFF — and how she became so close to the "Thank U, Next" singer.
So, not only is Chipolone one of Grande's besties, she's actually her cousin, too. Well, she might be. Grande has definitely referred to her as her "cousin" on Instagram — as have several media outlets — but it's unclear whether or not the two are legitimately related.
On Nov. 19, the star posted a photo of herself with Chipolone and another one of their close pals, Alexa Luria, in which Grande and Chipolone are engaged in a friendly smooch. "'yeah but she's my FIRST cousin'," the singer captioned the pic, a reference to a line from the iconic '00s movie Mean Girls.
Grande is paying tribute to Mean Girls — along with several other nostalgic rom-coms, including Legally Blonde, Bring It On, and 13 Going On 30 — in her soon-to-be released music video for "Thank U, Next," and it seems as if both Luria and Chipolone will be making appearances. The trio of friends have all shared a few behind-the-scenes photos from the set of the music video shoot, and they're all "like, really pretty."
It's kind of hard to tell exactly how far back Grande and Chipolone go, but their friendship certainly isn't new. They both grew up in Boca Raton, Florida — Chipolone still lives in the area and attends Florida State University, according to Refinery29 — so that's likely where they initially crossed paths.
Grande made her first appearance on Chipolone's Instagram in April 2016. The two girls are raising glasses of champagne in honor of their friend's wedding, where Grande was a bridesmaid and Chipolone was the maid of honor. It looks like Chipolone has been pretty busy living that college life since then, but she did dedicate a post to her famous friend in June 2017.
"happy birthday mama," she captioned the photo in honor of Grande's 24th birthday. "love u more than i love an 80 pound wheel of parmesan cheese with a side of fig spread." An 80-pound wheel of parmesan cheese sounds pretty damn incredible — as does the fig spread, TBH — so she must love Grande a lot.
Chipolone has clearly been a loyal member of Grande's inner circle for quite some time now, which is undoubtedly what earned her a spot in the singer's upcoming video. According to their recent Instagram posts, Chipolone gets to play Gretchen Wieners from Mean Girls and a Bring It On-esque cheerleader, too.
Getting to star in your BFF's music video seems like a pretty sweet experience in and of itself. Chipolone gets to star in her BFF's music video and recreate killer roles from iconic movies at the same time, though. What a dream. Isn't that like, so totally fetch? Oh, by the way — fetch is definitely happening now.