Dan Stevens & Susie Hariet At The Cutest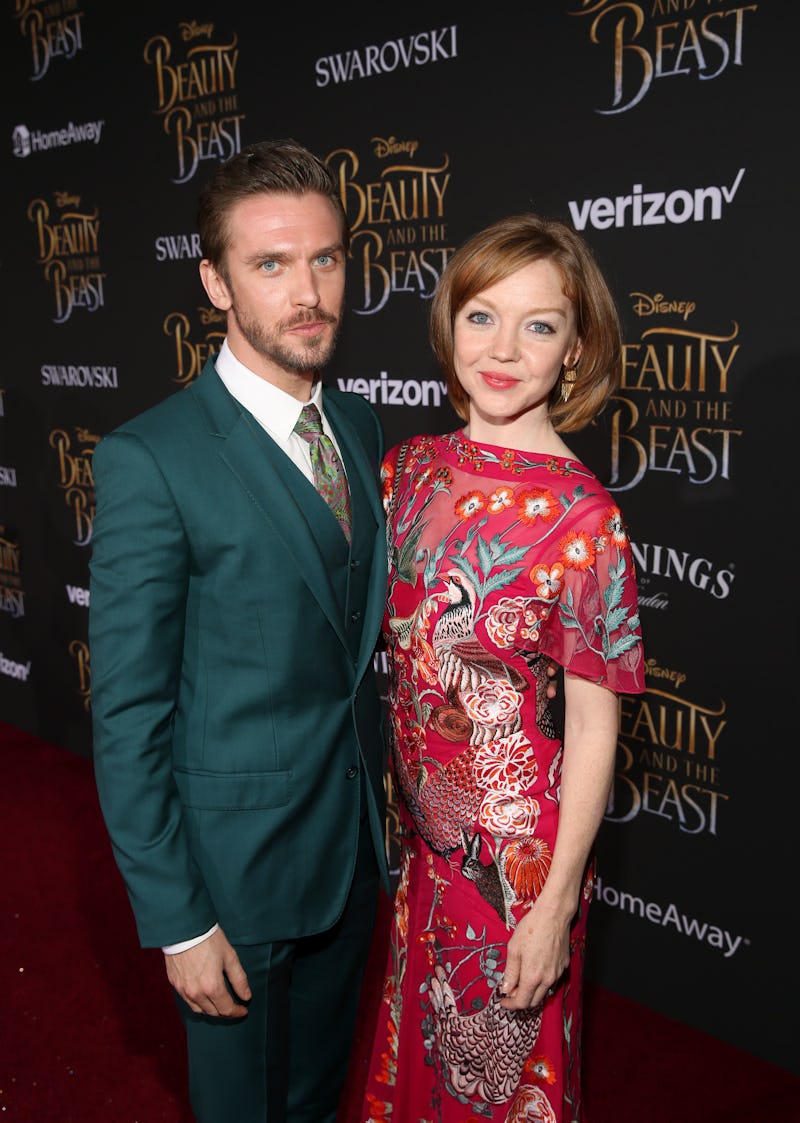 Jesse Grant/Getty Images Entertainment/Getty Images
Artists falling in love is a "tale as told as time." For Beauty and the Beast actor Dan Stevens and his singer wife, Susie Hariet, a love of theater led them to each other. The former Downton Abbey star told the Telegraph he met Hariet in 2006 in 2006 while they were performing in different theaters in England. "We met and it was pretty instant," Stevens said.
The 34-year-old has proven to be a beast at acting with roles in The Heiress on Broadway, Downton Abbey, and Night at the Museum: Secret of the Tomb, but Hariet is an entertainer, too. According to the Telegraph, Hariet is a "jazz vocalist-turned-singing teacher," and she's acted in the theater, too. Stevens told the Telegraph that when they met, "I was getting my kit off every night at the Crucible doing The Romans in Britain, and she was appearing in a musical."
The theatrical couple married in 2009 and have three children, William, Aubrey, and Eden, whom they raise in Brooklyn Heights, New York.
Before there was talk of Beauty and the Beast blowing audiences away, Stevens told the Telegraph he's never been worried about how his wife handles his fame. "I'm lucky to be married to someone who entirely gets what I do," Stevens said to the English newspaper. "She is totally sympathetic to the actor's life."
Although there isn't a ton out there about Hariet herself or her relationship with Stevens, their endless love reigns on the red carpet. Check out some of their best moments in front of the camera.
At The Legion Premiere
Hariet's ginger locks perfectly compliment Stevens' green blazer. Although red carpets can be fancy affairs, Hariet kept it casual at the premiere of Stevens' new TV series Legion back in January 2017.
At A Royal Academy Of Arts Exhibition
Or the two can match in blue! Here they are in London back in 2015 at the Royal Academy of Arts Summer Exhibition.
At The Night at the Museum: Secret of the Tomb Premiere
The pair looked like aristocrats in classic black at the UK premiere of Night at the Museum: Secret of the Tomb. However, Stevens told the Telegraph that he found Hariet's lack of knowledge of the British class system depicted in Downton Abbey to be a breath of fresh air. "I suppose it was refreshing to meet someone who had the same level of bemusement about it as me," he said.
At The Beauty and the Beast Premiere
The two went for very colorful looks at the U.S. premiere of Beauty and the Beast.
Whether dressed to the nines in La La Land or casually kicking it in Brooklyn with their kids, Stevens and Hariet seem so in love.