Tom Petty's Second Wife Dana Was By The Singer's Side Through Life's Ups & Down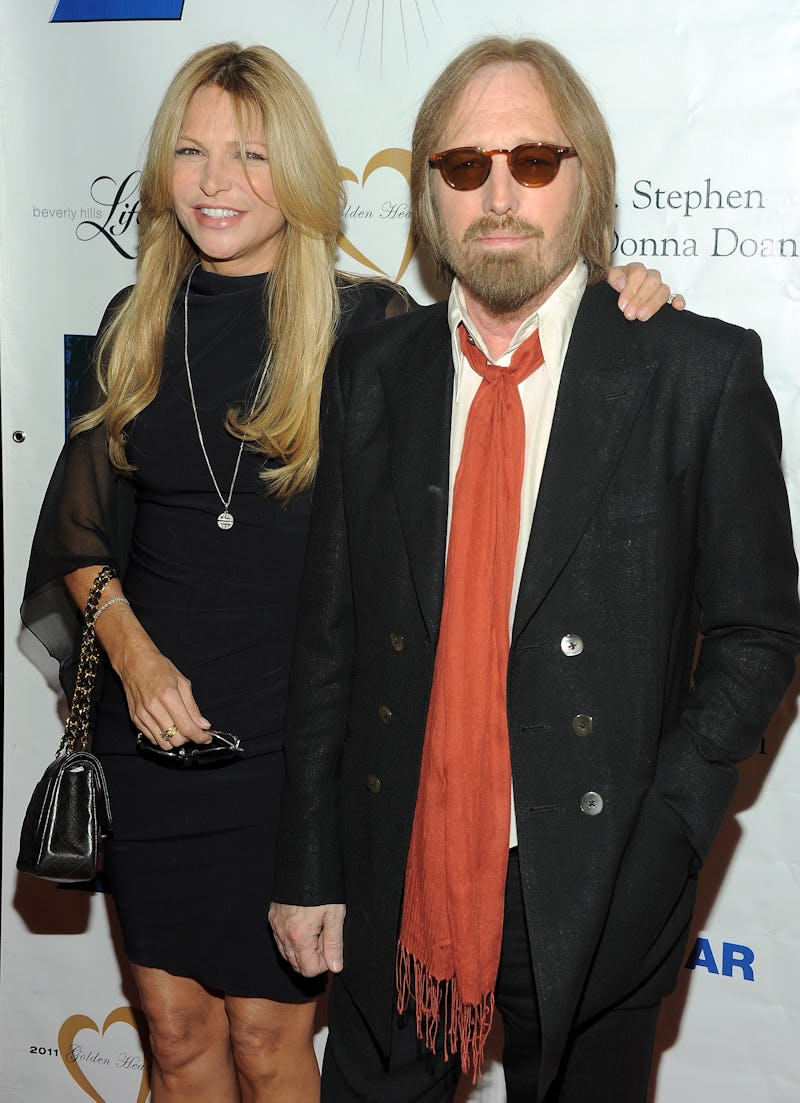 Angela Weiss/Getty Images Entertainment/Getty Images
In an undeniably sad day for the music world, Tom Petty died at 66 after being rushed to the hospital on Sunday night, according to TMZ. He's survived by two daughters from his first marriage, as well as his second wife Dana York. If you're wondering who Dana York is, she's been by the singer's side for more than a decade and through some of his toughest battles.
According to People, York and Petty got married in 2001 — twice. First, the pair reportedly tied the knot after two sold-out shows in Las Vegas in a small, intimate ceremony, and then a second time with another music legend, Little Richard, officiating the ceremony at their home in Malibu.
While they were married for more than 16 years, the pair began several dating years prior. As the Daily Mail reported, York met Petty at one of his concerts back in '91, but they didn't actually reconnect until a few years later, after her previous marriage ended. Still, they fell fast, as Daily Mail reported, "Tom and Dana both felt as though they had known each other their entire lives and were fast falling in love." The publication also reported that it's York who helped Petty overcome heroin addiction, according to Warren Zanes' book Petty: The Biography.
Beyond the heavier situations, York also accompanied Petty and his band when they traveled, according to a 2014 Billboard profile. She helped manage their schedule. That same story also described Petty as "content as a family man." In addition to his his two daughters, Adria and Annakim, he had a stepson, Dylan, from York's prior marriage.
The fact that Petty and York first bonded over music, by meeting at one of his concerts, couldn't be a sweeter story. The Grammy Award-winning musician is best known for leading Tom Petty and The Heartbreakers, who made several late '80s hits, like "Free Fallin'" and "I Won't Back Down."
Petty, along with his band, was inducted into the Rock and Roll Hall of Fame in 2002. During his moment at the mic, he not only thanked his three children, but also thanked rock & roll music for giving him freedom, his fans for giving him a "wonderful life," and God for everything. Last but not least, he concluded his list of gratitude by saying, "Especially my wife, Dana, who I love beyond belief."
Prior to his relationship with York, Petty was married to Jane Benyo for more than two decades, according to the New York Daily News. They got divorced in 1996. Per the aforementioned Daily Mail article, though they had a deep connection, their relationship also was reportedly tumultuous, described by the site as a "troubled dream that was falling apart."
Following Petty's relationship with Benyo, he went through a tough time, reportedly including drug addiction and depression, according to the Daily Mail, and it's York who "saved him." She reportedly was there for him through it all.
According to TMZ, it's also York who called 911 when Petty reportedly went into cardiac arrest and was unconscious on the evening of Sunday, Oct. 1. Petty later died in the hospital after being taken off life support. The news of his death undeniably shook the music industry, as condolences began pouring in.
Artists ranging from Paul McCartney to Carole King expressed their sympathies on social media. John Mayer, who famously covered Petty's "Free Fallin'" also chimed in, writing, "I loved Tom Petty and I covered his songs because I wanted know what it felt like to fly."
There was a bit of a mix up on Monday when reports circulated stating Petty died before he actually had passed away, but now that he's officially gone, there's no doubt he's missed by all who knew him and those touched by his music.