Devonta Freeman Is A Private Guy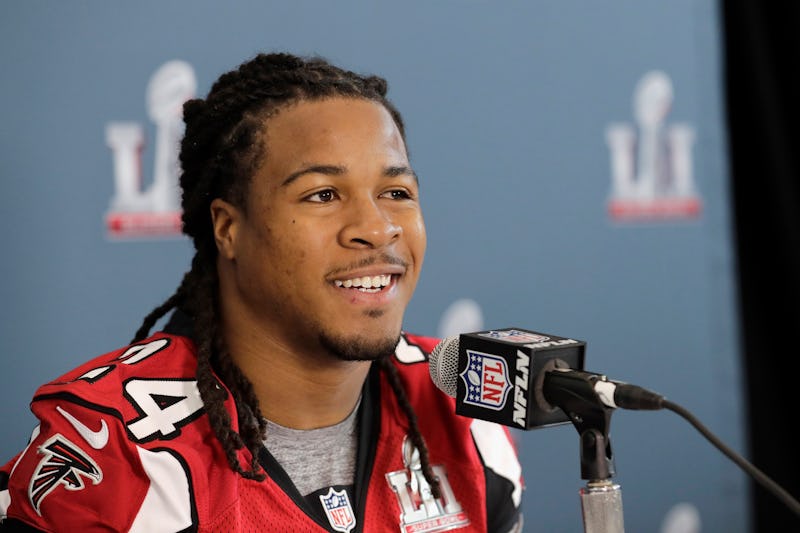 Tim Warner/Getty Images Sport/Getty Images
Judging by his social media presence, it seems that 24-year-old Atlanta Falcons running back Devonta Freeman seems to put football and family before anything else. According to ESPN, even the number on the athlete's jersey, "24", honors his family, as he chose it in memory of a late aunt who died at that age. Seeing that his loved ones clearly are a priority for the football player, it'd make sense if he was open about his romantic life. But the question of who Devonta Freeman is dating isn't easily answered by looking at the first-time Super Bowl attendee's posts.
If you take a deep dive of Freeman's Instagram, you'll see a lot of pictures of the athlete who ranked 50th on the NFL's Top 100 Players of 2016 playing football, singing along to rap in his car, or hanging out with his family. There's not a huge amount of romantic pictures, but that doesn't mean they don't exist. In fact, one smiling woman does appear on several different occasions. In the most recent post featuring this mysterious woman, the caption reads, "Happy Birthday Queen #StillYoung #Blessed #Beautiful#Smart #TurnUp #MyG #TurnUpOnLife." From those heartfelt words, it certainly seems like Freeman is very much taken — or at least was when the photo was shared three weeks ago.
Playerwives.com claims that the women is Freeman's reported girlfriend of two years, Malikah Nash. And on the athlete's Instagram, the two have been shown hanging out with Freeman's mentor Uncle Luke at training camp, vacationing in Hawaii, and even celebrating Easter 2016 in Disney World. Whether they really are together or not, the duo are clearly a close pair.
It definitely seems likely that they're a couple, though. In a post around Freeman's birthday, he wrote, "Zip lining over the water & a Treetop Obstacle course. One of my early bday gifts from #RedThang." A pet name for Nash? That's too cute.
So sorry gang, it looks like Mr. Freeman is not single or ready to mingle, but instead enjoying time with the woman who appears to be his girlfriend, or at least a close pal.