Details About Donald Glover's Girlfriend Are Scarce, But Here's Everything You Need To Know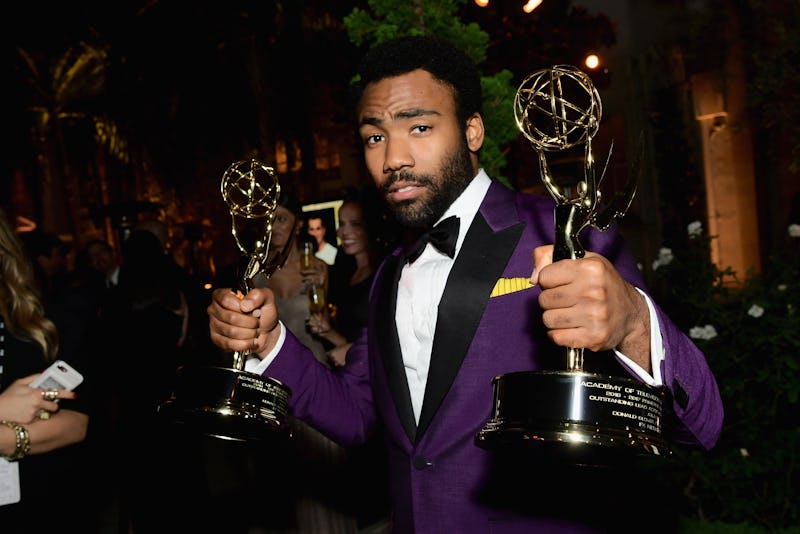 Emma McIntyre/Getty Images Entertainment/Getty Images
Donald Glover is a writer-actor-director-producer-rapper and generally handsome genius. He's also a father of two. But who is Donald Glover's girlfriend? The artist known as Childish Gambino tends to keep his private life extremely private. That's totally OK; Glover is famous, and has been for some time, but that doesn't mean his partner has to be.
As he racks up awards, though, it's only natural for fans to keep an eye out — after all, now that he's a father of two, Glover has officially reached DILF status. Furthermore, when the spinoff film Solo: A Star Wars Story is released this May, an entirely new fanbase will discover him for the first time. Whether you're newly devoted or you've stanned since the Mystery Team days, the odds are you're definitely interested in the identity of Glover's girlfriend.
Glover and his partner, whose name is Michelle, have been together since at least 2016. That's the year they welcomed their first child together — a boy named Legend. Back in September, Glover mentioned his second child was on the way during his Emmys acceptance speech. He confirmed the baby's arrival in January, but the couple has not yet revealed the name. So, who is this Michelle, and how did they meet? Let's investigate.
Glover and his longtime girlfriend are obviously happy together; he's gushed about her more than once in his acceptance speeches for FX's Atlanta. When he announced he'd become a father in October 2016, the media was surprised. After all, he'd managed to keep it a secret. Even E! wasn't sure of Michelle's identity at the time, and posted a photo of the two of them happily leaving a grocery store in Hawaii. A few years and two children later, and fans still aren't entirely sure of their story. This could be because Michelle does not work in the entertainment industry, and would prefer to keep a low profile as a result. The pair rarely, if ever, make public appearances, and the most information Glover has let slip is his partner's first name.
Are they married? It doesn't seem like it. How did they meet? Not sure. How long have they been together, either officially or unofficially? It's impossible to say. The 2018 Grammy Award nominee can officially add "international man of mystery" to his many, many titles. C'mon, Glover — at least throw fans an Instagram post. Or take a Sunday afternoon in the park together. Maybe get a dog to walk, and throw the paparazzi a few photos every now and then? You know, just a suggestion.
As Glover's star continues to rise, the pressure to reveal information about his private life will only increase. It could be in his own best interest to "accidentally" let some information slip, so folks don't go overboard and feel the need to pry. Plus, just imagine the foxy father-son photos Glover could take once the information is all out there. Childish Gambino grabbing a juice while wearing his son in a Baby Bjorn? Yes, please. Please. Of course, he obviously has a right to privacy, but again, just throwing ideas out there.
Even if this mysterious "Michelle" hasn't attended red carpet events with Glover, or press junkets, or award shows, or social media, or appeared with him often in public, it's obvious how much he loves and cherishes her. It's also impossible to be a figure in the public eye today without receiving backlash. Trying to keep her identity more or less a secret is likely an act of protection. It also preserves the integrity of the relationship. The two get to be a normal, happy, young couple and parents of two boys who will likely be immensely talented. No matter what, though, fans won't stop wondering about Glover's girlfriend — and whether they'll be able to date him next.