Why You Definitely Shouldn't Trust This New 'Riverdale' Character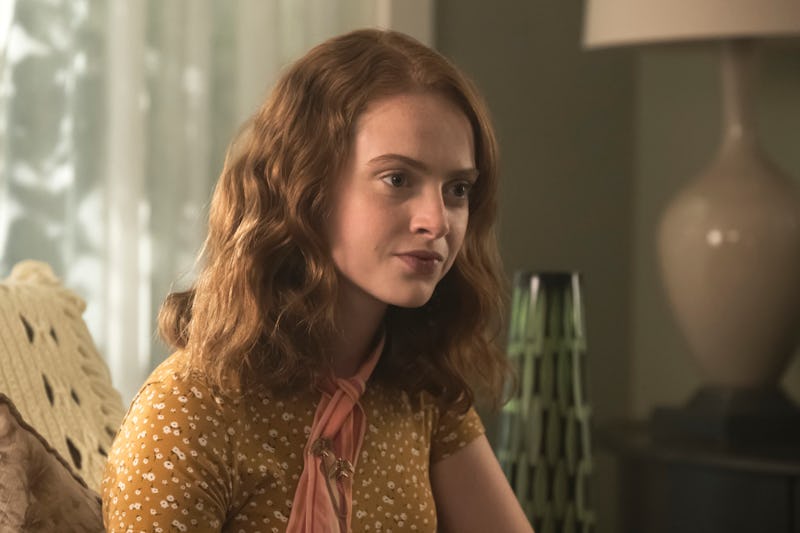 Katie Yu/The CW
Light spoilers ahead for Riverdale Season 3. Following a truly bonkers introduction (there were levitating babies, folks!), it looks like it's time to start meeting the people behind the cult-like "farm" slowly brainwashing Betty's family. First up? Riverdale's Evelyn Evernever, played by Zoé De Grand Maison, who, per IMDb, is set to make her debut on Wednesday night's "Chapter Thirty-Seven: Fortune and Men's Eyes."
According to a casting notice for the character, Evelyn sounds like a cross between a preacher's kid and a sinister version of Harry Potter's Luna Lovegood. "Otherworldly, seemingly omnipresent, and a bit odd," it reads, "Evelyn is Edgar's daughter and Betty's new neighbor. She's eager to befriend Betty, and is surprisingly insightful for her age, but may be hiding dark secrets about herself." (Edgar, of course, is the apparent leader of the Farm, though it doesn't seem like he'll be making an appearance until later).
Evelyn's casting description also suggested that someone who physically resembles Betty may be a potential direction for the role. Does that mean Evelyn is going to All About Eve and/or Single White Female the newly crowned Serpent Queen?! It certainly wouldn't be new territory for De Grand Maison: You may recognize her from Orphan Black, in which she played a similarly creepy, cult-affiliated character named Gracie.
In the Little Archie comics, Evelyn is a shy girl with a doll named Minerva who is often the butt of a joke. But in the Betty and Veronica Spectacular, a grown-up Evelyn kidnaps Archie. Really, this could go either way, but knowing Riverdale, it will likely be the latter — why throw a new face into the mix if she's not going to stir up some trouble?
Mädchen Amick seemed to confirm as much during New York Comic Con earlier this month. "Evelyn has already affected a lot of kids at school," she told reporters. "And then Edgar will be making a showing [later]. I think he's gonna cause a lot of drama — a lot of trouble."
So, what else do we know about Evelyn? Based on photos for upcoming episodes, her earthy aesthetic seems very in-line with the Farm's "health guru" shtick, and she really loves to rock some neckwear: She's pictured wearing a pink scarf on multiple occasions, which sort of evokes that terrifying "Girl With The Green Ribbon" ghost story. She and Betty also appear to have some kind of conflict in Episode 3.
The mystery surrounding Edgar is highly suspicious, and the fact that Evelyn is so closely associated with him doesn't make her any more trustworthy.
"You definitely don't know what her agenda is," Riverdale showrunner Roberto Aguirre-Sacasa said of Evelyn in a recent interview with Seventeen. "As you'll see, some bad things start happening and it always seems that Evelyn is kind of lurking in the background of them."
Whatever her intentions, keep an eye on Evelyn. She may not be the Gargoyle King, but she's definitely up to something.
Additional reporting by Dana Getz.