This New 'Westworld' Arrival Is Probably Connected To Someone You Already Know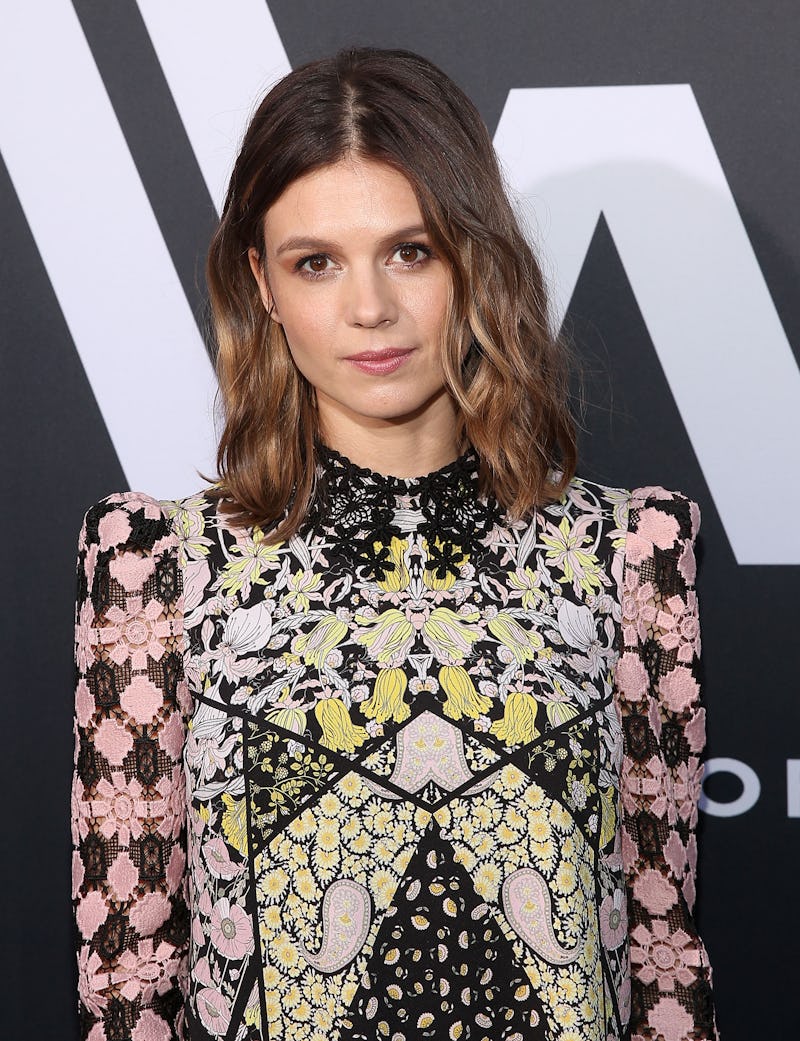 Jesse Grant/Getty Images Entertainment/Getty Images
Spoilers ahead for Westworld Season 2, Episode 3. The sophomore season of HBO's sci-fi/Western series has expanded exponentially in scope, introducing new puzzles to solve, new hosts to take over old narratives, and now new parks to explore and new characters to explore them. But who is Grace on Westworld Season 2? It's through her eyes that viewers get their first glimpse at a park other than Westworld — and surprisingly, that park isn't Shogun World, which fans have been waiting for since its tease in the Season 1 finale. Rather, the park in question turns out to be the Indian-themed Raj World… where things seem to be going as horribly wrong as they are in Westworld.
When the season's third episode, "Virtù e Fortuna," opens with the strains of a sitar rather than the recognizable player piano, viewers probably knew they were in for something different and exciting. Sure enough, the luxurious hotel surrounded by palm trees and peacocks turned out to be a location in a park themed around the era of Britain's rule over India, complete with elephant rides and tiger hunts.
Fans are introduced to Raj World through the eyes of Grace, as played by Dutch actress Katja Herbers. TV audiences may recognize Herbers from her starring role on WGN America's Manhattan, as well as her recent arcs on FX's The Americans and HBO's own The Leftovers. In July of last year, it was announced that Herbers would be joining the cast of Westworld Season 2 as a new series regular, playing Grace, "a seasoned guest in Westworld whose latest visit comes at the park's darkest hour." (Turns out that description was a bit misleading, as Grace is actually a guest in Raj World, not Westworld… although she does end up there by the end of the episode after being tackled off a cliff by a Bengal.)
But who is Grace, exactly? There must be more to her than "seasoned guest" if she's important enough to be a new series regular. What secrets is the Raj World veteran hiding that will come in handy during Season 2's twisty storyline?
Given that she's captured by the Ghost Nation after washing up on the shores of Westworld, it's likely that she will soon be encountering Ashley Stubbs (Luke Hemsworth); remember, in that earlier timeline, he had recently been taken captive by the Ghost Nation himself. (He'll turn up alive and well on the beach in two weeks, rescuing Bernard and leading the fight against the rebellious hosts.) Since she's being thrust into a storyline with Stubbs, it might be revealed that she has a prior connection to the stalwart head of security. Could they be lovers? Siblings? Coworkers? Perhaps she's actually his equal, the head of security at Raj World, who was taking her vacation time inside her own park. (That could explain why she knows enough about the hosts to be suspicious that her attractive suitor is one himself.)
Could she be another high-ranking member of the Delos board? Perhaps she'll meet some more captive board members who recognize her from the corporation. So far, Charlotte Hale is pretty much the only named character viewers know who's on the Delos board — it might be helpful to introduce another important character to get a different perspective on the inner workings of the company.
Or could Grace perhaps be related to another of Westworld's "seasoned guests"? 37-year-old Herbers is about the right age to play William's daughter, who appeared to be five or six in a flashback that took place about 30 years ago in the season's second episode. Sure, we know that William's daughter is named Emily — but this wouldn't be the first time Westworld disguised a characters' name to mask their true identity. After all, this is the same show that referred to a character solely as the "Man in Black" for an entire season to hide the twist that he was William.
Viewers already know that William and his daughter have been estranged since her mother died; perhaps she started going by her middle name to shed the identity of the name her hated father gave her. If so, expect sparks to fly if and when Grace and William finally cross paths.