U.S. Soldier Allegedly Had Ties To ISIS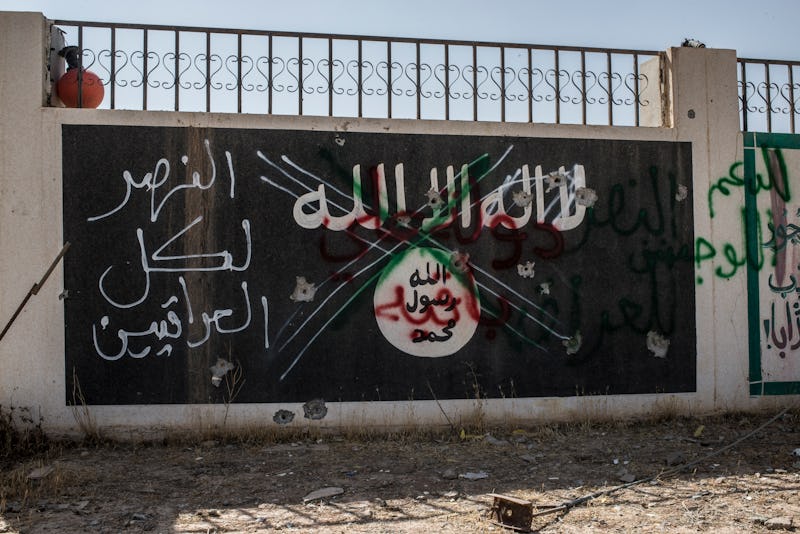 Martyn Aim/Getty Images News/Getty Images
CBS News reported Monday that a U.S. Army soldier in Hawaii was arrested for allegedly trying to provide material support to the Islamic State of Iraq and Syria. According to a criminal complaint filed Monday in the U.S. District Court for the District of Hawaii, 34-year-old Ikaika Erik Kang planned to give ISIS military documents and training, and at one point pledged allegiance to the Islamic State.
The FBI later confirmed the arrest in a statement, and said that the agency had been investigating Kang for over a year in relation to his alleged offenses. He's currently in federal custody and is scheduled to appear in court Monday. According to Hawaii News Now, the FBI has sealed off the door to Kang's apartment.
Kang was a Sgt. First Class in 25th Infantry Division at Schofield Barracks, according to USA TODAY. He was a highly decorated soldier, according to the Department of Defense, having received the Global War on Terrorism Service Medal, the Afghanistan Campaign Medal, the Iraq Campaign Medal, and the Army Good Conduct Medal. Kang has been deployed to Afghanistan, Iraq, and Korea, and was an air traffic control operator.
"Terrorism is the FBI's number one priority," said Paul D. Delacourt, the FBI special agent in charge of the Honolulu division, said in a statement. "In fighting this threat, the Honolulu Division of the FBI works with its law enforcement partners and the Joint Terrorism Task Force. In this case, the FBI worked closely with the U.S. Army to protect the citizens of Hawaii."
It's unclear precisely what Kang planned to give to ISIS, what directly resulted in his arrest on Saturday, or what the nature of his communications with the group were. Although he allegedly pledged allegiance to ISIS, authorities told Hawaii News Now that they believe he was a "lone actor" who is "not associated with others who present a threat to Hawaii."
ISIS rose to prominence in 2014 after quickly seizing large swaths of territory in Iraq and Syria, and has since been embroiled in war with an assortment of other forces in the region. Although the terrorist group remained a force to be reckoned with for several years, it was dealt a major setback over the weekend when Iraqi government forces, with assistance from the U.S. military, successfully retook the city of Mosul.
Kang was arrested by an FBI SWAT team on Saturday at the Schofield Barracks in Honolulu, the agency said.